Our Work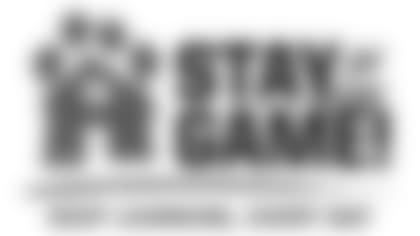 ATTENDANCE MATTERS
Today, many families struggle to get students to school or getting students to engage in remote education opportunities consistently. For instance, during the 2022 school year, 30.2% percent (more than 473,000) of Ohio's K-12 students—many of whom are among our most vulnerable—missed 10 percent of the school year (18 days or more) and were chronically absent. When students are chronically absent – which can be characterized as missing two or more days of school per month – they become susceptible to high-risk patterns such as not being on track for reading proficiently by the end of third grade, failing courses in middle school and not graduating from high school. Studies show that high-risk patterns tied to chronic absenteeism don't just have adverse effects during childhood. They are strong predictors of poor outcomes that follow students well into adulthood. This is why attendance matters and it's why we're working to make sure students Stay in the Game!
To help our families, schools, and community partners tackle this problem, a team of unique partners—the Cleveland Browns Foundation, Ohio Department of Education, and Harvard University's Proving Ground — have joined forces at the state level to launch the _Stay in the Game! _Network. The Network's singular aim: student success, which begins with engaged learners who attend school every day, if possible, and fully participate and engage in learning.
NETWORK GOAL
The goal of the Stay in the Game! Network is to increase student attendance and engagement at the state level and locally in partner districts and schools. The equation is simple: The more students attend school or fully engage in remote education experiences, the more prepared they are for success beyond school. The Network has committed to reducing Ohio's chronic absenteeism rate by half over the next 10 years
The Network will accomplish its goal by working with school districts and partners to prioritize attendance and engagement and build capacity to address chronic absenteeism through a peer-to-peer learning and action network. All Ohio school districts are invited to join the Network at no cost. Network members will receive access to attendance-related supports, tools, and campaign materials.
An identified set of school districts in the Network will receive additional supports and resources to:
· Launch comprehensive community campaigns to raise awareness of the importance of school attendance and engagement.
· Use data to target specific, attendance-related intervention efforts for maximum impact.
· Analyze and evaluate the effectiveness of specific, attendance-related interventions to determine impact and success.
· Implement and refine attendance-related solutions across these school districts.
All learnings gleaned from these improvement efforts will be shared broadly across the Network, benefitting all schools and districts that are members.
GUIDING PRINCIPLES
The Network, including its three founding partners, collaborators, and local-level members, is driven by the following guiding principles:
Public awareness is foundational. That's why state-level partners and local-level members commit to raising public awareness and engaging community members on the importance of consistent school attendance and engagement.
Data drives decisions. The Network supports districts and schools to use data to better understand successes and opportunities, identify solutions and continuously improve.
Family and student engagement matters. Families and students hold the keys to unlocking the right local solutions; they should be engaged every step of the way.
District, school, teacher, and staff input is essential. Each education partner has unique insight, and each should be involved in developing and implementing the solutions. The Network's state-level partners are committed to supporting Network partners.
Community partnerships amplify the work. Strategic partnerships strengthen local efforts by building awareness, providing access to supports and resources, and removing deep-seated barriers to student attendance
Partners & Collaborators for Success
THE CLEVELAND BROWNS FOUNDATION: THE POWER OF COMMUNITY ENGAGEMENT AND ROLE MODELS
The Cleveland Browns Foundation prioritized student attendance in 2015 when it developed a partnership with the Cleveland Metropolitan School District. At that time, the district faced a chronic absence rate of 35 percent. Taking action, Cleveland Metropolitan Schools launched an attendance campaign known as Get 2 School. You Can Make It!The community-wide effort featured billboards, yard signs, school posters, parent engagement coffees and attendance celebrations. As a signature partner, the Cleveland Browns supported the campaign by providing student incentives throughout the year and incorporated Browns players by having them convey the importance of attendance through recorded phone calls, videos and school visits. In an effort to remove attendance-related barriers, the foundation also supported a local clothing program, providing students facing economic hardship greater access to uniforms and basic clothing packages. The campaign helped Cleveland Metropolitan Schools cut chronic absenteeism to 30 percent in the 2017-2018 school year. This effective local partnership inspired the creation of the statewide Stay in the Game!Network.
In response to the pandemic, the Cleveland Browns Foundation, its corporate partners and the Browns players provided essential services and supports to students, schools districts, and communities throughout Ohio. The Foundation and its corporate partners, helped make remote education more accessible, with a special focus on Ohio's most vulnerable students, by producing a series of resources to support students and families. Some of the resources include educational kits, free Wi-Fi and meals, hygiene products, player reading activities and motivational messages to preK-12 grade students.
OHIO DEPARTMENT OF EDUCATION: THE POWER OF CONNECTIVITY AND COHERENCE
The Ohio Department of Education is on a mission to prepare each child by ensuring equity and supporting quality schools through partnerships that maximize strengths to achieve collective impact. The Stay in the Game! Network represents one such partnership. Taken together, equity, partnerships and quality schools form the three core principles identified in Each Child, Our Future, Ohio's five-year strategic plan for education. The plan trumpets a shared vision for student success: In Ohio, each child is challenged to discover and learn, prepared to pursue a fulfilling post-high school path and empowered to become a resilient, lifelong learner who contributes to society. This vision will only become a reality if Ohio's students are active and engaged learners, and active and engaged learning starts with regular school attendance.
PROVING GROUND: THE POWER OF EVIDENCE AND CONTINUOUS IMPROVEMENT
Proving Ground, an initiative of Harvard University's Center for Education Policy Research, works with states and school districts to help identify and test solutions to specific challenges, including chronic absenteeism. The initiative supports continuous improvement through data analysis, strategic advice, hands-on assistance and peer networking opportunities. Proving Ground's iterative improvement cycle includes deeply understanding the challenge, identifying potential solutions, testing those solutions, examining findings and determining next steps. The Stay in the Game! Network will apply this improvement cycle to its work. Proving Ground currently works with more than 20 school districts in Ohio.