INDIANAPOLIS — In search of their franchise quarterback, the Browns hope to leave the NFL's scouting combine with more answers than questions.
Cleveland, owners of the first and fourth overall picks in this year's draft, is poised to address years of instability at the position, including last year's struggle throughout the franchise's first winless season. And in order to do so, the Browns plan on evaluating each prospect from top to bottom, dissecting the person off the field as much as the player on it.
"I think the most important part is being able to sit in front of them and talk to them because you haven't been able to do that," head coach Hue Jackson said Wednesday morning.
"I think it's really about getting to know them as people and be able to dig into all of the medical things that you need to, but be able to really put a face with a name — have them sit before you and ask them questions that you've probably always wanted to ask since you knew these were the quarterbacks that were coming out. I think that's the question we will get answered this week."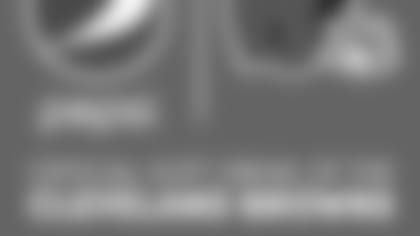 ](https://www.pepsi.com/en-us/)
With what has been regarded as one of the best quarterback classes in recent memory, the Browns will get an up-close and personal look at projected top picks in USC's Sam Darnold, Wyoming's Josh Allen, UCLA's Josh Rosen, Oklahoma's Baker Mayfield and Louisville's Lamar Jackson. "You will never know until you go through it all and understand all of the potential players that are there," Jackson said, "but there are quite a few quarterbacks that we feel are going to be really good players in the National Football League."
But for all the strengths of this year's quarterbacks, each seems to have a well-documented flaw that Cleveland will need to further explore over the next two months. For example:
— Darnold, widely considered to be the most-complete player of the group, struggled with turnovers — especially fumbles — in his final season with the Trojans.
— Mayfield, the 2017 Heisman Trophy winner, will have to explain several on-field outbursts and an arrest last spring. And at 6-foot, he's considered a bit undersized for the position.
— Rosen, described by NFL Network analyst Mike Mayock as the best pure passer in several years, missed significant time in college because of injuries and recently denied a report he wouldn't want to play for the Browns.  
— Allen, whose strong arm and 6-foot-5 frame makes him an intriguing prospect, completed just 56 percent of his passes in two seasons.
— Jackson, the Louisville star and 2016 Heisman Trophy winner, also struggled with his accuracy (59 percent) and must convince teams his explosive running ability won't also make him injury-prone at the next level. 
The combine, of course, should help the Browns start to answer some of those questions. But Jackson made clear this only marks the beginning of a long, thorough process.
"I think a quarterback, there are all different kinds of variables that a guy has to deal with, players leaving, systems, all kinds of things," he said. "We just have to sort through all of it to understand it, and we will. We will dig into that, understand why those things happened and we will give the player an opportunity to explain to us why they happened."