When: October 18 (Sunday, 1 p.m.)
Where: FirstEnergy Stadium
Series history (Last meeting): 5-19 (Broncos 34, Browns 12 in 2012 at Sports Authority Field in Denver)
The stakes: Establishing credibility. The Browns have not beaten the Broncos since 1990, when Bernie Kosar tossed three touchdown passes on Monday Night Football.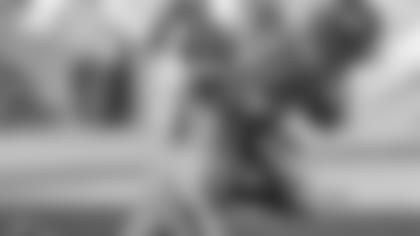 Matchup to watch: Left tackle Ty Sambrailo vs. DL Randy Starks. Cleveland brought in Starks as a veteran presence on the defensive line, but it also signed him because of his matchup passing rushing skills and ability to collapse the pocket. Sambrailo, a rookie from Colorado State, was thrust into the starting lineup when Pro Bowler Ryan Clady tore his ACL during OTAs. Expect the Browns to attack him all afternoon.
Offseason storyline: A 12-4 record wasn't good enough. Head coach John Fox and most his staff were fired by Executive Vice President John Elway. In turn, the Hall of Fame quarterback hired his trusty pal Kubiak to call the shots for the Broncos.
Biggest addition: TE Owen Daniels. Kubiak brought his famed two tight end system with him to Denver. Daniels has been with the coach all nine seasons of his career in Houston and Baltimore, and will be a mentor in teaching the offense to younger players. He boasted 48 catches, 527 yards and four touchdowns for the Ravens one season ago.
He gone: TE Julius Thomas. The former basketball player burst onto the scene Week 1 in 2013, scoring three touchdowns, and he never really slowed down. Thomas accounted for 24 touchdowns over the last two years and was a matchup nightmare for both linebackers and safeties. He'll now try and jumpstart the Jaguars' offense.
The star: WR Demaryius Thomas. The ink is fresh on his new, five-year, $70 million deal, and it's well deserved. Thomas has three consecutive seasons of at least 90 catches, at least 1,400 yards and at least 10 touchdowns. Part of that can obviously be attributed to quarterback Peyton Manning, but there really isn't a catch the 6-foot-3 Thomas can't make on the football field.
The X-Factor: Manning's health and productivity. Looking back at the 2014 statistics, it seemed like vintage Manning – 39 touchdowns and nearly 5,000 passing yards. But go back and watch the film and you'll see less velocity on Manning's passes and a handful of games where he looked like an above average quarterback and not a Hall of Famer. Further, there's no denying Andrew Luck outplayed the 39-year-old in the AFC Divisional Round. The 2015 season could be Manning's last and Broncos fans remain cautiously optimistic the quarterback can deliver a second Super Bowl berth in three years.
They'll make the playoffs if...: The makeshift offensive line adequately protects Manning; if Von Miller and Aqib Talib lead the Broncos defense to at least a top-15 unit ranking and if C.J. Anderson and Montee Ball combine for at least 1,300 yards.
The season will go south in a hurry if...: Manning's body can't sustain a full season; if no tight end can fill the role of Thomas and if linebacking play continues to plague the defense.
Expert's take – Andrew Mason, DenverBroncos.com: "Gary Kubiak is going to have a bit of a grace period because he is that familiar guy. And also, he's just on more of the same page as John Elway as far as emphasizing playing the younger guys…The Broncos want to win consistently, even when Peyton Manning is not here."