Duke Johnson Jr. never knows exactly what he's going to get with the upcoming game plan, but that's what he likes about his role on Cleveland's offense.
Johnson does a little bit of everything, and it all came together in a big way last week against the Colts. The third-year running back cracked 100 yards of offense and scored his first touchdown of the season in a losing effort. He's hoping to contribute the same in a winning performance Sunday against the Bengals.
ClevelandBrowns.com caught up with Johnson as he eyes his latest opportunity to impress in multiple ways. [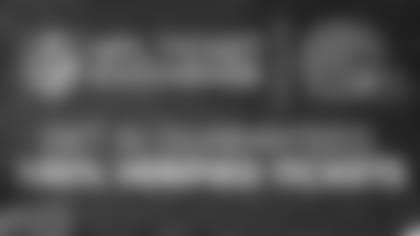 CB.com: Running backs coach Kirby Wilson said Friday that you're "on a mission" this season. What does that mean from your perspective?
Johnson: I'm not really sure. My whole thing is just making my plays when I get a chance. It may look different from the outside looking in, but that's been something I always strive for and go for week in, week out. When I'm given the opportunity with the ball in my area, just try to make a play to the best of my ability and just convert for the team.
CB.com: During training camp, Hue Jackson talked about you following him around to every offensive meeting. How has that changed your usage this year?
Johnson: It's been different but it's something I embrace because it's more opportunities to get the ball and more opportunities to make plays.
CB.com: When you were at Miami, was this the kind of role you envisioned for yourself in the NFL?
Johnson: Yeah, I kind of wanted that role in college just because I knew I could do it and knew I could help my team. I think the Browns saw the potential and saw that I'm able to do those things and that's the way I've been used.
CB.com: It seems like there's a guy like you on every team now in the NFL. Why do you think that is?
Johnson: I believe players like myself and a lot of guys around the league, it's so dangerous because the NFL is about creating mismatches. If you can match us up on a linebacker or a safety that doesn't cover well, it can be a problem for defenses. That's just something guys like me in my position kind of like and strive for is creating mismatches and doing everything we can to help win.
CB.com: At what point do they recognize you're a mismatch and start putting some better cover guys on you?
Johnson: Once you start making noise. They're not going to respect you until you start making noise. They're going to put a linebacker on you for as long as they can, for as long as you allow them to. Once you start making plays, they kind of open their eyes and say, 'we can't cover this guy with a linebacker. We have to use a defensive back.'
CB.com: What goes through your head when you're leaping for the end zone from the 4-yard line?
Johnson: I wasn't coming up a yard short. Anytime I get a chance to go up, unless I'm just grabbed out of the air and pulled back, for the most part I'm getting in the end zone. At that moment, my whole mindset was in between whether he was going to dive and try to cut me. I didn't want to dive at the pylon and it be a bang-bang play. I just had the idea of maybe he's going to cut low so I guessed and jumped high. He went low and I went high and I was able to get over him for a touchdown.
CB.com: How excited would you be to find yourself with a lead and in position to control the game with the run?
Johnson: I'd be excited. We're so close and then so far. We have plays where you see the potential and see what we can become. Then you have plays where it looks like we have no idea what we're doing. That can't be the case. If we want to be a good running team like we say we do, we have to be consistent. We just have to take pride in doing our job and take pride in not allowing one guy to make a play or one guy to bring you down. We just have to find ways to get it going consistently.
CB.com: Does it make it more frustrating because you know how much potential there is?
Johnson: It's frustrating but we're trying not to get discouraged. We know what we can be and what we have the potential to be. It's about going out there and executing play in and play out and taking it one play at a time.
CB.com: How important is it to snap this winless start to the season?
Johnson: Very important. They have their leader back. They're going to be excited and they're going to be ready to play and hyped up. He's the vocal point of that defense, (Vontaze) Burfict is. We know what kind of player he is, we know what kind of guy he is. He's going to bring the energy, he's going to bring the excitement because he's been off for three weeks. This is his first game back and the defense has its leader back. I think we're going to see a very tough defense this week.
CB.com: Is Burfict someone you have to watch out for because you go across the middle on so many plays?
Johnson: I always try to keep my head on a swivel regardless of who I'm playing but he has the potential to put you out whenever you cross paths with him. I'm always trying to keep my head on a swivel when he's in the game.