When the Browns take the field Sunday at Twickenham Stadium, they'll be playing in front of a number of fans who made the trip from Cleveland with them.
There'll also be plenty of locals who have waited years for their favorite NFL team to make their first overseas trip since 1989.
Over the past week, we reached out to a number of Browns fans who were born and raised in England. Many of them have never even set foot in Ohio, let alone Cleveland, but bleed orange and brown the same way those who fill the Dawg Pound on Sundays in the fall and winter.
We're simply letting them tell their own stories. They've been slightly edited only for grammar and brevity. [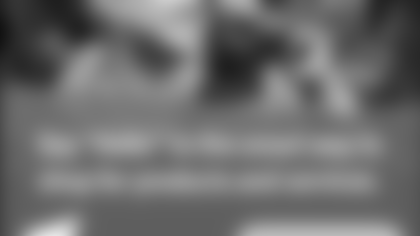 I first started watching football during the 1983-84 season. Back then in the UK, we only had four TV channels, and the most recent of those, Channel 4, began showing weekly highlights every Sunday evening. These programs were essentially highlight packages like what you would see now on any major network or NFL.
Well, this new exciting sport, which was like nothing we had over here, exploded in popularity very quickly, much like you see nowadays with tv programs like Game of Thrones or Walking Dead. Basically, it grew very quickly and my enjoyment of the game grew at the same rate.
My first memories from this are how I came to follow the Browns. I remember during the off season before 84-85 consciously making the choice to choose a team to follow. So I bought some books. I was 12 years old, and I went through all the teams whittling down to teams I like.
At this point the Browns were always going to be in the mix because I picked teams based on things like favourite colours, and mine was orange and I remember also having the Broncos and Bucs as possibilities as well.
My second memory was the one I think made my choice for me. I can still picture it now. It must have been an NFL film with music, but it started with an image of a ball before panning out to show heavy snow and lots of steam, then your saw arms and then it panned out to show a line of scrimmage with orange helmets. Then it changed to these fans who were all barking and had dog masks with what looked like dog bones.
That is my oldest memory, and from there it's led to many more, like watching the Conference Championship games on a TV in my bedroom with the sound off and lights off so my parents wouldn't catch me watching the game, as I had school the next day and should have been in bed. Or to me eating a dog biscuit because I believed that all Browns fans had eaten one at some point to prove how loyal they were, or writing a letter to a UK-based football magazine upset at an article suggesting that Art Modell should be considered for Canton.
And my love for the Browns has led to me traveling to Cleveland to see games and also other cities to see us play. I can still remember experiencing cold weather like I had never experienced before when I was at the home game vs. the Chiefs, where Derek Anderson came in and led us to an OT win. It also provided many other enjoyable memories, from meeting people in Cleveland as well, from just walking through the Muni tailgates or buying a corned beef sandwich downtown and talking to a waiter who wanted to talk about soccer or having funny little misunderstandings, like buying a beer in the hotel and having to ask the guy on the next stool if I tip the waitress before I buy the beer or when buying it or after I had bought all the drinks.
I have no family connections to Cleveland to explain why I chose them but I'm forever glad I did pick them, for those memories and the many others I have experienced both in Cleveland and the rest of your amazing country.
I first started following the Browns in 2008. Mezmerized by David Tyree's bizarre helmet catch in Super Bowl 42, I caught the NFL bug and began to look for a team I could call my own. Then Browns owner, Randy Lerner, had recently acquired my favourite English football team, Aston Villa. Intrigued as to the identity of our new Chairman and his team, a simple YouTube search led me to Josh Cribbs' kickoff return against the Steelers and watching No. 16 tip-toeing down the sideline at Heinz Field shaped Sunday evenings for the rest of my life. As an 11-year-old with little access to televised games in the UK, I would follow games on NFL.com's simple drive charts, frantically refreshing for updates on every down. Almost 10 years later, I'm so excited to see my Browns in my home country. Go Browns!
American Football (as we call it) started being shown in the UK in the 1980s. All we had was a weekly 60-minute highlights show and, as a sports mad young boy, I wanted to watch as much sport as possible.
At that time, the most popular teams in the UK were the few teams whose gear you could find at the one American sports retailer in the country. Perhaps obviously, they tended to only stock jerseys from teams that were successful at that time, such as the 49ers, Broncos, Giants, Redskins, Dolphins and Bears. At school, we'd pretend to be Joe Montana throwing to Jerry Rice, or other famous QBs at the time like Elway and Marino.
I wanted to be different. I didn't want a team that my friends supported; I didn't want to be seen as a "glory hunter." I wanted a team who was good but not yet great. As a defender in soccer who always enjoyed stopping players who thought they were good, I definitely wanted a team known for its defense.
So I picked the Browns. I loved Clay Matthews and Mike Johnson at LB. I loved the CB pairing of Frank Minnifield and Hanford Dixon. They were the guys I pretended to be. I loved the idea of the Dawg Pound. I loved that the weather played a part in our late season/playoff games. In short, I didn't fall in love with football, I fell in love with football in Cleveland. If I ever get the chance to go to a Browns game in Cleveland, I want it to be in the Dawg Pound in December. Anything else would seem wrong.
Despite our recent spell of underachievement, I still watch every game on NFL Game Pass and I always will. The Browns are in my blood.
It was 30 years ago in September 1987 whilst I was visiting my family in Toronto that I decided to travel across the border and watch a live NFL game.
I was only 17 years old at the time, and after paying a total of $200 Canadian, boarded a bus for a weekend in Cleveland to watch a game against the Steelers. It was a great game (don't forget the Browns were a successful team back then), and I then chose the Browns as the team I wanted to follow.
When I arrived home in the UK a few weeks later, I got in touch with the Browns and told them my story, and asked if they had a UK fan club. They told me they hadn't, and I could set one up if I wanted to. I then set up an official Browns Backers group in the UK, which was a success for a few years until work commitments took over and I had to give it up.
During the time I was president of the group, the Browns did come to the UK to play in the preseason game called the American Bowl, and I was allowed full access to the their training camp, locker rooms, hotel, etc. It was a fantastic week that I will never forget.
During the 1996-1999 hiatus, I did decide to support the Seattle Seahawks, and when the Browns came back in 1999, I couldn't decide who to follow the most, so ever since, I have become fans of both teams.
I became a Browns fan in 1985 after one of our national TV stations, Channel 4, started showing highlights of games every weekend. It was the season that Mack and Byner rushed for 1000 yards each and the start of the Kosar era, so not a bad beginning.
The reason I picked the Browns is that the County I was born in (and still live in) was called Cleveland (although it has subsequently changed names a few times) so I had a connection there. Plus I could identify with the blue collar, industrial, "looked down upon area" aspect, as where I grew up is a heavy industry (steelworks, ship building) kind of place and is often shown in a poor light nationally. If we had a lake here, I'm sure somebody would have tagged the "mistake on the lake" onto us, too.
The Browns games were rarely shown, so I used to try and listen to American Forces Radio Europe on Sunday evenings on a MW radio - the reception was terrible and used to fade in and out, but I would still try and catch the Browns scores. The big playoff games were live on the radio and I suffered with the rest of the Browns fans listening to "The Drive" and "the Fumble." Still don't like Denver to this day, or particularly Elway.
I got a chance to see the Browns in a Preseason game in Tampa in the late 80s when I was vacationing in Florida, then when the Browns played the Eagles at Wembley in '89. I was there as part of the British Brown Backers group set up by Stephen Blood.
My last Browns game was the home opener in 1991 against the Cowboys at the old Municipal Stadium. I was visiting a friend who lived in Akron and managed to get tickets for the game. I just realized this was Bill Belichick's first game as head coach.
In the days before the Internet I used to get my Browns info from the weekly newspaper (whose name I've now forgotten) and was extremely sad when the Browns were "moved" to Baltimore. I wasn't tempted to shift my support and my interest in the game was put "on hold" until the Browns came back in 1999.
Since the Internet came much more to prominence, it's so much easier to keep in touch with Browns news. I can watch all the games now on NFL Game Pass and haven't missed a Browns game for probably the last five.or six years. The rare appearances on Monday or Thursday nights can be a problem, as the games don't start until 1:30 in the morning and sometimes it's close to 5 a.m. when the game ends and I have to be up for work at 7. When the Ravens blocked and returned that FG in '15, it wasn't a great feeling at 4:45 in the morning!
I listen to Browns News Daily most nights (tweeted the show a few times and had a few replies from Nathan), stay up to watch the NFL draft, which I love (especially as the Browns always have lots of picks) and love the game. Whilst I wouldn't claim to be an expert, I think I understand the game pretty well by now.
Despite how hard it has been the last few years watching the Browns "being the Browns" week after week, I still wear my Browns cap to every sporting event I go to (soccer, cricket, rugby) and have met a few other UK Browns fans. We have a great group on Facebook (actually two - British Browns Backers and UK Browns Backers) and some lively debate on Sunday evenings and through the year.
Really excited about this weekend and finally seeing the Browns again - don't have great expectations for the game but looking forward to meeting Browns fans from all over the world at the meet-up on Saturday night and Sunday morning.
I have been an Aston Villa fan since 1981 and I've liked the NFL since 1985. I didn't have a NFL team, and I liked the St. Louis/Los Angeles Rams under Kurt Warner but not enough to make them my team. Then Aston Villa was sold to Randy Lerner, who owned the Cleveland Browns. So I learned about them and decided to adopt them as my NFL team.
I went to America last year to do a monthlong tour of New York, Philadelphia, Washington, Cleveland, Fort Worth and Dallas to enjoy sports and dancing and sightseeing. I saw two NFL games, which is Eagles vs. Browns and Browns vs. Ravens. I enjoyed every moment of it. I am a regular of London NFL games.
I also am a fan of Cleveland Indians as well.
I'm a UK born Browns fan. I first got into the Browns when Randy Lerner took over Aston Villa and started then watching the NFL and quickly fell in love with the Browns. I remember first being hooked when Cribbs had the return of the century vs the Steelers. It always brings a smile to my face.
Since then, it's been love, hatred, enjoyment and sorrow all in one.
I was introduced to American Football at university, by an American exchange student back in the late 1980s. At that time, there was a highlights show on TV each week and the sport was becoming popular over here. I thought quite hard about which team to support. I wanted a team that had a history but wasn't one of the more fashionable franchises. It had to be from somewhere down to earth, where people really cared about their team. The thing which swayed me in favour of the Browns was the reputation of the fan base, the level of intensity of the Dawg Pound.
The Kosar era still provides some of my fondest memories of Browns football. There was the thought that one year we would actually get past Denver in an AFC game and then do a better job in the Super Bowl than they did.
Before the Internet, it was harder work to be a fan over here. There were a few specialist American sports shops, which sold imported merchandise, and there would usually be a choice of one or two jerseys and T-Shirts per team each new season. Sometimes that would be the focus of a day's shopping trip, other times it would be an eagerly awaited mail order. The T highlight show would have one edited game, with just the results or a TD shown from the rest.
The reaction of the city of Cleveland and the fans as a whole to the move proved to me that I was supporting the right team. In British sports, moving a team (we don't call them franchises) from one place to another is almost unheard of. The fact that this betrayal was met by a huge enough effort to convince the NFL to not just give the city a team, but to give it the Browns name, history and colours should be a source of pride to all Browns fans.
During the years without the Browns, watching the sport was nowhere near as interesting for me. When the Browns came back, I was able to forgive their early performances because it was so good just to have my team back.
The first real jump in technology for me was when I was able to stream radio commentary on the computer. Suddenly instead of having to watch whoever was on British TV, I could follow my team's game live.
Another good thing was finding that somebody was forming a Browns Backers group in Britain. It meant a two-hour train trip to London, but I was able to actually sit in a bar with other Browns fans cheering the game on a big screen. The time zone difference means that when I go there I will either rush for a late train back or stay over, but it's worth it. Probably my favourite visit was the playoff game against the Steelers,because we got so many Browns fans in that sports bar.
I haven't been to the USA and am unlikely to do so, which means that this Sunday is my chance to see the Browns live. I am looking forward to it so much. I intend to yell, bark and support the Browns loudly.
So I'm 16 in 2002 and living with my grandfather, as my parents have moved to the Middle East for two years. I have finished my school exams and my Granddad takes me on a holiday to Cleveland to visit his sister and her husband, who emigrated from Manchester, UK, when they were very young. They had five kids and they all have kids, so I have quite an extensive extended family over there.
While visiting I was asked if there was anything in particular that I wanted to do while in Cleveland, and I thought, with it being summer, that I had to experience the great American pastime and go to a baseball game.
Unfortunately, I had just missed the heyday of the juggernaut Indians teams of the 90s, but I did get to watch Thome launch a bomb to centre field as the Tribe were taking on the World Champion D'Backs. From that point I was watching all the games on TV while in Cleveland and ever since. Hand on heart, the Indians are the team I care most about and that world title is the sports championship I so desperately want the city to achieve.
I used to stay up until 3am (6am when we were on the West Coast) once I got back to England, just following the games on a gamecast until I bought MLB.TV and have done so ever since.
Then the following year, when we ended up drafting LeBron, I became invested in basketball. And I have been watching LeBron throw the hammer down ever since and forgiven and forgotten "The Decision." Watching Game 7 of the 2016 NBA Finals was a spectacular experience (as was Game 7 of the World Series, although the result was not the same, but I do believe I gave myself a savage headache from screaming after Rajai Davis hit that home run).
Then in 2004, I made it the trio and suffered ever since, aside from that brief glitch in the matrix when Derek Anderson led us to a 10-6 record. As a perennial optimist, I think the Browns would be undefeated since I became a fan if my pre-game predictions came to fruition. I used to stream all the games on my computer until I moved back to the UK, from Prague, and settled in London, where I found the Hippodrome Casino on Leicester Square, which has become THE place to watch NFL in this country. The atmosphere is like it would be in a US sports bar, complete with all the beer and the typical sports food and waitresses in team jerseys.
Hundreds, sometimes over 2,000 (especially when it comes to the Super Bowl) can attend on the Sunday to watch their team on one of the dozen or so TV screens. British fans, but also American ex-pats, students studying abroad, or those just visiting come to the Hippodrome to watch the games, and you make new friends with fellow fans every week, so it's been a Godsend for us British fans who didn't always have equally diehard fans in the country to share the sport with.
I began following the NFL in the mid-90s, shortly after the Ravens stole the team from Cleveland. When I found out that the highly passionate Browns fans had managed to force the NFL into returning a team to Cleveland, I decided that they were definitely the team for me. I soon befriended some Browns fans online and first visited Cleveland at Thanksgiving 1999, subsequently returning in 2001 and again in 2010. On every occasion I have had a great reception from the locals.
Around 2002, I first met Steve and Jane (who run the British Bulldawgs Browns Backers) and a group of us started to meet up every August to discuss the new season while watching a preseason game on a video tape sent over from the States! Fortunately, things have moved on since then and nowadays it's possible to watch the Browns live from anywhere in the world, and a large group of Browns fans now meet up every Sunday at the Hippodrome in Central London to follow the game.
Naturally, the prospect of finally getting to see the Browns play in London is a great thrill for all of us over here. We very much hope that those Browns fans who are crossing the pond for this game enjoy a similar experience to that which many of us have received when we have visited Cleveland.
I became a Browns fan in 1989. I married a US serviceman, and when he got out we came back to the UK to live. I got bitten by the football bug when he and two other English guys set up one of the first UK American football teams, the Ipswich Cardinals, and they went to four championships. So in 1989 the Browns came to the UK for a preseason friendly against the Eagles, and I fell in love with them. I loved the team, the way they played, no fancy uniforms, Bernie and most of all the crazy fans! When the fans started barking and throwing bones, I knew this was my team. My husband also had old family friends living in Berea and we are in contact. Over the years they have sent me newspaper cuttings, Browns scarves, socks, and a Christmas tree decoration. I have stood outside the training facility at Berea but that's sadly as close as I have got to the Browns. We have had season tickets for UK NFL for several years and I have waited so long to see them. It is tough being a Browns fan with little to celebrate and lots of jibes from friends and family but they are my team - Go Browns, woof woof. Can't wait to see them play a league game here in the UK, bones and shirt at the ready.
I owe my love for the Browns to an Eagles fan who wore his jersey in the office. He grew up watching Donovan McNabb and urged me to take an interest in the game for which he had such a passion.
Blessed with a surname fit for the team, it was a natural choice to choose the Browns. My favourite soccer club here in the UK, Barnet, also sport a distinctive orange kit. After reading through the roster I made good on my word to follow them through thick and thin.
In the years which followed, I've supported the team from afar, rooting for present-day players and reading into those who in the past made the franchise great.
My obsession has extended to buying more or less every Browns t-shirt available, a number of jerseys and even a replica helmet, which I built out of building blocks!
I hope one day to visit the city and meet local fans who I hear such great things about. Until then, I'll continue to fly the flag in London and look forward to seeing a sea of orange at Twickenham stadium. Go, Browns!
"So Why Are you a Browns Fan?"
Why Wouldnt you be a Browns fan!
That's my normal cheap laugh, icebreaking answer whenIi am introduced as the English Browns fan to other more local American fans.
The real answer is that when I was growing up as a teenager near Manchester in the 1980s, a new Network TV channel needed content, so they decided to show American football. To a geeky kid of the time, the game seemed so brash and exciting, but interesting and layered
The first game I ever saw was the Browns vs. the Bengals, and the NFL equivalent of Hogwarts Sorting Hat picked my team for me.
This was pre-Internet and the game seemed a complex mystery to myself and my dad at the time. We honestly thought an official- thrown flag on the field had been pulled off the shorts by a defensive player and that was a way of making a tackle.
Over the years, my knowledge of the rules has gotten slightly better. I still couldn't describe accurately in a court of Law what exactly what is and what isn't a completed catch, but judging at some of the officiating I see, I don't think I'm alone in that respect.
When I graduated University in England in 1995, I was lucky enough to spend five months in Columbus, Ohio, on a working holiday. I never got to see a game at the old Municipal Stadium, but seeing the passion of the fans heartbroken about losing the Browns made me know I had picked the right team.
Watching the games in London each week means we have a steady stream of Ohioans passing through the city watching with us.
The win-loss record might not have been the greatest in my years of supporting the team, but I will take it for all the wonderful lifelong friendships I have made from following the Browns.