INDIANAPOLIS -- Quick-hitting the hottest topics from Browns general manager John Dorsey's Thursday afternoon with reporters from the 2018 NFL Combine…
Dorsey didn't tip his hand one bit with what the Browns plan to do with the No. 1 and No. 4 picks in the draft, and he even left open the possibility of a trade.
With a little less than two months until the first round of the 2018 NFL Draft, Dorsey stressed it's early enough in the process to truly claim everything is still on the table.
"There is a lot of things that I could do at No. 1," Dorsey said. "Not just get a quarterback as well. My door is wide open. If someone wants to come up to me and talk about a trade, I'm willing to trade, but also I'm going to do what is best for this organization and I will do that."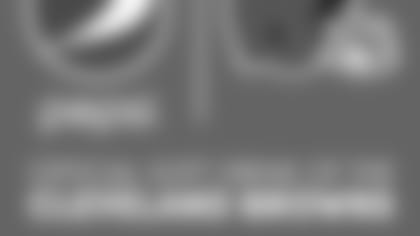 ](https://www.pepsi.com/en-us/)
Dorsey echoed Hue Jackson's comments from Wednesday about the future of left tackle Joe Thomas and stressed the team would be looking to upgrade the position no matter what the future Hall of Famer decides about his future.
Dorsey joked Thomas, 33, is "no spring chicken," and there's always a need for young offensive linemen on NFL rosters.
"I have greatly admired Joe from his playing days at Wisconsin all the way up to the Cleveland Browns. I mean, everybody in his right mind knows how talented he is," Dorsey said. "I think with that said, he deserves a little bit of respect. You know what, when it comes time for the proper decision, he will make it."
The Browns are permitted to interview 60 players during their week in Indianapolis. Maximizing that time is crucial, as the sessions last just 15 minutes.
Dorsey explained his approach during an interview Thursday on Cleveland Browns Daily. It's all about making the player feel comfortable.
"The guys who are invited to the combine have gone away to different workout sites across the country and they have been prepared and they have been prepped up on how to interview. They will sit down and do mock interviews," Dorsey said. "So, what you want to do is you kind of want to break it down to like a locker room setting and get them to kind of relax. They are not going to be very relaxed, but at the end of the day, do they love the game of football? Are they competitive guys? How much intellectual depth do they have? Are they good people? At the end of the day, would you want them?
"I think it is just one piece of it because not only is that important, but then the position coaches will sit down with certain position players here at the combine and kind of get to know them. Then, the more information you begin to gather, then you will be able to create a summary upon that particular player."
Though the majority of speculation about the Browns has centered on the quarterback class, Dorsey stressed he was encouraged by what he saw from DeShone Kizer during his rookie season.
Dorsey also believes the future is bright for the former second-round pick, who started 15 games and had arguably his best performance of the year in Cleveland's season finale at Pittsburgh.
"What I thought was really nice was how much he improved week in and week out," Dorsey said. "I have always told you guys that I think a young quarterback from year one, going from his rookie year, to year two, he makes exponential improvement moving forward, and I would expect nothing less from him.
"This offseason, I can't wait to see him come back in OTAs because I think he is going to make exponential strides. That is the competitive nature that you want. You want to be able to have those guys develop and fit into a role and see what it happens."
Asked to rank the most important positions on the field correlated with winning, Dorsey started with quarterback and rattled off four more -- pass rusher, cornerback, left tackle and wide receiver -- that are directly related to the passing game.
"The game has evolved so much, not only vertically, but it also spread you out horizontally, too," Dorsey said. "It opens up different options for offensive coordinators to do. Then, when you have the (run-pass options) in place as well, that changes the whole dynamics of this."