INDIANAPOLIS -- As has been the case for the last three years, much of the buzz at the combine centers on the Browns and their ongoing search for a franchise quarterback. The Browns hold the No. 1 pick in the 2018 draft and, therefore, control the top of the quarterback board if they choose to go in that direction with the first pick.
Among those expecting the Browns to take a quarterback at No. 1 overall is former Browns quarterback and first-round pick Brady Quinn, who is in Indianapolis as an analyst with SiriusXM NFL radio.
Quinn, the former Notre Dame star, shared his thoughts on the top quarterback prospects in the draft, the rookie season of DeShone Kizer and the expectations on 20-year olds in the limelight as college sensations in an interview on Cleveland Browns Daily.
Regarding Kizer, Quinn said "ultimately he displayed what you kind of expected from a rookie. There were some times where he really flashed and showed his ability and there were some times when he was inconsistent and made some mistakes." Quinn added that ups and downs are to be expected for any rookie quarterback, but with Kizer "you wanted to see that growth just be more of a consistent approach going up." Still, Quinn thinks the 22-year-old is extremely talented and has the chance to be a very good quarterback in the NFL.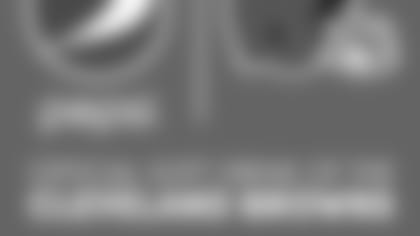 ](https://www.pepsi.com/en-us/)
Quinn's top quarterback prospect in the 2018 Draft is 20-year-old Sam Darnold, who "when you look at his skill set and his game…he has all the tools. He can make all the throws, he's got a strong enough arm, he's pretty accurate and the thing I like about him is that he is able to fit balls into different sorts of windows that like you typically are going to have to do at the NFL level. He can extend plays … he's big and he's durable." Quinn noted the former USC star will have to answer questions about his fumbles in college and address some decision-making issues. Quinn attributed about "six or seven of his 13 interceptions (in 2018) to poor decisions." Darnold will not be throwing at the combine, as he continues to work on his mechanics and the mechanical change at this point in the game is something Quinn says he wouldn't have done. Still, Quinn says Darnold is "the top overall prospect for the Cleveland Browns at the quarterback position."
Quinn loves the way Josh Rosen throws the ball, but "the biggest concern is injury history and how durable he is … the biggest issue is that he has not been able to finish a season really healthy." Quinn said Rosen is very tough and cited his performance against Texas A&M, when he repeatedly got up from big hits and went on to come through in the clutch. As for Rosen's ability to come in and start right away, Quinn thinks "he is the most NFL-ready … he is smart, he has a high football IQ and you are not working on anything mechanically." He is ready to come in and play, but Quinn notes there are questions "about his demeanor" that will be critical to Rosen during the interview process. Such things don't bother Quinn, but attitude and durability are the two things Rosen will hope to put to bed at the combine.
As for Oklahoma's Baker Mayfield, Quinn said there's "no doubt" he can be successful in the NFL. "You might need a little more of an offense that caters to his skill set, probably one because of his height will be centered around shotgun, not so much under center, probably one that allows him to move and get around the pocket a little bit and get him out in space. That's where he's so special." Quinn has some concerns about Mayfield's performance in the National Semifinal against a Mel Tucker-led Georgia defense that featured tight, man-to-man coverage and exotic pressure schemes. In that game, Quinn saw a Mayfield "who wasn't as accurate and struggled a little bit, so (I'm) kind of curious to see how that game will translate versus the Big 12, where the windows are a lot bigger." As for his competitiveness, Quinn "has no issues with how he handles himself," but added that "off the field, I think he has a little bit of growing up to do and he can rectify a lot of those rumors and things swirling around in the interviews." Quinn wanted be clear he does not compare Mayfield to Johnny Manziel in any way, but instead says Mayfield reminds him more of Texans quarterback DeShaun Watson.
As for judging how these young quarterbacks handle fame and the responsibility that comes with it, Quinn had an interesting and strong answer: "Look, if we can ask young men and women to go serve this country at 18, I think we can ask our quarterbacks and other players at the college football level to conduct themselves in the proper way."
For Quinn, Josh Allen is a tough evaluation because "he played at a lower level and didn't have a great team around him." As far as traits go, Quinn sees a lot of promise in Allen: "No one has a stronger arm. He's a rare combination of size and athletic ability." However, Allen has his flaws, including inaccuracy, said Quinn, who wonders "can you fix some of the issues he has mechanically?" He has seen improvement, and while "the sky is the limit for (Allen) as far as his ability or what his ceiling is, he may be a little bit more of a project than some teams want to take on, especially if you're drafting him in the first round."
While Quinn thinks all of these prospects have upside and the ability to succeed in the NFL, it's Darnold who "is the safest bet" of them all for the Browns in the 2018 NFL Draft.