INDIANAPOLIS — **In the coming days, Penn State's Saquon Barkley will almost certainly reaffirm the belief he's the best running back in this year's NFL Draft class. He began that process Thursday in a news conference with reporters at the league's annual scouting combine and, shortly thereafter, posted a whopping 29 reps on the bench press.
The other dynamic becoming clear in Indianapolis is the overall depth of this year's group of running backs and, more importantly, how the Browns could add a talented runner not named Barkley later in the draft.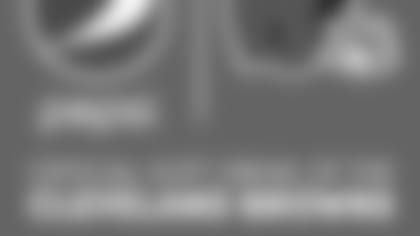 ](https://www.pepsi.com/en-us/)
Browns general manager John Dorsey said as much Thursday in a news conference while also stressing Cleveland won't rule out a player of Barkley's caliber because of more pressing needs at quarterback and other positions.
"I think this is a really good draft for running backs. I think there are some really talented running backs in this thing," Dorsey said.
"That's not to say whoever the first running back taken can't be a franchise difference-maker. That's how you have to look at these things as well. I mean, if you look back at (former Bears running back) Gale Sayers. What was Gale Sayers picked back in the day? He was picked up really early and he was a difference-maker. It's a case-by-case study."
Dorsey and the Browns will take that all into account this week in Indianapolis and over the course of the next two months. Though Cleveland — owners of the first and fourth overall picks — could use one of those selections to pick up the dynamic Barkley, they'll take careful inventory of players at the position including Georgia's Sony Michel and Nick Chubb, LSU's Derrius Guice, USC's Ronald Jones, Auburn's Kerryon Johnson and San Diego State's Rashad Penny, who are all projected to be Day 1 or Day 2 draft picks.
The speedy Michel ran for 3,613 yards in four years at Georgia despite splitting carries with Chubb, who amassed 4,769 yards and 44 touchdowns in that same span. Guice is coming off back-to-back 1,000-yard seasons at LSU, while Jones ran for 1,515 yards and 19 touchdowns in his final season at USC. Penny ran for 2,248 yards and 19 scores last year at SDSU and turned heads at the Senior Bowl back in January.
"There's a lot of great running backs in this draft, and I'm glad I was able to be a part of this class because it's all about going out there and competing," said Penny, who's believed to be a second- or third-round pick, "and I think that's the most important thing that a lot of guys see as well."
"I want to prove my worth to the teams," Jones added. "Just looking forward to compete."
"Coaches I've talked to have told me, 'It doesn't matter where you get drafted. Where you get, you gotta work hard and work your tail off,'" Chubb said. "A lot of free agents have got a lot of playing time because they work harder than any other guys."
After watching Cowboys running back Ezekiel Elliott (No. 4 overall in 2016) and Jacksonville's Leonard Fournette (No. 4 overall in 2017) make an immediate impact, some teams across the league might jockey for position to select Barkley, who's been described as a game-changing type of player. At the same time, the Chiefs saw third-round pick Kareem Hunt lead the NFL in rushing as a rookie and New Orleans running back Alvin Kamara — another third-round pick — was the league's Offensive Rookie of the Year.
The Browns will take that recent history in account as they size up Barkley and his draft mates in Indianapolis.
"There's no question that Barkley is a tremendous football player. If we make a decision that he is best for us, then great," head coach Hue Jackson said Wednesday. "If we don't, I'm sure there's going to be another runner at some other time that we can put on our team that can have an impact for us."