Jabrill Peppers made his impact felt in last week's season opener in multiple phases of the game, playing all 60 snaps on defense and registering a number of successful punt returns.
He'll be looking to do the same in his first official NFL road trip Sunday against the Ravens.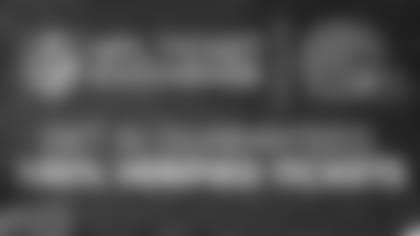 CB.com: There was a picture the Browns Twitter account posted of you fielding your first-ever NFL kickoff earlier this week. What was going through your head at the time and how did everything go in your first game?
Peppers: When they kicked the ball off, I was really hoping they wouldn't kick it too deep so I could return it. That was initially what was going through my head. I was just reading the path of it so my blockers could make their sets off me. All in all, I think the game had a lot of learning experiences. We faced some adversity with the blocked punt for a touchdown. We battled back and we still had countless opportunities to win that game. We just got to tackle better and make plays when the ball is in the air. Other than that, we held them under 15 points, speaking from the defensive standpoint, and our offense put up 18 points. We tell them that's all you've got to do. We're going to make their job a lot easier. We understand DeShone (Kizer's) a rookie, there's going to be ups and downs. That's why you have a defense to make him right or get him out of tough situations and make sure he has the shortest possible fields to work with. I think we all can pinpoint something we could have done better to win that game. That's the National Football League. Lucky thing for us is that was a division game and we'll see those guys again.
CB.com: What's your chemistry been like with Derrick Kindred at safety and what was it like to see him get his first interception?
Peppers: It's been phenomenal. Back when we were all competing for spots, it was clear to tell we had a very talented group back there. DK just plays with a lot of excitement and energy. That's the same way I play. We're both smart dudes and we both like to hit and we're both athletic guys. I definitely think we can be a great tandem for years to come. We're also complemented by a great D-line, great corners and great linebackers. I definitely think as a unit we can become something special.
CB.com: What did it mean to limit Pittsburgh to 35 rushing yards and what have you seen to make you believe it will continue to happen?
Peppers: It's just an attitude. Guys are more comfortable within the scheme. Guys are really understanding what the coaches want to do and it's just all about attitude. We took it personally that Le'Veon (Bell) didn't play all preseason or practice, nothing like that, and thought he was going to come out and run all over us. We definitely took that a little personal and wanted to send a message.
We've got to tighten up in the passing game. We didn't have too many deep balls go over our head but I missed a tackle coming down off the tip. I hesitated a little bit. We let (Antonio Brown) go up and get one. Guys like that are going to make plays but certain plays could have gone differently. We had guys in great position. We're just going to make it a thing: It's going to be tough to come here and run against us. It's all attitude, it's all about who wants it more and we all play with a chip on our shoulder. We're tired of being disrespected. We're going to come out there and get after it in the run game.
CB.com: What's the biggest adjustment you need to make facing an offense like Baltimore's?
Peppers: There's a lot of changes. They ran the ball 42 times against Cincinnati so we definitely know it's going to be a tough and physical game. That line is tough, nasty, the tight ends block really well. Even the receivers block downfield and they've got guys who are going to get vertical. They don't do too much East and West running. They just put their head down and get what they can get even if nothing is there. We know what kind of game it's going to be. It's another division game so that definitely adds a little more flair to it. We're definitely treating it as such.
CB.com: Are you the kind of guy that likes the road atmosphere and hearing the boos from fans?
Peppers: I like football. I don't care if we're playing away and on the road, but I definitely will say I like going into other people's houses and winning football games.
CB.com: What's the one thing this defense needs to do to ensure you get the victory?
Peppers: Just be the best defense on Sunday. We feel like the tougher, better defense is going to win. They have a great defense and we have a great defense. We just feel like whoever is more physical, violent, running to the ball, playing with more energy and enthusiasm is who's going to win this game.