Christian Kirksey has picked up right where he left off following a breakout 2016 campaign.
The fourth-year linebacker is one of the longest-tenured Browns and one of the loudest voices on a revamped defense. He picked up his first sack of the season last week in Baltimore and enters Sunday's game with the Colts second on the team in tackles.
Kirksey sat down with ClevelandBrowns.com as he prepares for a road test that will test the depth of Cleveland's linebacking corps, which will be without Pro Bowler Jamie Collins Sr. [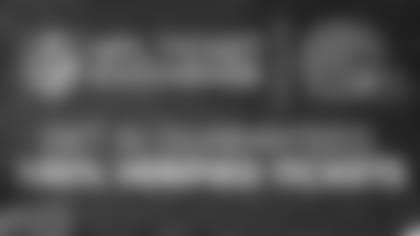 CB.com: Does the defense take any encouragement from how it finished last week against the Ravens?
Kirksey: Yes, I'm always encouraged. Individually, the next game is the most important game. As a team, we know what we're capable of doing. We know based off watching film things could easily be different. Sometimes it's us shooting ourselves in the foot and sometimes the other team gets a good play. We're definitely confident going into this week that we can win the game and that's what we plan to do.
CB.com: Defensive coordinator Gregg Williams said he liked how the team responded and didn't get down on itself after a sloppy first half. Is that a change in mentality from last year?
Kirksey: I feel like we've always had that mentality that the next play is the most important play. There's no sense in getting upset about the previous play and making it roll over into the next play. We teach short-term memory here. You have to move on and not dwell on the past and keep moving forward and play the next play even harder. That's what our mentality is on defense.
CB.com: What do you have to do differently without having Jamie Collins on defense?
Kirksey: Jamie's definitely a great player for us. He's a big-time playmaker. He's a leader for us. We wish our brother the best. We want to get him back on the field. Now, we just have to do next man up. Our linebackers have been working together and getting taught the same things by Blake Williams. I have full focus and the guys have full focus and we have so much faith in our next person coming up. I think he'll get the job done.
CB.com: It seems like James Burgess Jr. is pretty excited about the opportunity. Have you noticed that?
Kirksey: It's an opportunity to start a football game. It's the first football game he's starting. Anybody would get a kick out of that and joy out of that. Jamie is doing great for us as far as still talking to guys and making sure they're on the same page and making sure they're going through the week properly. He's still been that vocal leader for us and been that guy who makes sure we know what we're doing. Burge is just listening to Jamie and applying the things Jamie does to his game. Burge will be fine.
CB.com: Is this the most vocal you've ever been on a team?
Kirksey: I think I was a vocal leader in college. You can ask my teammates and they'll tell you I was pretty vocal in college. I think each year you've got to learn how to follow before you lead. That was my college career. I didn't become a captain until my junior year. I always say you've got to follow the right guys and learn from the right guys, so when it's your turn to lead, you prepare for it and are ready for it. That's something I've done and now being in the position I'm in, voted as a team captain, you've got to take that leadership role. I think I'm getting comfortable being in that role and being a vocal leader for our players. We're a young team, especially on defense, so you have to have a guy who stands out and knows what he's doing. For me to be in Year 4 and be one of the oldest players as far as being on the Browns in that stretch, I feel it's my opportunity to be a vocal leader and I'm in a great position to do it.
CB.com: How much have you changed as a player since you arrived here in 2014?
Kirksey: I think I've evolved from the way I think. When you come in your first two years, you're just trying to play and play as hard as possible. You get in where you can fit in, make all the plays that come your way because your plays are limited. My first two years, I was switching in and out with Craig Robertson. I've left that role to one now where I don't come off the field and have more control of what's going on on defense. I think I've evolved in that aspect of the game, especially becoming a student of the game with why teams do certain things. I wasn't thinking like that my first two years. I was just out there playing. I can say that my game evolved as far as how I think and just becoming a student of the game and maturing in the game, knowing what's going on.
CB.com: First two weeks, you guys faced some quarterbacks you're familiar with. This week's a little different with Jacoby Brissett. How does that change your approach?
Kirksey: We've just got to eliminate him from the easy plays and make it tough for him.
CB.com: What would it feel like to come back to Berea with your first win?
Kirksey: I feel like we have no better opportunity but to go out there and win on the road for our first game, our first W. I think that'd be big time for us and get the ball rolling.