The methodical process DeShone Kizer followed to become Cleveland's starting quarterback hits a major landmark Sunday at FirstEnergy Stadium.
Less than a week after he was officially named the Browns' top quarterback, Kizer will make his first official start against the Steelers.
On the eve of the first NFL Sunday of 2017, ClevelandBrowns.com caught up with the rookie signal-caller. [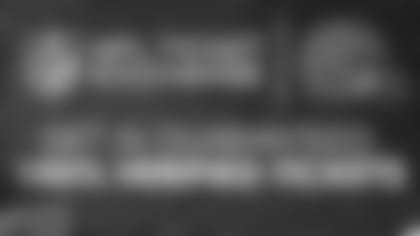 CB.com: It's been a bit of a journey to get you to this point. Where's your head at as you go into your first regular season start?
Kizer: I'm pretty excited. I don't think the nerves have really kicked in yet and I don't think they will. This has been a very smooth transition into this position. Coach (Hue) Jackson has done a good job of throwing me into the fire but with a leash on me. By that I mean I was out there with the ones and I was able to create the relationships needed to go out there and be successful and have a little bit of chemistry while also seeing it from a third-string quarterback and second-string quarterback perspective. Now here, obviously it's a quick transition compared to most but I think I'm ready.
CB.com: Was this something you truly envisioned the day you were drafted?
Kizer: Absolutely. The day I decided to go into the NFL, you start looking at all of the quarterback situations out there, all of the different things going on in the different organizations. For me, I always saw this was going to be really unique. If I could ever be in this position that I am right now this second, I was going to take full advantage of it. Obviously being from Northwest Ohio and being very close to this organization in terms of proximity, and also everything that went on at Notre Dame, being 4-8 and experiencing some losing and the things I've learned from that, I knew I'd be able to apply during a hopefully very successful run here in Cleveland.
CB.com: What kind of friends and family presence are you expecting Sunday?
Kizer: Quite a few. I'm doing a good job of letting my support system know that 'hey, look, once we start getting ready for this first game, I can't deal with too many distractions.' The whole tickets conversation and everyone coming in wanting a piece of me before the game, it's hard. I'm 100 percent locked in for this game.
CB.com: When did you start looking at Steelers film and how did you go about it this week preparing?
Kizer: When I was named the starter after the Tampa game officially was when I got ready for this. I knew there was a small chance I was going to play against Chicago so I put about two weeks of solid preparation with an understanding of the three-down stuff they do. I've been thinking about these first couple of games against division opponents for quite a bit. This last two weeks is when I actually locked in on the film.
CB.com: What's the biggest difference preparing for an NFL game than what you did in college?
Kizer: They do everything and they do everything well. You've got to expect you're going to see something that hasn't been on film. You've got to expect a look from two years ago against a team that doesn't even look like your offense is going to be a look they give you now. You've got to be able to do whatever you can to get ahead on that and see as many things you possibly can just so you can put it in the back of your head all the different things they do. In college, they have one look, one scheme and they do that well. Here, there's 15 different looks and 30 different schemes they run that they're going to be really good at. As a quarterback you've got to prepare for them all.
CB.com: What stands out most about the Steelers?
Kizer: They're star-studded. Every position out there is one you recognize the name. From the defensive linemen, to the linebackers, to the DBs, everyone who is out there is a guy who has earned some respect in this league. In order to beat a team like that, you've got to understand they're experienced. You've got to take what's given. You can't force anything through. You've got to be able to adapt to the looks they give you because with the talent they have, if you try to force something, they're going to capitalize on it. The best thing you can do as a quarterback is limit the amount of balls that are in harm's way.
CB.com: What have the last few weeks been like developing chemistry with the receivers and how do you adjust with three new guys in that room?
Kizer: It's been interesting. This is a new situation for me. Typically for me, the locker room you step into on Day 1 is the locker room you leave with at the end of the season. To have my first experience of bringing new guys in has been pretty cool. I think you've got to do your best to stay on the track you're on while also bringing some guys along with you and allow them to develop at the rate they develop at. I know I have three solid guys at the receiver position plus a very versatile running back who can step in and do some things at the receiver position and I've been able to create some great chemistry with since the day I stepped in.
CB.com: Tough week losing Myles Garrett to an injury, but what have you seen from the team as a whole and the optimism you have going into this game?
Kizer: When you're 4-0 in the preseason and you're showing what we've been able to put on film, I think everyone's very confident. There's a lot that's happened since the offseason, from us bringing in new guys to the mentality change. Obviously this rookie class has been showing some good things on film. I think our confidence is exactly where it needs to be to go out and get wins. You've got to have a little bit of swagger and this team has that.
CB.com: How important would it be to get some wins early in the season and build some momentum?
Kizer: You always want to go 1-0 each week, but we all know when you play three of your first four games against division teams, you've got to try to pull out a couple of wins from those. If we can go out there and continue doing what we've been doing for the last two months or so and continue to have that success, I'm sure we'll be able to turn that over into some consistency.