5:45 a.m. – A peaceful alarm wakes up Karlos Dansby. As you'll soon find out, the linebacker takes better care of his body than anyone you've ever met. The moment he slips out of bed, it's onto the floor for some morning stretching. Intense yoga-esque stretching. He brushes his teeth, washes his face and heads out the door.
6:13 a.m. – Dansby's not just one of the first players in the building – he's one of the first people. A custodian is still tidying up the cafeteria. Dansby heads straight for the trainer's office. He needs a good eight minutes in the hot tub to get his entire body warm. After that, it's reviewing plays from a recent practice on his iPad.
7:02 a.m. – The entire defensive unit is lifting weights together. Today the focus is on shoulders, back and abs. A few guys are having a competition to see who can lift the most. Not Dansby. He finds himself in a corner doing his workout at a ridiculous pace. It's like a scene from Rocky IV. It's not heavy weights either. The 32-year-old Dansby has learned the NFL for him isn't about bulking up to be as strong as possible. It's about getting your body ready for the most grueling four-month season on the planet. Fast-paced training is just one method of his madness.
7:50 a.m. – Finally, time for breakfast. Egg whites and Dansby's signature wheat toast with peanut butter are spread on his tray. During the NFL lockout in 2011, Dansby ballooned up to 270-pounds. On Thursday, he weighs a lean 234-pounds. Dansby hops on a scale twice a day, and keeps elaborate charts documenting his progress. Dansby's currently on a strict diet, called the Sari Mellman. Basically, for thirty days the diet analyzes your blood after each day to see what food your body breaks down well, and what it doesn't. Saying Dansby is particular about his food intake isn't giving it justice. He has a strict list of foods he won't touch, and he won't reveal that secret either. Dansby is one of the healthiest eaters you'll ever meet. In Arizona, a chef prepared all of his fruit intake in juice form, to eliminate the extra sugars. He doesn't like snacking, either. The Sari Mellman diet fascinates Dansby and the results are evident. He doesn't look like he's the second oldest player on the Browns.
8:30 a.m. – Defensive group install meetings, where coordinator Jim O'Neil stands at the front of the classroom to go over all the plays for practice, and review previous ones. Karlos Dansby knows how essential he is in this defense. "I have to be able to do it all," said Dansby. "Playing in space. Checking guys one-on-one. Swarming the football. Calling plays. And doing whatever is necessary to lead this team."
10:47 a.m. – The diligence in caring for his body continues. Before practice begins Dansby heads the team chiropractor's office. It's not for his back. Dansby has learned it's his hips that are the most important. "Linebackers, we're always in the bent down crunch position," explained Dansby. "So your hips are always exposed. Always in a tight position. So you want to try and keep them as loose as you possibly can." The chiropractor aligns Dansby's hips, the linebacker grabs his helmet and trots out to the practice field.
12:17 p.m. – OTAs on Thursday were full of 7-on-7 drills, Dansby's specialty. He glides across the middle like some sort of high-speed hovercraft. Pro Bowler Jordan Cameron has a tough time shaking the 6-foot-3 Dansby. The NFL is full of revolutionary tight ends and the Browns will see one in week two. The Saints' Jimmy Graham has torched defenses the past few years. Dansby can't wait to get his crack at him.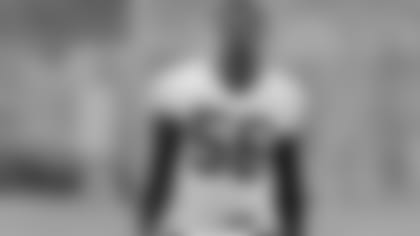 1:06 p.m. – It's straight back in the hot tub after practice for Dansby. Always set right at 100 degrees. The linebacker reveals one of his bigger secrets to keeping his body fresh: hyperbaric chambers. Usually, Dansby will lay in the seven-foot, glass-coffin structure for up to three hours after a practice. The chamber releases oxygen and Dansby swears by it. "No doubt it helps me heal faster, from workouts, from minor injuries," said Dansby. "It keeps your body functioning at a high level. It keeps you fresh." Dansby reads books in the $25,000 chamber and reviews film on his iPad.
1:22 p.m. – One more quick 12 minute workout for Dansby. Again, it focuses on his hips. He lays horizontally on his back on the bouncy ball, creating a flat line. It would be hard to find another linebacker in the league as flexible as Dansby.
1:41 p.m. – Finally time for lunch. A light portion of grilled salmon and brown rice. Dansby has been training often in Arizona and Miami and still doesn't have his personal chef in town. He takes a to-go box of the same meal to heat up for dinner later.
3:22 p.m. – Rest and relaxation time back at the team hotel. Dansby explains why he chose to become a Cleveland Brown. "I can see what everyone else can't see. This team is prime. We are ready. What is our weakness here?" Dansby remembers playing for a team no outsider ever believed in: the Arizona Cardinals. He was a major part of ripping out their losing culture and turning the franchise around. Dansby starts to bring up the most painful football memory of his life: losing Super Bowl XLIII to the Pittsburgh Steelers. Dansby led the Cardinals with eight tackles and an interception in the game. He'll never forget the image of Ben Roethlisberger, with confetti raining down, holding up the newspaper declaring the Steelers world champions. "It was devastating, man," said Dansby. "Four years before that, we were going through the worst. The Cardinals, we were the worst. Then we were 90 seconds from fulfilling a childhood dream. Bro, it was devastating. I can't get the loss out of my mind. All the hard work I do now, it's to get back there."
4:01 p.m. – Dansby has big plans off the field, too. He co-owns a grooming lounge called Butler's in Birmingham, AL. His business partner, Chris Butler, calls Dansby on the phone. The two discuss a major plan that they aren't taking public yet. Dansby also invests in an energy company. He cites Miami Dolphins owner Stephen Ross as a business mentor he looks up to.
5:45 p.m. – The phone rings again. This time it's Dansby's son, Karlos Jr. The child celebrated his third birthday earlier in the week. Dansby is heading out of Cleveland this weekend to throw a bash for his baby boy.
7:12 p.m. – When it comes to television, Dansby is a channel surfer. He stops on Bravo's Million Dollar Listing, a high-end real estate reality show. He's excited to watch the NBA finals later.
7:43 p.m. – Now time for Dansby's nightly routine: 200 pushups and searching YouTube for different ab workout videos. "If you want to be one of the best to ever do it, you have to take your body to a whole other level," Dansby said. "That's what I'm trying to do. If my body goes, my game is going to go with it."