Throughout 2022, the Browns were pleased to partner with JumpStart, a nationally recognized venture development organization providing capital, services and connections to help entrepreneurs grow and provide networking resources and opportunities to local small businesses.
The goal of the partnership? To accelerate the growth of Cleveland-area Black, Hispanic/Latino and minority entrepreneurs around Cleveland and give them a chance to grow their company through networking and taking advantage of the massive platform the Browns have in Northeast Ohio. 
Four unique events helped the Browns and JumpStart achieve that, with each drawing hundreds of participants, listeners, investors and others interested in reaching the goal.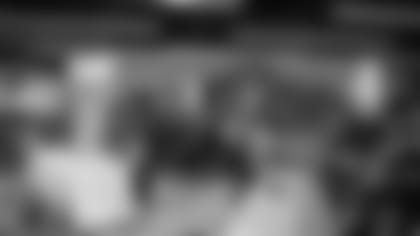 Small Business Impact Program Showcase: Round 1 (Aug. 29)
Saidah Farrell stepped behind the podium and looked around at the entrepreneurs, guests and judges awaiting her presentation at the Kardiac Club at FirstEnergy Stadium.
Farrell is the founder of the Marshmallow of the Month Club, a unique taste experience that offers customers a subscription-based gift box service where they can receive or deliver monthly boxes of homemade artisan marshmallows, graham crackers and chocolate sauces. She was representing one of seven small business services participating in the showcase, which allowed them to pitch their business to a panel of three judges — similar to ABC's "Shark Tank" TV show — with the winner earning $10,000 for their business.
In a 15-minute presentation, all participants provided the judges with information about how their businesses have grown, challenges they face in their industries and stories about what drives them to become successful owners. The judges also asked them questions following their presentation.
"I was a little nervous before I got up there," Farrell said. "For my numbers, I wasn't sure how I wanted to present them, but when I got up there, I was like, 'Have fun. You got this.'"
After deliberation from the judges — Vaughn Johnson, the Cuyahoga County Deputy Director for Economic Development, Tessa Jackson, the City of Cleveland Director of Economic Development and Peter John-Baptiste, Senior Vice President of Communications for the Browns — Farrell was announced the winner.
She held a smile on her face the rest of the night as she carried around her celebratory check and received congratulations from each of the other participants, who all also received $2,500 for their business and work in the JumpStart Small Business Impact Program.
"I'm stoked," Farrell said with a laugh. "It's a testament to not only just the 10-grand, but what I've done over the last 12 weeks."
"The ability to be able to align with the Browns, get the visibility and be able to leverage the Browns brand is something that's impactful for every graduate tonight," said Lorne Novick, Chief Services Officer for JumpStart. "The Browns have directly allowed us to pay for a larger event, be able to promote the event a little heavier, as well as do events we haven't done before at FirstEnergy Stadium besides the Impact Program."
The Browns wanted to partner with JumpStart to help amplify the large collection of minority-owned small businesses in the Cleveland area, and the competition-styled event was a creative, engaging way to start the teamwork.
"We always go through a strategic analysis of what we can be doing better, and we definitely saw Black and minority-owned businesses as an opportunity to really make more of an impact," Browns Vice President of Community Relations Jenner Tekancic said. "When we met with JumpStart and their representatives, we saw how passionate they were about the local community and how they were gathering everyone together to showcase what they have to offer from the talent in our region."
The experience was truly a win for all parties involved, and it was only the first of several other opportunities the businesses will have to showcase their services, network with other entrepreneurs and acquire resources and knowledge to grow their brand and business to a significantly higher level of success.
"Even though we're a small group, we all have different things we're doing for the City of Cleveland," said Courtney Dorsey, the founder of Coco D. Luxe Beauty. "I think it's awesome that the Browns said, 'Hey, let us sponsor this for them,' and be a part of it.
"It's community outreach, and I think that's awesome."
Small Business Training Camp (Sept. 7)
Hundreds of local small-business owners gathered inside the City Club at FirstEnergy Stadium to network with other entrepreneurs and share ideas on how to reach sustained success in the Cleveland community.
"This is all really exciting," JumpStart Communications Director Vicki McDonald said. "We're really happy to be at FirstEnergy Stadium, and I think partnering with the Browns has been really meaningful for us. It's helped us reach a whole new audience and really deepen our impact supporting small business owners."
About 700 people registered for the event and spent time listening to other entrepreneurs who have started businesses in Cleveland and have even managed to expand them to a national level.
One of those entrepreneurs was Cathy Cross, who founded Cathy's Gourmet Ice Cream Sandwiches in downtown Cleveland in 2018. Through serving homemade cookies with classic ice cream flavors in a fun, upbeat atmosphere in her stores, Cross has managed to expand her business to Atlanta and plans to open new stores in Nashville and Houston in 2023.
Cross shared her expertise and experience with training camp participants in a panel discussion about digital marketing. After her discussion, she met with several other participants for a 1-on-1 chat on the club level bleachers in the stadium to share contact information, provide more advice and help business owners expand their network.
"I came in as a business owner and a Black owner who was so supportive of the city of Cleveland and the entrepreneurs that are here," she said. "My main goal was to come here and inspire, encourage and educate them on the nuances of the business and what it looks like — the good, the bad and the ugly."
For many of the entrepreneurs, attending the training camp and taking advantage of the resources it provided will be a huge stepping stone in helping their business take the next step in its development.
"This is so beneficial for anyone who is starting a business or already has a business to be around people who are in the same field as them and looking to grow, learn how it's done and understand the ins and outs of being able to communicate to each other," said Kerri Yarbrough, the founder of The Aura Initiative, a Human Resource ally. "Whether that's done verbally or just watching and seeing what that's like, it's all been really interesting."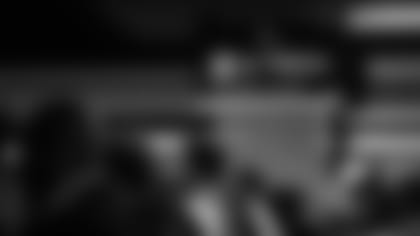 "First and Tech" happy hour event for tech startups (Oct. 11)
Ray Leach walked from table to table inside the Kardiac Club at FirstEnergy Stadium and chatted with dozens of entrepreneurs, all of whom had joined his organization to help their small businesses take a giant leap.
Leach is the CEO of JumpStart, which was hosting a "First and Tech" happy hour event with the Browns for tech startups led by minority founders in the area to expose their business to investors and learn from other entrepreneurs and business experts about how they can grow their companies.
"At JumpStart, we focus on three principal resources: capital, services and connections," Leach said. "What's unique about the Browns is they can bring the whole community together, so entrepreneurs here have an opportunity to meet all different kinds of stakeholders, bankers, investors and other service providers, and also each other.
"In the community of entrepreneurs, finding ways to connect with each other and help each other is all incredibly meaningful."
For tech startups, such gatherings can be crucial for the growth of their company because they don't always have a tangible item or service to sell in a retail store or their own shop. Their businesses thrive on actions such as app downloads or website visits, which requires a strong network — and patience from the owners themselves as they look for ways to inform others about their service.
"I hope these founders can be exposed to different ways to support their growth," said Camille Heard, an entrepreneur in residence for JumpStart who helped organize the event. "A lot of people in the tech space need access to venture capital and resources as far as connections and a network to get them to the next level. Our goal is to give them that exposure and that opportunity to showcase their brands and products."
Large networking events for tech startups aren't commonplace in Cleveland. Founders and owners often have to travel long distances or find other ways to spread their business outreach to investors and possible consumers.
But with the help of the Browns, JumpStart was able to provide them with a signature event right in downtown Cleveland.
"While JumpStart has had annual events every year that have attracted thousands of entrepreneurs, what we haven't had is a corporate or institutional partner like the Browns," Leach said. "They're doing the convening at their home stadium in this case. It's a very special approach, and we're really excited to build on this with the Browns to make an even greater impact."
Leach said the partnership with the Browns has already sparked growth among companies under the JumpStart umbrella. It's also led to an increase of businesses who have reached out to JumpStart seeking help and looking to attend the Browns-partnered events.
In previous JumpStart events, the organization would usually have around 100 entrepreneurs in attendance.
The "First and Tech" event, however, included 600 entrepreneurs.
"So much of that has to do with the Browns being a part of this," Leach said. "We've really been encouraged by how much higher our profile has become because of our partnership with the Browns. There is such an important connection that the team and business has to the community, and it's led to more traffic on our websites and applicants to our services."
That means the Browns are accomplishing the top goal they had in their partnership with JumpStart — to grow the number of successful minority-owned small businesses in the Cleveland area.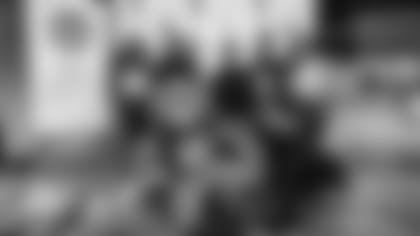 Small Business Impact Program Showcase: Round 2 (Dec. 7)
The Browns concluded their 2022 partnered events with JumpStart with another Small Business Impact Showcase inside the Kardiac Club at FirstEnergy Stadium.
The showcase once again offered local entrepreneurs from the Cleveland area a chance to pitch their business to a panel of three judges, with the winner earning $10,000 for their business. All participants provided the judges with information about how their businesses have grown, challenges they face in their industries and stories about what drives them to become successful owners. The judges also asked them questions following their presentation.
"We've all learned a lot," said Adenike Harper, the owner of Gourmet Girl. "It's mind-blowing how much I've packed into my mind at this time, but to know that the Browns love the community and want to support us this way is awesome. As a Clevelander, you are automatically a Browns fan. I'm a Browns fan, and to know that I've been invested into by my team is major for me."
"The variety of entrepreneurs that were exposed to the services and programming that JumpStart provides, in partnership via the support from the Browns, speaks to the commitment that both JumpStart and the Browns have to our community to encourage businesses to thrive in Northeast Ohio," said Lorne Novick, Chief Services Officer for JumpStart. "This is about retention. This is about helping businesses succeed in our entrepreneurial ecosystem, and helping the Northeast Ohio entrepreneurial ecosystem thrive. So the partnership that we've received from the brands and support we've received from the Browns, again, has taken that effort to an entirely different level."