INDIANAPOLIS -- It took just one question for Baker Mayfield to provide one of the most memorable lines from the 2018 NFL Combine.
Standing behind the podium Friday, one day before he throws with the rest of this year's top quarterbacks, the former Oklahoma star and Heisman trophy winner oozed the same kind of confidence he displayed on the field throughout his decorated college career. Asked about the prospect of landing with the Browns, who hold the first and fourth picks in this year's first round, Mayfield didn't hold back.
"I think if anybody's going to turn that franchise around, it would be me. I'd be able to put it in the right direction,'' Mayfield said. "They're close. They're very close. They have the right pieces. I think they just need one guy, a quarterback, to make that difference."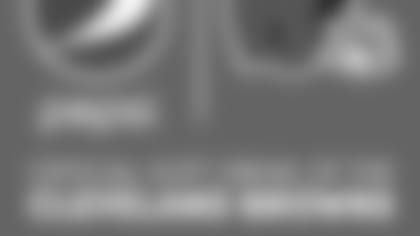 ](https://www.pepsi.com/en-us/)
Mayfield hopes to be that guy, but there's plenty of competition to be this year's top quarterback and No. 1 overall pick. And Browns general manager John Dorsey made it clear Thursday it's no guarantee the team will use the top pick on a quarterback -- or at all -- as he left open the possibility of a trade.
Dorsey, who watched one of Mayfield's most memorable moments of his senior season in person, has said Mayfield's accomplishments -- Heisman Trophy, twice going from walk-on to starter, finished tied for fifth all-time in total offense (15,960), second-best in passing efficiency -- "speaks for itself." Browns coach Hue Jackson, who has said he prefers quarterbacks to be 6-foot-2 or taller, said he considers the 6-foot Mayfield to be an "outlier" who has the potential to be a special NFL player.
It's still all to be determined, and Mayfield is focused on leaving the best possible impression on the Browns and any other team that might consider him with an early first-round pick.
"You see guys like Tyrod Taylor, (Drew) Brees, Russell Wilson, they've proven (height) doesn't matter," Mayfield said. "If you want to say anything else, I've got three years of tape you can watch. Height doesn't matter at that point. I think I've got less batted balls at the line of scrimmage than all of the other guys here, and I'm pretty sure I'm shorter than them, too."
Mayfield said he's been open and honest with teams that might have concerns about his character, stemming from an off-field arrest and some of his questionable, on-field behavior. "What you see is what you get," he said, acknowledging his "brutally honest" might not be for everyone.
Mayfield said he knows any question is "fair game" because of the major investment teams are making with their top picks. As he displayed Friday, he doesn't hesitate with his answer for why he's worth it.
"I can make any throw," he said. "Winning is most important, but the way I've been able to get my guys around me to play, not just the offensive players around me, the other 10 guys, but the defensive guys, special teams. The energy I bring, the passion I bring, it's infectious. You can ask anybody on that Oklahoma staff. That's what I bring to the table and it helps us out.
"I can handle the spotlight. I think I'd be just fine. Under pressure is something I thrive on. I don't think I'd treat it any differently. First things first, you've got to win, it doesn't matter where you are. The most important thing is winning."