Picture this scenario: It's Monday night at 8:45 p.m. Browns quarterback Brian Hoyer is just getting done tucking his kids into bed. He slinks onto the couch flips on the Monday Night Football game between the San Francisco 49ers and the St. Louis Rams.
Hoyer sees a play he likes from the Rams. St. Louis takes an early 14-0 lead on the staunch 49ers defense. He whips out his iPhone and types out a text message to his offensive coordinator Kyle Shanahan, urging the 34-year-old coach to take a look at how this could help the Browns.
This subtle exchange is exactly the reason why the Browns have developed one of the most potent offenses (26.8 points per game) in the NFL. Hoyer never stops working. Neither does Shanahan, who can be seen wolfing down his lunch on the go moments before practice begins.
This unlikely duo is never satisfied. There are plays and points the Browns left on the field that eat away at both Hoyer and Shanahan.
The scary part for other teams? Hoyer is only getting better with more starts and Shanahan is only getting more used to which play calls will work for him.
"I get a feel for how Kyle wants to call a game," said Hoyer. "He gets a feel for plays that I like and I'm comfortable with. He trusts me a little bit more. I think you see our offense open up."
"I think Brian's gotten more comfortable in the offense each week, and I think he's gotten more comfortable in himself," said Shanahan. "I think it goes underrated, any player, especially a quarterback, but any position coming off an ACL takes time. I think the farther he gets away from that the more confident he gets."
The creativity is still growing, too. Two of the Browns' biggest plays (click for the film breakdown here) against the Steelers were out of three tight end sets. Defenses have no idea when big pass plays are coming, even though Hoyer does lead the league in that very category – 531 yards through the air.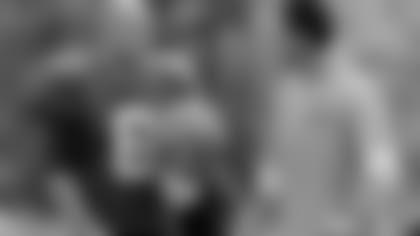 "One thing Kyle does a great job of is marrying things together," said Hoyer. "One play may look like this, and then you have three plays (where) at the snap of the ball they look the same. We're doing a bunch of different things. I think the longer we go out and continue to have success, the more we can add and be more creative." 
Coach Mike Pettine is sometimes in awe when he drops in on a conversation between Hoyer and Shanahan. The sophistication in the chit-chat is something you would hear in an Ivy League library.
The coordinator and quarterback aren't even normally talking about their own offense. It's other defenses and how to attack them that gets their competitive juices flowing. Ideas sometimes bounce off the wall and onto the football field. 
"They have a good relationship," said Pettine. "It's like football-speak. They talk the same language. You can be sitting close to them and be taken aback by the conversations that they're having about defense and fronts and plays and checks and just a lot of different things."
The respect for Shanahan's precision goes beyond Cleveland. Jaguars head coach Gus Bradley went on and on about what makes Shanahan feared by other NFL teams.
"He's very good – a very good play caller," said Bradley. "I think what he does really well is he kind of understands the defensive mindset – how important the run is and what reaction he can get out of a defense."
Shanahan's favorite part about Hoyer? Nobody in the league knows his ceiling. The 29-year-old clearly is a smart player, having thrown only one interception in five games.
But it's the touch passes like the 51-yard bomb to Jordan Cameron in the second quarter last week which makes Shanahan restless some nights and wanting to draw up more plays on the white board.
"I think it's a mystery to everybody because he hasn't played a lot of games," said Shanahan. "He's played five this year, and I think he's gotten better in each game. I always will say you get better or worse, and if he continues to get better each week I think we're going to have a pretty good quarterback when it's all said and done."
Hoyer said in his Wednesday meeting with the press that Patriots quarterback Tom Brady and former New England offensive coordinator Bill O'Brien would take their relationship a step further, and talk on the phone late at night about new plays or certain defenses.
"We're not there yet," said Hoyer to a throng of laughs from reporters.
Not yet, Brian. But that day is coming soon.