When Mike Pettine and Jim O'Neil were assistant coaches with the New York Jets, Aaron Glenn, then a scout with the team, would often go to their offices and pick the coaches brains.
"I really grew to respect the way those guys talked about football, and the way they thought about football," Glenn said.
For Glenn, it was a no-brainer when Pettine asked him to join the staff as an assistant defensive backs coach in May. Glenn has been angling for his chance to coach in the NFL, in large part because of his mentor, Bill Parcells.
The "Big Tuna" coached Glenn for three seasons with the Jets from 1997-99 and later added Glenn to his Cowboys roster in the mid-2000s. The two fought like cats and dogs, often about Glenn's fundamentals in practice. But their love is mutual. Parcells listed Glenn in his book as "one of his guys." They still speak on the phone often.
There's a specific memory Glenn harbors about Parcells that will never leave the former all-pro cornerback's mind.
Before each Jets game in the 1997 season, Parcells would place a large toy doll house in front of Glenn's locker. Parcells' defense required Glenn to cover the top receiver each week. So the coach would buy a toy figurine each week and engrave the name of the receiver Glenn would be guarding on the toy's forehead. If the receiver bested Glenn, the toy got to live in the doll house all season. If Glenn shut him down, the toy was never to be seen again.
The 1997 season became Glenn's first as a Pro Bowler. This doll-house tactic had much to do with his success, and helped catapult Glenn's NFL career, which ended with 41 interceptions in 15 seasons.
"I didn't want any toys in my doll house," remembered Glenn. "I didn't want to let him down. I wanted to show him I was one of the best cornerbacks in this league. At first I didn't realize that's what he was doing to me. He was lighting that fire inside of me. Coach Parcells had a gift in relating to players."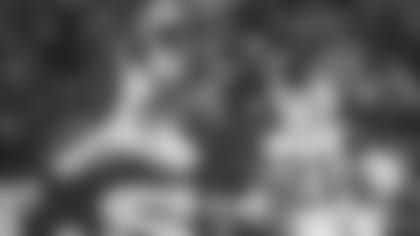 Glenn is still developing his own arsenal of motivational tricks. A phrase defensive backs will commonly here from the first-year coach is "autograph your practice." Glenn doesn't want inconsistent practices to be a part of the Browns' DNA.
You'll often hear Joe Haden, Buster Skrine and Justin Gilbert talk about their technique. Glenn, in addition to fellow defensive back coaches Jeff Hafley and Bobby Babich, hammers home that without proper technique, the Browns could falter.
Technique, especially with press-man coverage, is the staple of the Browns' secondary. The goal of press-man, according to Glenn, is to reroute the receiver from point-A, to point-C. The coverage is designed to cause confusion and timing issues.
"Then you have disrupted the route and the whole timing of the play," said Glenn, on if press-man is executed properly.
To belabor the point like Glenn does in practice, it takes technique for the final product of press-man to work. Glenn explained the two parts of press-man coverage that he's coaching his players on every day.
Stance is where it begins for the cornerbacks.
"Bending at the waist," said Glenn. "Shoulders over your toes. Feet about shoulder width apart. Hands are ready to be in combat position. They have to be ready to strike the receiver."
Many think press-man is all about jamming the receiver with their hands. Glenn contends it's about footwork.
"Feet are what actually make the play in press man coverage," Glenn said. "The more you can mirror and slide with the receiver, the better chance you have of rerouting him. With the guys we have, there's a good chance we will be doing a lot of rerouting."
Glenn has been blown away with his group of cornerbacks. He calls Haden the "ultimate professional," because of how serious he takes practice. He describes Buster Skrine as an "outstanding athlete," with phenomenal upside. And Glenn says rookie Justin Gilbert has every tool – height, speed, quickness – that you could ever dream of in a cornerback.
It's the thought of Glenn's fellow coaches that has the 41-year-old flashing a grin every now and then during the interview.
"I have seen so many coaching staffs since I entered the league in 1994," said Glenn. "There is so much synergy with this particular staff. If we're able to build this and stay together, this could really be something special."