Will Marcus Mariota continue the blazing start to his career, or will the Cleveland Browns properly welcome the Titans quarterback to the NFL?
When the NFL schedule was analyzed over the summer, it revealed Cleveland's home opener would come against Mariota. A week ago, this type of matchup against such a young quarterback had teams around the NFL giddy at unleashing confusing looks and blitzes at the former Oregon Duck.
But Mariota's four touchdowns, perfect 158.3 passer rating and blowout win against the Buccaneers have NFL teams singing a different song. Mariota's debut was possibly the biggest stunner of Week 1. Projected to be more of an unpolished project in his rookie season, Mariota was named AFC Offensive Player of the Week.
"(Mariota's) performance, I thought was special," Browns coach Mike Pettine said.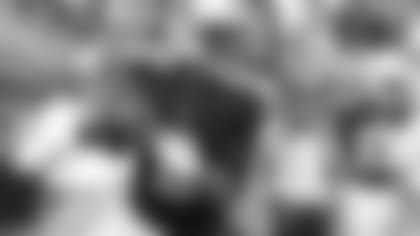 Tennessee's rookie threw only 16 passes and just two of them traveled more than 20 yards down the field. With little experience ever operating out of a huddle, Mariota came out in a barrage of spread formations, where receivers were getting open consistently for quick-hitting passes from the rookie. Head coach Ken Whisenhunt is doing everything he can to make the 21-year-old comfortable.
"I thought they did a good job of game-planning for him," Pettine said. "They didn't ask him to do a lot. A lot of the throws were play-action or on the move and he did an outstanding job executing them. He can make plays with his feet, he's extremely accurate with the football and it's going to be a challenge for us to be able to negate some of that."
Mariota dialed into Cleveland for the customary opposing quarterback Wednesday conference call. The humble Heisman trophy winner brushed off his hot start, saying he's already moved on to the Browns.
And moving forward means reality: Mariota is going to be facing an angry Browns defense. The plan on Cleveland's end is to make FirstEnergy Stadium a buzzing hornet's nest for the young, 6-foot-4, 222-pound quarterback. The plan?
"Everyone stay in their lanes," said outside linebacker Nate Orchard, who faced Mariota in college at Utah. "Pass lanes – you have to keep him in the pocket and not let him get that edge."
On Mariota's end, he's already pegged two Browns players he'll have to be aware of at all times.
"Joe Haden, Donte Whitner, those guys are very versatile players," Mariota said.  "Both run stoppers that can come up and be a force in the run game but also our good cover guys. We have a task in front of us and we'll have to be ready to make sure we know what we're doing so we can execute."
Whether it's excellent or poor, Mariota's performance will be one of the heaviest factors Sunday.