Sunday marked the Cleveland Browns' first practice together as a 53-man roster. After months of 90 players trotting around the summer heat, this practice setting was eerily quiet.
Beginning in the early hours of Friday morning, the Browns' roster was analyzed forwards and backwards, and chopped down significantly. Three Browns undrafted rookies remained unscathed: wide receiver Taylor Gabriel, running back Isaiah Crowell and fullback Ray Agnew.
Not only did the trio skip the practice squad, there may even be significant plans to use all three in next Sunday's game against the Pittsburgh Steelers.
There was a growing sense Gabriel had secured his roster spot after a three straight strong performances against the Lions, Redskins and Rams. Gabriel used the boost in confidence to help setup the Browns opening touchdown against the Bears, hauling in two receptions for 38 yards from quarterback Brian Hoyer.
When it was all said and done, Gabriel's ability to get open on the field and make consistent plays was the reason beat out veterans Nate Burleson and Anthony Armstrong.
"He's a guy, I've said it before, for his small stature he's very strong," said Browns head coach Mike Pettine on Sunday. "He can get off of press. He has the ability to separate, and too me, he's got some pretty good hands. He made a catch – I forget what preseason game it was – right on the sideline and got blasted right when he did and the ball never budged. The NFL, the bright lights didn't faze him."
Crowell's path to the roster is almost the exact opposite of Gabriel's. The undrafted rookie from Alabama State was a non-factor in the first three preseason games. The Browns were so sure of their running back situation, that Pettine came out and said running back Dion Lewis had a stronghold on the third spot in the depth chart. Crowell sought out advice on how to handle his situation.
"I was kind of worried," said Crowell. "But I talked to coaches and college coaches and they told me my time was going to come. I just had to wait it out and be patient."
But when Crowell was finally given carries, he hit a grand slam out of the park. His 13 carries for 102 yards rushing and a touchdown was without question Cleveland's best individual effort during the preseason.
"I know I gave it all I had," said Crowell. "I had to be out there and get some tape to show other teams that you can play and that you have what it takes to be in the NFL."
And the unlikeliest of them all, fullback Ray Agnew, prevailed even in a position that many consider is dying. When Agnew first walked out to a padded practice, he marveled at the sheer size of the linebackers, people he would now have to block every single day.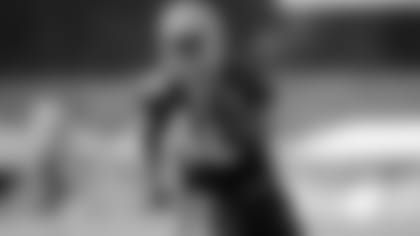 But the old-school bruiser was used to fighting for his spot, and that experience paid off. Agnew, originally a walk-on at Southern Illinois, is one of the rare players who actually relishes in the fact that he's a traditional fullback.
"There's not a lot of people that can honestly say they enjoy playing fullback," said Agnew. "You are hitting your head against a brick wall pretty much every day. But I really love it because I get to be physical and I love playing the game of football. Every time I step out here, I get a tingling feeling in my stomach."
As August wore on, Agnew had emerged as the team's most reliable fullback. In more than one press conference, Pettine lauded Agnew's willingness to finish off blocks and the rookie was even showing growth as a receiver in the pass game.
Agnew said he remained nervous all throughout the process, like most rookies would, but never doubted his ability to play in the NFL. He thought his body of work spoke for itself.
"To me, it was just football," said Agnew. "It's just these guys are big grown men…like Paul Kruger – he's huge (laughs). But it was just football. I'm playing the position that I always played.
Agnew's dad, also named Ray, played in the NFL for 11 seasons as a defensive lineman for the Patriots, Giants and the Rams. Ray Sr., also currently serves as a member of the Rams personnel department and was the first person his son called when he found out he made the Cleveland Browns. The younger Agnew was around the Rams quite a bit as a youngster, and remembers observing players like Isaac Bruce and Tory Holt.
"They showed me how to carry yourself in an NFL setting," said Agnew, who also remembers celebrating in the Rams locker room after the team won the Super Bowl in 2000.