As the Browns celebrated Black History Month throughout the month of February, the team emphasized its social justice efforts through its #BeTheSolution initiative, as well as additional programming centered around engaging and supporting the local community. For the third straight year, the Browns activated its signature "Cleveland Huddle" program to support local black-owned restaurants while also providing food relief to individuals in need.
Cleveland Huddle
Berea Smokehouse Barbecue and Grill is located less than a mile away from the Browns' CrossCountry Mortgage Campus. Serving traditional American-style foods, Berea Smokehouse Barbecue and Grill is a known hot spot in the Berea community. Cleveland Browns alumni Kevin Mack visited the restaurant and presented owner Nate Griggs with a customized Cleveland Browns jersey prior to helping with meal distributions to The City Mission: Laura's Home.
Beckham's B&M Bar-B-Que was founded on traditional family recipes. Eddie Beckham originally brought his Southern-style cuisine to Cleveland in 1958 where he opened his first restaurant on 79th and Hough Avenue. Today, Eddy's son Greg now carries on his father's legacy and has franchised restaurants in Cleveland, Maple Heights and Akron. Over 80 Meals from Beckham's B&M Bar-B-Que were donated to the Lutheran Metropolitan Ministry.
Browns fans are also encouraged to support the effort by being patrons of each of these two Black-owned eating establishments throughout the month and beyond, as well as others that can be found on the #BeTheSolution website.
CL3 Alliance: Conversations for Change
Cleveland's 3–Team Alliance, a partnership with the Cavaliers and Guardians, hosted the 12th Conversations for Change at FirstEnergy Stadium. Conversations for Change was designed to bring together law enforcement and local youth to engage in dialogue. Following the panel discussion on the death of Tyre Nichols, participants were invited to ice skate on the field at FirstEnergy and were treated to a free meal courtesy of Sugardale. Sparked by the leadership of each of the major professional sports teams' head coaches, general managers and front-office executives, the three organizations announced in July 2020 an alliance to address social injustice in Cleveland and Northeast Ohio, primarily focused on improving the relationships between law enforcement and its citizens; encouraging non-partisan voting activities; and increasing opportunities for high-quality education for everyone.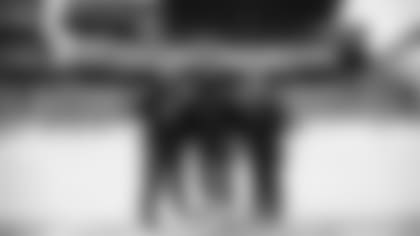 City of Cleveland Initiatives
The Browns partnered with the City of Cleveland in a series of events centered around the theme "A Salute to Blackness" throughout the month of February. The multiple event series focused on celebrating Black history, culture and excellence in Cleveland and around the country. The work of pivotal Cleveland natives such as Fannie Lewis, Carl B. Stokes, Garrett Morgan and others were honored for helping shape the Cleveland landscape.
Chomps and Cleveland Browns Alumni were engaged in events which included the Black Pride "Spirit Day" at City Hall Rotunda, UNCF Luncheon, 50th Annual Black History Flag Raising, Black Wealth & Finance Panel, Gospel Choirs & Artists an Array of Melodies (3-part event), Health Day, CMSD Arts, Soul Food Cookoff, Poetry Slam CLE "All Black Affair," Faith Breakfast, Salute to Seniors and the Closing Luncheon.
Additional Black History Month Engagements
The Browns spotlighted various programs that take place throughout the year, as well as showcased stories of Browns Legends and key members of the organization through all social media channels.
Inspire Change Jim Brown Changemakers Award: The Browns honored the founders of Build the Bridge with the inaugural "Inspire Change Jim Brown Changemakers Award." The award was officially named after Browns Legend Jim Brown, who continues to be an advocate for change by highlighting leaders in the local community who are making a difference in the social justice space.
Bill Willis Coaching Fellowship: The Browns created the Bill Willis Coaching Fellowship in 2021 to provide opportunities for a rising minority coach with a focus on the offensive side of the ball. The Fellowship honors Bill Willis, who helped break the color barrier in the NFL and played for the Browns from 1946-1953.
Marion Motley Scholarship: In partnership with College Now Greater Cleveland the Browns annually award 2 students with the Marion Motley Scholarship, a $10,000 scholarship that honors Browns fullback and linebacker Marion Motley who helped break the color barrier in the NFL. 2022 marked the 19th year the Cleveland Browns Foundation has awarded this scholarship.
Build the Bridge: The Browns are proud to support the Build the Bridge program which brings together high school football players from various backgrounds to realize how much they have in common. The Browns sent Build the Bridge founders to this year's Super Bowl in honor of their efforts.
JumpStart: Jumpstart and the Cleveland Browns launched a partnership this year and hosted four events at FirstEnergy Stadium: The Small Business Impact Program Showcase, Small Business Training Camp, First in Tech and the second Small Business Impact Program Showcase. Over $67,500 in capital was awarded to small business owners and welcomed nearly 800 attendees across all events in that three-month span. The goal of the JumpStart partnership is to accelerate the growth of Cleveland-area Black and Latino entrepreneurs around Cleveland.
2022 My Cause My Cleats: During this season's My Cause My Cleats campaign, Browns players represented organizations that fell in line with social justice including QB Jacoby Brissett (Jumpstart), TE Pharaoh Brown (Build the Bridge), CB Martin Emerson (Everytown), RB Kareem Hunt (Kareem Hunt Foundation/Build the Bridge), and QB Kellen Mond (Equal Justice Initiative).
Be The Solution
Following the death of George Floyd, and as protests spread from coast to coast and across the globe, Browns Executive Vice President of Football Operations and General Manager Andrew Berry on June 5, 2020, sent a passionate email to all Browns employees. Ultimately, it served as the inspiration for a call to action that now includes all Browns fans through the team's #BeTheSolution campaign.
The #BeTheSolution initiative is designed to provide fans an opportunity and resources related to making a significant impact to help create social equality with an emphasis on education; police reform and accountability; economic advancement and community support; and non-partisan voter registration, education and turnout.