As part of the continued commitment to the National Football League's (NFL) and American Cancer Society's (ACS) "Crucial Catch: Intercept Cancer" campaign, for the 15th consecutive year, the Cleveland Browns brought awareness in the fight against all cancers during the month of October.
On Oct. 1, the Browns hosted the annual cancer awareness game against the Ravens at Cleveland Browns Stadium. Through multiple local and national partnerships, cancer survivors, family members and caregivers were celebrated for their courageous fight. 
Prior to kickoff, ACS and UH Seidman Cancer Center representatives shared information on cancer awareness, early screening and detection outside on Dawg Pound Drive. Additionally, marking their 21st year contributing to the Browns' efforts, Zeta Tau Alpha alumnae and collegiate members distributed pink ribbons to all fans attending the game. Since this partnership, over 1,000,000 ribbons have been allocated to Browns fans attending home games during the month of October.
Highlighting year-round programming with American Cancer Society and UH Seidman, over 100 representatives helped line the field pregame, assist in the flag presentation and welcome the team to the field during player introductions.
Serving as the game's honorary Coin Toss Captain, Mandel Childs was later surprised with tickets to this year's Super Bowl LVIII in Las Vegas. Childs' current battle with prostate cancer has not halted his work in giving back to the local community. Until 2023, Childs served as an educator at Lutheran High School East in Cleveland Heights teaching African/African American history, public speaking, health and family living. His work outside of the classroom has been seen through his work as a former board member for the Greater Cleveland Area's Youth for Christ organization, involvement in the Big Brother/Little Brother program and coaching of youth football with the Maple Heights Lions. Browns Alumni Hanford Dixon helped surprise Childs during a special on-field revel during the first quarter.
Several in-game features prominently displayed branding with the goal of raising additional awareness for all types of cancers and the importance of regular screenings.
The team continued to honor and recognize those impacted by all forms of cancer throughout the month with Crucial Catch-tailored events and programming.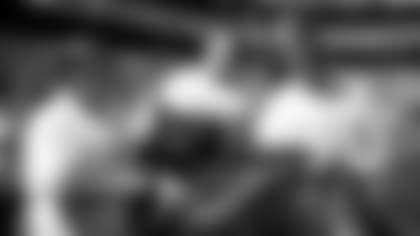 Browns Give Back Tuesday Visit: UH Hospitals
During the team's annual Browns Give Back Tuesday visit, RG Wyatt Teller, WR Elijah Moore and LB Jordan Kunaszyk visited and shared gifts with oncology patients receiving treatment for various types of cancer at UH Seidman Cancer Center, as well as visited pediatric patients' rooms at UH Rainbow Babies & Children's Hospital. Multiple patients from the visit were hosted during gameday for the opportunity to celebrate Crucial Catch at Cleveland Browns Stadium.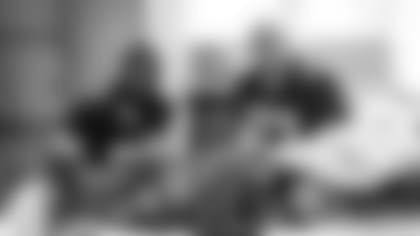 Dalvin Tomlinson Hope Lodge Visit
In support of the Browns long-standing community partnership with the American Cancer Society, DT Dalvin Tomlinson visited the Joseph S. & Jeannette M. Silber Hope Lodge located in Cleveland, Ohio. Originally opened in 1995, the ACS Hope Lodge provides a free home away from home for cancer patients and their caregivers. The facility offers 24/7 staffing services and 31 guest rooms located in close proximity to Cleveland-based cancer treatment facilities.
Tomlinson is among Browns players and staff members who have close personal ties to individuals who were diagnosed with cancer, having lost his father to cancer when he was five years old. During his NFL career, he has served as a Crucial Catch and American Cancer Society ambassador, frequently visiting other Hope Lodge sites in New York City and Minnesota. During the visit, Tomlinson toured the facility, provided food courtesy of Beckham's B&M Bar-B-Que and interacted with patients and their families.
Making Strides Against Breast Cancer Walk
On Saturday, Oct. 21, in unison with the American Cancer Society, the Browns hosted the Making Strides Against Breast Cancer Walk at Cleveland Browns Stadium. The American Cancer Society introduced the Making Strides events with the goal of uniting communities together in the fight against breast cancer. These events help raise money to fund breast cancer research and provide patient services, such as free rides to chemotherapy and a live 24/7 cancer helpline. In total, over 30 Browns staff members and alumni joined the Browns team and participated in the walk. Over 5,500 total participants attended the event which helped raise over $300,000 to further breast cancer research efforts.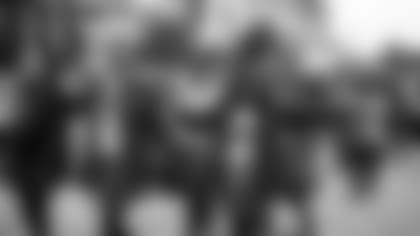 Serving as a culmination of the month's Crucial Catch activations, the Browns once again partnered with the Littlest Heroes and University Hospitals to host patients battling cancer and other childhood illnesses for a night of Halloween festivities.
This season, 13 Browns players attended the event dressed in their favorite costumes to help escort participants down the runway. Players included Joel Bitonio, Michael Dunn, Maurice Hurst II, Kareem Hunt, Tanner McCallister, Greg Newsome II, Ogbo Okoronkwo, Wyatt Teller, Cedric Tillman, Dorian Thompson-Robinson, Dalvin Tomlinson, Anthony Walker Jr. and Luke Wypler.
The Littlest Heroes – a Cleveland-based nonprofit organization – provides emergency financial support for families battling pediatric cancer and other childhood illnesses. For the past 20 years, over 10,000 lives across Northeast Ohio have been impacted by the organization's assistance and efforts. 
To conclude the night, families had the opportunity to trick-or-treat and enjoy an evening meal courtesy of Sauce the City.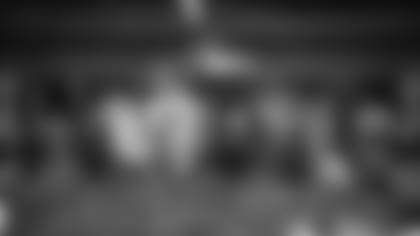 The Cleveland Browns are committed to championing youth football, education and social justice in our community and throughout Ohio. Browns Give Back is the Cleveland Browns' initiative dedicated to supporting our fans and neighbors. For more information, visit https://www.clevelandbrowns.com/community/.