Name:Browns StaffHometown:Cleveland, OH
How they give back: Browns staff volunteered at the annual Hometown Huddle to #give10. Some painted, shoveled, planted or dug to help build a playground for a deserving school in Cleveland. Dike School of the Arts a CMSD school with more than 300 students, had gone years without a playset or area for their children to run and play. With the help of the Browns and the United Way, on Tuesday this would all change. The courtyard was transformed from a barren space with a couple of trees, to a vibrant multipurpose area with equipment for kids of all ages to enjoy. The many contributions from volunteers and other partners made the wonderful gift of play possible for so many children who needed a chance to Play60 throughout the day. Well done Brownies, Great work!* *
Name:Anthony StrongHometown:Cleveland, OH
How they give back: Anthony Strong is a season ticket holder who has found his own way to #give10 and help his community. Recently he donated his tickets to St. Augustine Roman Catholic Church. The Medical Center at the church has a charity that supports the deaf community by providing programs that benefit those who are hard of hearing. They are hosting a fundraising night to help better the education that those who are hearing impaired receive. The center also provides: American Sign Language Interpreters, Deaf Culture Training to caregivers, ADA Compliance Training & information, Access to Video Remote Interpreting (VRI), Outreach Service to Deaf Community and Health Education Workshops. Thanks for sharing Anthony, I know those at St. Augustine are very appreciative of your donation! What a great idea. Thanks for sharing how you #give10, by doing so you inspire others to do the same.
Name:Stella LewisHometown:Lakewood, OH
How they give back: Stella is overwhelmed by the positivity of the First and Ten movement. She loves that the Browns are uniting the players, staff and fans through such a great community effort. Since pledging to #give10, she has volunteered her time on more than one occasion and is continuing to do more! In preparation for the Holiday season, she has committed to three separate Christmas sponsorships that will benefit greatly from her and her willingness to #give 10. The three groups that she is contributing to include: Soldiers' Angels, Women of Valor and Adopt a Grandparent. She will begin the latter at Marymount Place Assistant Living Facility with the elderly there. Wow, Stella, it sounds like you're on a roll. Good luck with all of the promotion and fundraising!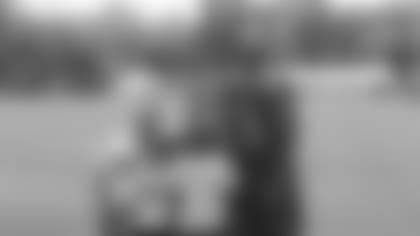 Name:Craig RobertsonHometown:Stafford, Texas
How they give back: Craig Robertson, who is The Browns NFL United Way Spokesman, is a figure in the Cleveland area who takes his role in the community very seriously. He uses his opportunity as an NFL player to make a difference and make his community a better place. Craig has given up many of his days off to help others in the Cleveland community. Each Tuesday that he participates in a #give10 visit, Craig makes the whole room smile. His energy is contagious and it shows in the way he rallies his teammates to give back. We thank you for all that you have done for your community, we know how much you do to #give10 and that's why you have been chosen as the First and Ten Dawg of the Week. Congrats Craig!
Name:Reginald BurtonHometown:Cleveland, OH
How they give back: HM1 Reginald Burton has served in the Navy for more 16 years. He is a Corpsman and has served with both Navy and USMC units. Outside of serving his country, he has always volunteered with the community, where he was stationed. While in Cleveland, he volunteered with the USO of Northern Ohio at events to help spread the mission of the USO of Northern Ohio and #give10 by helping military families. HM1 Burton is known for supporting his fellow military members as they endure many of life's challenges. He has been there to support them during tragedies or just with everyday struggles like making ends meet for their family. HM1 Burton has been an example of an American Corpsman in every way as he's continued to honorably serve his country and his community.  Bravo HM1 Burton, the Browns and the USO of Northern Ohio salute you.