Defensive coordinator Ray Horton:**
On DL Carl Nassib's injury:
"It is unfortunate. It is a game played really with controlled violence, and he had a freakish hand injury. He got it caught in the guy's facemask and it broke. We are going to miss him. We are going to miss his energy and his athleticism on the field. He is around here today. He wants to play, but he just can't. We will miss him on the field. It is unfortunate because he has been doing everything that we have asked and he has been making strides and has been getting better every week. Obviously, it is going to be a little bit of a setback for him, but hopefully, he will pick up just coming back, and it is just a hand injury where as soon as it is possible, he will play with a cast on."
On how soon Nassib may be able to return:
"I really don't know. I have seen guys come back. I think it is just probably a function of the stitches and then the pain tolerance for him. I have seen the guys with the big clubs so for him, I'm sure as soon as possible."
On multiple Browns defense players having opportunities in games:
"I gave our guys, I always tend to give the defense a theme of the year, if you will. This year was '2016: Season of Opportunity' because it will be opportunities for a lot of guys for a lot of different reasons. Really whatever drives guys, whether it is redemption, if you want to call it that – my word – of (DB) Joe Haden, last year, he did not play a lot and he is off to a fast start; whether it is guys making the team, proving they can still play in the league, giving quality play time. Really what we are doing is we are going to play a lot of guys. Obviously, we are going down to Miami, and it is going to be very hot very humid down there. Just the body count, we will really play probably everybody that does have a hat and definitely whether it is between special teams and defense, everybody will play for us."
On how the Browns' youth on defense factors into playing multiple players and giving them opportunities: [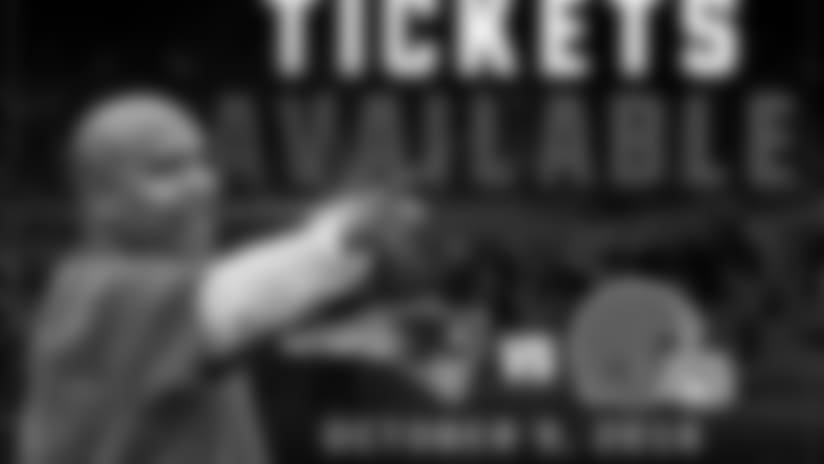 ](http://www.ticketmaster.com/FirstEnergy-Stadium-Home-of-the-Cleveland-tickets-Cleveland/venue/40971?camefrom=CFCBROWNSWEB_ARTICLES)
"That is exactly what we are doing. We are giving guys opportunities. Some of it is the guy that has a hot hand will get more opportunities, depending on who that guy is. It is going to help us in the long run. It is going to develop talent, it is going to develop depth and obviously, it is going to give guys an opportunity to show that we are looking for talented young men that can play in this league. We are going to just keep rolling guys through, and if a guy gets hot in the game, he will earn more playing time that way."
On Dolphins QB Ryan Tannehill:
"Watching him in all the games this year and obviously seeing him in the past, he is a dynamic quarterback in the sense that obviously everybody knows he was a former wide receiver at Texas A&M. He is mobile. He is strong. He runs with the ball so he gives that dual threat of passing and catching down there. I would assume (Dolphins Head) Coach (Adam) Gase would say they want to get their running game on track. He is there leading rusher right now. Whether (Dolphins RB) Arian Foster plays or not, I don't know that. He has been kind of the catalyst behind them. I don't assume they want their quarterback to be their leading rusher, but it is also kudos to him that he is that kind of athletic quarterback. We know it is their home opener down there and he is going to be fired up. They are kind of in the same situation that we are. You are looking for a win and by any means necessary. I'm he will be fired up."
On if DB Joe Haden last week looked like 'the Haden of a couple years ago':
"He really did for a guy that missed – I don't think he practiced until probably the 10th practice or so of training camp because of the offseason surgery – he really is. I think I said this when we first came back, not so much his physical look because I can't tell how he feels but for sure the look in his eye and just the excitement in his voice. I think he is on a mission. I really do."
On his feelings about DL John Hughes III's contract termination:
"My feelings or my emotions? I was sad. I was here when John I think was a rookie and watched him grow up. I preach to our guys as a former player you don't play forever in this league. The phrase I use is that one time they are going to come and tell you to give me that helmet, give me the cleats and it is time to move on. Sad was mine, but everybody knows, all the players know and if they don't I keep reiterating that this is a business, and it is a performance-based business, and I would say statistics are important and all that stuff. I just wish him well. I really do."
On DL Danny Shelton's production in the first two weeks and how teammates are contributing to his performance:
"At his position because he is closest to the ball, he can kind of help himself. He can make his own hay, if you will. We have been on him to take that next step being recognized as a consistent day in and down in and down out disruptive force in there. He is starting to. I keep saying that he is in probably his [17th] start – I don't know if he started every game last year for us – but he has to really just take that next step of 'I can play in this league. I know that now. Now, I just have to show the rest of the league and be a very consistent player.' He has taken steps that way to and he is working very hard to do everything that we ask him to do."
On DB Jamar Taylor returning to Miami, which originally drafted him:
"He has been a very quiet professional. He came in here from Miami obviously, and it is always I think a big game for no matter who you are when you either go back to your hometown or you go back to your home team, if you will, the team that drafted you. He knows all the guys inside and out. Obviously, he practiced with the new regime down there, and it will be a big game for him. He has not said this, but I just think human nature is… You know, when you get divorced you want your new spouse to look better than the old spouse so I'm sure he wants to show Miami that he is doing well up here."
On the Browns defense's improvements from Week 1 to Week 2:
"My emotional thought was we did not win, and that is what we want. We want to win. Do I like that we are taking strides? Yeah, but it does not matter if we don't win. I was probably most disappointed for (QB) Josh (McCown). He went out there and played with a broken collarbone and until the last throw had a chance to win. We talked about the heritage of (Pro Football Hall of Fame CB/S) Ronnie Lott getting a finger amputated to play the game and how precious this game is and what guys will do to play in this game. For me, it was disappointing that we didn't win it for Josh."
On DB Derrick Kindred's performance on Sunday:
"I am hoping from him that he takes that quantum leap of, 'OK, I played some in Philly, I played some last week. I'm getting more and more reps,' and again for him that self-acknowledgement that 'I belong in this league. I can play. I am going to start this weekend. Let me go play.' I don't know the saying but it is a (former New York Yankee) Wally Pipp thing of once you get your chance you go and you play. There is no reason that he can't have a great game and go, 'Guys I can play in this league. Just let me and give me more and more snaps.'"
On DL Tyrone Holmes' performance on Sunday:
"We are going to play him more this week. For us, I don't think it is a secret. All you have to do is watch the film or watch the game and you can see we do roll our guys, and we are going to be a defense by committee. I don't think there is anything wrong with giving guys opportunity and the guys that earn more opportunities, snaps, play time to give it to them. Guys know that it is kind of the old two dogs, one bone thing that the guy that is going to be the most tenacious is going to probably get the bone."
On if Holmes had a few QB pressures in Week 2:
"We didn't get any sacks. Not everything is a sack. Sometimes you do get pressures, you get hurries, you get quarterback hits, but we are looking for the guy that is going to get sacks and affect the game that way for us, and we didn't get any sacks last week so that is why we will continue to roll guys. Somebody will take hold of it and say, 'Well coach, give me more. You know when I want to come out because I am tired I will, but give me more opportunities.'"
On the largest factor of the Ravens overcoming the deficit in Week 2:
"The two-minute situation. They had two opportunities. Baltimore had two opportunities in three minutes and 14 seconds, and they scored 10 points. That was the game."
On Dolphins WR DeVante Parker:
"They have weapons on the outside. You look at them, and (Dolphins WR) Mr. (Jarvis) Landry, when he was at LSU with (Giants WR) Mr. (Odell) Beckham (Jr.) up at the Giants, he probably thinks, 'I'm equally as talented.' When you look at their offense, I think they are built to throw the ball. The quarterback has a strong arm. He has multi-faceted receivers. Landry can throw the ball. He can catch the ball. He can be a punt returner. Then you go with (Dolphins TE Jordan) Cameron catching the balls and (Dolphins TE Dion) Sims. They are really built from outside in to run the ball, and then they have a good offensive line that they are just struggling running the ball but they are not struggling in pass protection, and the quarterback is mobile enough. I assume that they are going to try to challenge us in the air."
On Kindred standing out on defense:
"The first word that comes to my mouth or brain descriptively would be aggressive. He is very aggressive. He is very smart. He is the kind of young NFL safety that you want that is going to be disruptive, that can catch the ball. He has that run/hit factor, that R/H factor that some guys just don't have the combination of both. I don't think the game is too big for the kid. He is very quiet. He is very cerebral. I think he is going to be one of our young studs that we latch onto and as the years go on and go 'Wow, I remember when that kid was a rookie and he showed what he potentially could be or will be.'"
On Ravens TE Dennis Pitta production being a result of the Ravens targeting him in their gameplan or the Browns needing better coverage in Week 2:
"I think it was a factor. When you go into certain teams you try to take away their guys. Obviously, the week before against Buffalo their guy was (Ravens WR) Mike Wallace, and Mike Wallace has been a big play guy for a bunch teams or a few teams. We made a very conscious effort to say that they are not going to beat us deep. We just took the deep passes away and so he [Ravens QB Joe Flacco] just went underneath. Part of it, I believe Pitta was one of the ones that benefitted from a missed tackle on a 4-yard catch. I don't know what he ended up with yardage wise, but I know that particular play turned out to be a 30-yard play or something like that. It was kind of one of those hidden yardage type things, but he did produce."
On LB Emmanuel Ogbah's play:
"We need more. He is one of our young guys that we want to speed up. Part of that speeding up process of the game for him is just understanding what his job description is for that particular play and to free him up to play faster. He is coming along, but it is a process where he is a young kid that is seeing a lot. He is seeing formations and he has to understand his responsibility in that and who is going to block him, how they are blocking him. As soon as he understands the speed of the NFL game, I think he will be able to unleash what he can do on the field."
Special teams coordinator Chris Tabor:**
"Miami, they are good on special teams. They have a good corps, they have dynamic returners and their kicker and punter are playing at a high level. Right now, we are concerned about the Cleveland Browns. We need to play better in our area, no doubt about that. We have to play better. We have to coach better. We are excited about going down there because that gives us another opportunity to play how we should play on special teams."
On the blocked PAT against the Ravens:
"It was a low kick. Good protection, low kick."
On if K Patrick Murray's low kick trajectory had previously occurred:
"No, it hasn't. Plant foot slipped a little bit there and just ended up getting it high on the ball. (OL John) Greco did a great job on the inside. The O line has done a nice job in the protection area. It came off low and bad play."
On if there was a mechanical or timing issue with the missed 52-yard FG:
"No, not at all. It was a missed kick."
On Murray typically being good from the 50-yard range:
"Yeah, he does a nice job. His history shows that he can hit those. Practice shows that he can hit those. He missed the kick. We will put him out there again for it."
On main points of emphasis for the Browns special teams corps:
"Have to play faster. Our fundamentals – getting off blocks, defeating blocks, blocking in the kick return game, handling the football with our returners, making sure that we have the football at the end of a play –all kinds of things, we are working on that this week and we have been working on it each and every week. The players, I'm excited about it because they have taken to the challenge. I'm excited about this opportunity to see if the steps, the things that we are doing are going to prove the test on Sunday."
On if the turnover of the Browns roster and team's youth impacts the special teams challenges:
"I'll be honest with you, they might be young players but they are Browns players. We will not use that as an excuse in our room. They understand what the standard of that room should be. We are not there, but we have to get better. I won't answer that question. They are in the National Football League. They have to play at a higher level. We have to coach them at a higher level. To be quite honest with you, that is the fun part of coaching. It is a challenge, and Miami is going to present some challenges for us. When you see the results the way you want them to be, you get excited about that. That is what we are looking forward to. I will say this, they might be young, but I have confidence in those kids because there are things on tape that maybe other people don't see where you can see them getting better. We have to put back-to-back better plays together. That is what we have to do."
On seeming to have a bit of an edge today, compared to his typical demeanor:
"I don't know what you are seeing (laughter). You are probably seeing a guy that it is probably good we are going to Miami because I need to get a tan (laughter). No, we are determined. We are going through the process. I love the process. It is just one of those things that the sense of urgency is extremely high. That is not going to change so we have to keep going."
On WR Corey Coleman's injury and how that impacts his development as a punt return option:
"We still have a few guys that can do it. We expect to get the return game when opportunities arise to take advantage of that. We had one opportunity last week and had a nice 13-yard return by (DB) Joe (Haden). That is encouraging. It is next man up."
On if Haden returning a punt was a special circumstance to have two players deep and if it will occur more often:
"That was a little bit of a gameplan deal because of where (Ravens P) Sam Koch puts the ball, you are not exactly sure where it is going left-right. He doesn't give you a lot of returnable balls, and they were kind of backed up there. We wanted to make sure that if it was, we didn't want the ball to hit the ground and roll and get some more added net (yards) to him so we were trying to discourage that, plus it puts the ball in the hands of one of our best players on the team. That was good."
On putting Haden on the punt return unit, given he is one of the best Browns players and some teams are NFL hesitant to allow starters to return kicks:
"Teams that want to win do – (Bengals CB Adam) Pacman Jones, (Steelers WR) Antonio Brown. If that is your best player, put your best player out there. You are trying to win the game. Special teams, we are not going to take a back seat and say because he is a star player we shouldn't use him. We want to win that game, and it gives us the best opportunity to do that."
On WR Ricardo Louis development on special teams:
"Getting better and better each week. You see him out there at the gunner. He gets locked down one time and then he comes back the next play and responds and gets down there and beats the double [team]. Blocked really well in the kick return and the punt return game. Might have been a fair catch where you see him take the guy to the sideline and run him right out of bounds. Playing like Cleveland Browns special teams should play. We have challenged him. We want to see him make some tackles now, but his progression has been very good. I said it last week, I'm excited where he's trending. He proved that again last week. He needs to take another step this week."
Associate head coach-offense Pep Hamilton:**
On preparing QB Cody Kessler to start on Sunday:
"Cody is working hard. We are pretty much at the final stages of finishing up this gameplan. He has been here day and night trying to make sure that he is prepared and ready to give this team an opportunity to win on Sunday."
On the biggest challenge when preparing a rookie QB this early in the season:
"That is one thing I would have to say about Cody is he has always prepared himself as if he was the starter. That is our policy with all of our quarterbacks because you never know when your number is going to be called. From a preparation standpoint, his routine was already comprehensive, but now, it is going to be different on gameday, a lot different than practice. There is no way for us to recreate the actual gameday pocket environment."
On if Kessler's preparation is unusually impressive for a rookie:
"No, it is what is expected."
On preparing a gameplan this week with multiple injuries on offense:
"As coaches, we understand that this game that we coach really a big part of it is attrition. We feel like we have guys that are very capable of stepping up and filling in a void. My routine hasn't changed. None of our routines have changed. We are just getting ourselves ready to go out and compete against the Miami Dolphins on Sunday."
On what WR Rashard Higgins offers the Browns offense:
"He has a high football IQ. He has really good instincts for a young receiver at that position. He has really good instincts. He is the all-time leading receiver at Colorado State. Things like that don't just happen by chance. He is very capable of going out and playing the position, and hopefully, playing that at a high level."
On if RB Isaiah Crowell and the run game can be a building block for the Browns offense:
"Yeah, absolutely. It can be a building block. Crowell, he ran hard last week. Our guys up front, they strain to create holes for our backs. We have to finish the game running the ball. We have to. That is really indicative to our overall team success. If you are able to finish a game running the ball, more times than not, you are winning the game."
On the challenges Miami's defensive front presents:
"They have a really good defensive front. They have (Dolphins DT) Ndamukong Suh, who is a great football player, as well as other guy that present matchup issues for us potentially. Our guys are up to task, and we will do whatever we have to do to protect our quarterback and open holes for our running backs."
On if the Browns can use WR Terrelle Pryor in creative ways this week:
"It is up to (Head) Coach (Hue Jackson)."
On if there is a comfort level with the offensive line changes because OLs John Greco and Alvin Bailey are veterans who have played before:
"Yeah, I think that is spot on. You have guys that they have played the game before. They understand the intensity and the physicality of the game on gameday. We are counting on those guys to step in and be very productive at those positions for us."