Secondary coach Jeff Hafley
On the state of the secondary:
"Guys are working hard. Guys are getting healthy. Guys are trying to get some continuity within the secondary. They are positive. They are. We are just looking ahead. We had a great meeting yesterday, a great meeting today. I give those guys a lot of credit. They are positive. They are working hard. They are looking forward to the next game, which is all I can ask of them."
On if the Browns do injury planning before the season or adjusting as injuries occur:
"You do both. Actually, even going into every game, I will spend a half hour or so going through all the situations so if it comes up in the game, I am not just guessing. You have to go through a plan. You have to have a plan, no matter the situation. You hate to think about it, but if you don't, you have no shot. We have had to work through quite a bit this year – some before games, some during games, some during the practice week. It is unusual that it has happened as much, but you just have to work with it."
On the biggest thing DB Justin Gilbert needs to do to earn more playing time:
"Be consistent in practice with his technique. Be consistent in the meeting room. Come out every day and compete. Show us and his teammates that he deserves to be out there on the field. I think what everybody has seen is that the guys that go out and practice the best and the guys we believe give us the best chance, we are going to play those guys. We have been through a lot of them this year. You have seen just about everyone in our room has played. That is the way we believe in. You have to go out and you have to practice. If a guy is practicing the best and he shows it, you have to go with that guy. There is no magic to this game. It is not a fairy tale where you have a bad week of practice and then you play a guy and he goes in and plays great. It doesn't happen. We have to keep working to get him better. I know that. We have and we will continue to."
On if Gilbert needs to improve his effort or technique:
"It is not effort. It is just technique, being consistent. I will say, you saw it – we played him in the Cinci game. He had a good few weeks of practice and he deserved to play, and we played him."
On Gilbert playing against Cincinnati and not against Pittsburgh:
"Just kind of like I just said, it came out in practice. We felt we were going to go in the direction with the guy that practiced better that week, gave us the best chance that week. It is not to say that Monday night he won't be the guy. It is just right now where we are at, they have to go out and practice and compete and get better, and we will go from there."
On if the Browns have made a plan to play Gilbert the final six games to see what he can do:
"No, we haven't. My plan right now is that we have six games left. That room wants to play better. That room is going to play better. We are worried about one thing and that is winning on Monday night. My job as a coach is to win on Monday night and to get those guys winning on Monday night. After Monday, I am going to try to win again the next Sunday. I am going to do that the best that I can with those guys for the rest of the way."
On the impact of DB Joe Haden and DB Donte Whitner missing time due to injury:
"I think that is obvious. You have one of the best corners in the National Football League who means a lot to that room and to the group, and now, he has been hurt a lot. The first thing for me is my main concern for Joe is his health, and I hope he is OK. I hope when he is ready to get back from the concussions he will be ready to go and I know he will. As far as all the injuries, the biggest thing that I will say is in the secondary you need continuity. Even if it is not with your starters, you need a group that goes out there and plays together every day. When you are out there on the field and I look at you a certain way after we have played together for so many games, you know what I am going to do. If a guy motions and we have to check to a coverage and it is loud, there is verbal and non-verbal communication. Donte may look at Joe, and they know exactly what to do. I give the guys a lot of credit, all those guys who have jumped in, but they haven't practiced together and they haven't gotten a lot of reps together. There have been some games, where you guys know in practice that we don't get very many reps. There could be an eight-play script and a guy who hasn't gotten one or two reps is now starting in a game. Not to use that as an excuse but we believe with Joe coming back and now if Donte comes back it will give us some more continuity. We will go from there. Whoever we have out there playing, I know those guys, I love those guys and they are going to do the best they can."
On if Haden will play against Baltimore:
"That I don't know yet. I would love to get him back. You would love to get him back too, right? (laughter)"
On how difficult it was to watch the Steelers film:
"That one eats at you. It is not acceptable. It is not acceptable for me as a coach, and it is not acceptable for the players. We hold each other accountable. They know that. We had that exact talk so that wouldn't be a surprise. We cannot let that happen, no matter who is out there. We are competitors and we want to do well. That one eats at you, for sure. Going forward, we are not going to let it happen again. We will find a way and we will keep fighting through. Whether it is injuries or whatever it is, we will keep fighting through. We will work on it."
On DB K'Waun Williams' progress in their second year:
"I think K'Waun Williams is turning into a very, very good football player. He might be our best cover guy right now. We spend a lot of time watching our cutups, and there are not a lot of balls being caught in his direction. He has really good cover skills. His awareness is big time right now. His communication and his confidence are fun to see. He can blitz. He is showing up in the run game more. He is playing physical. That is a tribute to him. He has worked really hard in the offseason and he has worked really hard all year this year. He stayed healthy a little bit more. That guy has done a really good job and he is definitely a positive. I hope going forward he continues to get better because I do believe he can be one of the best at his position."
On if the defensive playbook is too difficult for the DBs:
"No, I don't think so. I think the guys have a good grasp on the playbook. I don't think that is a big issue."
On the difficulty teaching young players press-man coverage and jamming WRs at the line of scrimmage:
"It takes some time to learn. We spend a lot of time practicing it. We probably spend more time here. I think both (assistant secondary coach-corners) Aaron Glenn and (assistant secondary coach-safeties) Bobby (Babich) do a great job working before and after practice with guys doing that, as well. It is. It is a technique that takes some time. Some of our guys have gotten really good at it. It takes some time to learn."
On DB Charles Gaines and if he had a tough game against the Steelers:
"It was. We are not going to make excuses for him and he wouldn't make them for himself. His first action in an NFL game and hopefully, he will learn from it. The thing I do love about him is that he is a confident guy. For some corners, that could be really hard to come back from. He is still confident. He still believes he can go in that game and make plays. Overall what we really liked is that he brings a lot of energy. He is a smart football player. He has learned both the nickel and the corner very easily. I thought he did a have a good preseason. He plays physical at the line. He can cover guys. He has coverage ability, blitz ability. We have to continue to work with him."
On Gaines forcing a fumble after getting beat deep:
"He is tough. After getting beat from that play, he didn't hang his head. He kept going and tried to take the ball away. Charles has done a good job, coming back from the injury and losing the weight like what was talked about, and I will be excited to see him more."
On why Haden didn't have as much success when healthy:
"Joe didn't play in the preseason. I have had a lot of time to think about this, especially this past week. Joe didn't play in the preseason. At that position, the corner position, guys need to get in a groove. Guys need to play and they need to practice. I am not making an excuse for him by saying that because I really believe that is true. I think the same thing happened to him last year. He didn't play in the preseason. He started off a little slow, and then, he caught fire. Unfortunately, he hasn't been able to have the continuity of playing and practicing to catch fire yet. Again, not making an excuse for him but I think that is what we need."
On coaches balancing playing time in the preseason for preparation while minimizing chance for injury:
"I think if guys are healthy in preseason, especially in the backend where you need continuity and you need to play with one another, I do think that is important. I am not going to judge a guy's injury based on if it was a big injury or a little injury. I would love for those guys to be out there as much as they can and practice together because it is important. I hope going forward these next six weeks, we are together and we are building that. It is a very talented group that we need to get playing together and coming together. That is what those guys are talking about right now. They are excited. They is no negativity in that room. They are staying positive. They are excited for Monday. We had a great meeting this morning, a great practice yesterday and we are excited to get back out there today."
Inside linebackers coach Chuck Driesbach
On LB Christian Kirksey's development:
"I am really pleased with his growth. I think he has made a big jump in terms of his toughness inside. I talk about building your library of experience – this guy's library is growing all the time. He rarely makes the same mistake twice. He has two great mentors in terms of (LB) Craig (Robertson) and (LB Karlos) Dansby and in terms of talking about their experiences and things that they have learned playing in this league. He listens. He learns. I am really, really pleased with where he is right now. He has shown the ability to make plays. Really starting to look like an inside linebacker."
On the significance of LB Craig Robertson's injury earlier this season:
"Craig as we always talk about is the heartbeat of this team. We lost his enthusiasm and his leadership. I think (LB) Tank Carder did a good job stepping in the role. He was ready for his opportunity. I think he did a good job. We missed Craig, but again, Tank had prepared himself for that opportunity and did a good job."
On if Dansby is playing at the same level as last year:
"I don't follow it statistically, but I think he has to be up there towards the top leading the team in tackles. He could have had another pick in this last game. He is around the ball. (Defensive coordinator) Jimmy O'Neil has done a good job of putting Karlos in positions where he can really excel at. We are doing a lot more coverage stuff with Karlos on tight ends. He has done a really nice job. One got loose on him this last week. He got picked and the tight end made a catch, but other than that, he has been terrific on tight ends. He has done a good job on the back. I think he has done a real good job."
On optimism about the Browns' tackling improving:
"I can only speak for my group. I think we have really emphasized it. Jimmy has us work it every week. I think the tackling from the inside linebackers – I can't tell you how many we have [missed] – but we have really cut that back. The days we are in pads, we do a lot of full speed tackling drills. I think that has helped."
On how much the inside LBs are to blame for the run defense's struggles:
"You guys have heard it from all of us: that falls on everybody's shoulders. If a run breaks through the front seven and the secondary doesn't get him on the ground, a 5-yard run can turn into a 35-yard run. If they run an edge play and the outside linebackers lose the edge, everyone else is expecting it to go back inside and a tackle for a loss turns into a 25-yard run. If a linebacker is supposed to set the edge on an outside toss sweep and he gets cut and it gets outside of us, those are the plays that are killing us right now. It is like any statistical class we all take. If they ran the ball 25 times on us, usually in statistics you throw out the top number and the lower number. If you do that, we are not as bad as you think. That is not the game of football. It all counts so that statistically is why we are so bad. We just have to work on those things I just talked about. You can't lose the edge. You can't miss tackles. You have to do your job on that particular defense."
On if he likes how the inside LBs are reading running plays:
"For the most part. We are seeing some different schemes each week. Some people run some different schemes that it may take a look a picture on the sideline and say, 'Here is the new run of the week.' There is an old saying in football from an inside linebacker standpoint that the line never lies. If somebody pulls, go with the puller. The line now lies in football. It does. Some of the screen passes that we have gotten hit on, it is an off-tackle power play to the left, the inside linebacker sees the pull and he is running with it and then the tight end on the back side all of a sudden now he is in the screen. There are things with all of the inside zone plays out of the shotgun. The line doesn't always tell you the truth. You have to see both. You have to see both really well."
On reading running plays in the NFL now primarily takes instincts:
"It takes instincts, but it also just takes getting used to the plays. You are limited in how many practice plays you get out there. A lot of times, the first time they will see it is on Sunday. Then you work to get it fixed. You hope that your rules that you have and they do for the most part, if they will just follow the rules they will be in the right spots."
Outside linebackers coach Brian Fleury
"I'm pleased with where Nate is. I'm sure you guys have noted – I think it was the Baltimore game – he started every game since then. The first few weeks were part of an evaluation period to see if he was going to be able to hold up and do the things we needed him to do. At that point, we felt like he could and he's done a good job continuing to progress from that point forward."
On what makes Orchard so good against the run:
"It's really just his approach and his work ethic. He does a great job of taking in the information that I give him in terms of things he can work on, things he can improve and what's going to be necessary for him to be successful in certain situations. Not only at practice but on his own individual time, he really works hard to improve those things and perfect them. His work ethic and his determination are really far above what I think anyone would expect for a 22-year old rookie coming in."
On worrying that Orchard may get frustrated about his sack count:
"No, and him and I are in constant communication about that. He knows that that's part of what got him here, but part of my job as his position coach is to develop and execute a long-term plan for his growth. Right now, starting at the beginning at the foundation of the run fundamentals and all those sorts of things that are going to help us stop the run defensively, he's embraced growing and developing that aspect of his game first and just knowing that those opportunities to rush the passer will come later on."
On LB Paul Kruger and how his role has changed throughout the season:
"Paul and I have had a lot of conversations about that. It's not a simple decision. Part of our job at the beginning of the season is to evaluate the entire group and figure out who we can use in the best possible roles or scenarios in combination with the other 10 guys on the field to give us the best chance of being successful both against the run in those situations and the pass in those situations. We made the decision that Paul was best suited to help us at the strong side of the defense early in the season, partially based on a little bit of unknown in terms of Nate coming in as a rookie and how he was going to be able to help us in that role. With (LB) Scott (Solomon) getting injured in the first game, that obviously raised some question marks. Then (LB Barkevious) Mingo coming off both the shoulder from last season where he wasn't able to participate in a lot of the off season stuff and then the injury in the preseason, as well, at the beginning of the season, we felt like the combination of what we thought was going to be Paul and Scott would give us the best opportunity to stop the run. That quickly became Paul and (LB) Armonty (Bryant) after Scott got hurt early in the first game. As (LB) Nate (Orchard) continued to develop and Mingo showed us that he was healthy enough to help us, then after I think it was the Baltimore game, we felt comfortable transitioning back into the role he was in more of last year."
On Kruger's sack total not matching last year's number:
"If it were a simple answer, I assure you we would have made that correction. There's a lot of factors that go into that. Part of it is just the ebb and flow that any player would have over the course of their career. Sometimes sack numbers are up and down and there are a lot of factors. Then, the offenses deserve a lot of credit that we've been going against. The quarterbacks are getting the ball out. You'll see an increase number of run-pass option plays where the statistics show that they're passing the football but the front is showing more of a run-blocking scheme. That creates issues for edge rushers. They're not able to just pin their ears back and go forward and get after the quarterback. There are a lot of other little things that's are contributing to those numbers, but we still have six games left, and I know that he's going to put up some more numbers as we go through the rest of the season."
On Mingo brings to the Browns and how he's evolving:
"Mingo has done a good job coming off of his injuries. He plays probably with the best effort of any of the guys in the room continuously. I point to that play against San Diego where they broke a long pass and he was able to sprint down and catch one of their fastest wide receivers at the 1-yard line. His effort is unquestionable. He has elite coverage skills for the position. Anytime we're concerned about matchups at the tight end position for the other outside backers to handle, he's the guy we turn to in that regard. He's got edge pass-rush ability. It's just that there are a small amount of reps to go around for what is a big talented group really with four guys being active every week. Only two guys are able to be there eon the edge, and right now, we feel the most comfortable with Paul and Armonty really getting the majority of those pass rush reps, especially when it comes to third down. Mingo is in that rotation, and we'd like to see those numbers jump up a little bit here as the season progresses, as well."
On comparing Mingo's speed to other Browns:
"I don't want to start any problems (laughter), but I would put him up against some of the DBs. His speed and coverage skills are absolutely elite for an outside linebacker."
On Mingo's development as a combination of speed, talent and knowing where to be:
On LB Armonty Bryant adjusting to a new role this season and if that is his best role:
"I do. I think he's adjusted well. I think it was somewhere around Arizona, Denver that I felt like he really turned a corner in terms of adjusting to the difference in speed and timing that comes with playing on the edge verses playing inside. It's hard to put into words, but there's definitely a difference in terms of how fast things happen and what your reactions have to be. Somewhere around that middle of the season point, I felt like he really turned a corner and started to play more explosive and have more speed, and I think that production really showed up in the Arizona game especially."
On what the OLBs will do to improve during the bye week to improve the defense:
"There are a bunch of factors that go into that, and every position group has there areas for improvement. We've spent some time analyzing that over this downtime and every position group and then every individual player has areas of improvement that they can focus on. We've done a good job communicating those to the guys, and I think we'll come back ready to improve on that."
Defensive line coach Anthony Weaver
On DL Danny Shelton's rookie season:
"I'm pleased with the way Danny has been playing. Obviously, like any rookie, he's had ups and downs throughout, but overall, I think he's played very well. Obviously, as a nose guard, you'd like him to have more sacks and things like that, but I think as a rookie and what he's done and been able to come in and do and have been impactful in the run game – maybe the stats may not reflect it – I'm extremely pleased with where he's at. I think it's important when evaluating and looking at Danny Shelton that you compare him with guys that are similar body types and play in similar systems like (Lions DL) Haloti Ngata's rookie year or (Bengals DL) Domata Peko's rookie year. I think if you do that, then probably numbers wise he's probably about the same. I don't know exactly but I bet it's similar."
On Shelton's desire to have a bigger impact:
"I feel like he's on pace. It's not even a problem, he just has very high expectations of himself. He's a guy that wants to go out there and make every single play, and that's how you wish all those guys were. He has those expectations, and I'm definitely not going to lower them, but again, I'm pleased with where he's at to this point. If he makes the same jump that a (DL) Jamie Meder has made from Year 1 to Year 2, then that could be a lot of fun to watch next season."
On if Meder and Shelton have similar game styles:
"They're slightly different. Danny loves to roll off the ball and attack and create knock-em-backs and forces you to double-team. Meder is more of a technician with his hands, gets off blocks, runs to the ball and makes plays. Danny is not that guy so much. He'll run to the ball and make plays, but Danny's much more attack the line of scrimmage than Meder is but they've both had very good seasons for us."
On the Browns' struggles in run defense:
"We've been victims to the big play. The guys are definitely putting in the effort, the time, the want-to stop the run I believe is there. We've just been susceptible to the big plays, particularly early in the year that have hurt us from a ranking standpoint but the effort, the time put in, the commitment to stopping it is there on all levels. The guys want to get that ranking down, and it's unfortunate we haven't been able to do that."
On Shelton not playing much as three-down lineman:
"Again, I don't think it's anything Danny has or hasn't done more than Randy Starks has been to two Pro Bowls who has gotten sacks in this league, who has gone out there and gotten quarterback hits just been a tad late. (DL) You have Desmond Bryant, Xavier Cooper, guys who were brought here specifically to get after the passer, and I just haven't had to use Danny in that role. Now with the injury to Starks in the past game, that role will be ramped up for him. He'll be a guy to definitely go out there and collapse the pocket and hopefully help us more from a pass rush perspective."
"Cooper has been as advertised. It's unfortunate that in this game you can get in trouble when you chase plays and he's another one of those guys who's a ball guy who wants to make every play. He's frustrated because maybe the numbers aren't coming to him, but they will. Sometimes you just have to let the game come to you as a defensive lineman. You can chase plays all day, but if the plays aren't coming to you, you're not going to make them. He's doing his job right now. He's creating. He's getting knock-em-backs. He's forcing production for other guys, but I know in his mind that he can do more, too."
On if there is a common problem in giving up the big running plays:
"No, this game is so unique in that you need all 11 guys on the same page to be successful. It's not like basketball where you can say 'Hand the ball to LeBron' or baseball where you can give it to your best picture. It's just not like that. When a breakdown does happen, it's usually a collective effort. It's usually not one group or one guy. It's usually a collective effort when a breakdown does occur."
On if Starks has played up to expectation:
"Yes, Randy, he's been everything you want, especially from a leadership standpoint. He is undoubtedly the leader in my room, and he's helped those young guys. Those young guys will be better throughout their career because of the year they spent with Randy Starks. I'm extremely pleased with how he's been since he's been here."
On if Starks' injury will end his season:
"I don't believe so. I don't believe so. I think we'll get him back. The timetable I'm uncertain of."
On if Starks will miss some time:
"You'd have to ask Pett (Head Coach Mike Pettine). He would know better than I would, but I would expect him back. He's not going to miss much time. He's too tough."
On the Browns mindset with a low defensive ranking and if players are giving the same effort:
"We have an extremely prideful group, and we understand the circumstances that we're in. Those guys, I feel so bad for them because I know how much they want to deliver a winner for this town. I know the work and sacrifices they made, not only in time but just to their bodies. They want to deliver. They care. They want to win. You just hope we can continue to work, and I know they will to try to get that moving forward throughout the rest of the season."
On if the Browns have made any significant changes to the DL rotation:
"Not much. I really just try to roll them in waves and keep guys fresh, and then in the fourth, the plan is always to play the hot hand. We haven't been in the situation often where we've been in leads and we're trying to protect leads where I can do that, but I haven't done much (laughter). That's really the short answer. I haven't done much and I'm pleased with how all six guys are playing."
On being surprised by where the Browns run defense ranks after drafting Shelton to help stop the run:
"I'm going to answer the same way I did before: One guy is not going to make a difference in football. He can have an impact and he has, but take the Miami Dolphins – you add (Dolphins DL) Ndamukong Suh to that line, does that shore up the run defense? I'm sure if you look at the ranking, it probably hasn't. This game is so unique where you need all 11. It's never one guy that's going to be a quick fix its going to take us all, coaches included."
On how Shelton has played in run defense:
"Danny's done really well against the run, solid. It takes two the majority of the time in order to contain him. Otherwise, he's going to make a play. I think he's done a very good job."
On Shelton's comments that he didn't initially understand the importance of having a low pad level:
"He's just been so physically imposing his entire life that he can get by sometimes, particularly in the college level, with lesser technique. Throughout training camp and all those things, he was getting by and sometimes he wasn't going against fourth- and fifth-year guys in the preseason because those guys don't play. When you're going against a guy that understands leverage, hand placement, all those things, that's been in the league for three or four years, they got him a couple times. That's going to happen to all rookies. That's not just him. Now that he's playing with lower pads, he's knocking guys back. He's getting back to the Danny of old. His issue came really when you play the zone type running scheme where you don't get to do that and then his pads god a little bit high. They were getting some push on him but that's a normal thing. That type of run scheme forces defensive linemen to be passive, and that's why they run it."
On if Shelton's pad level has improved:
"Marked improvement. Yes, and again, it wasn't like you're high pads the entire beginning of the season. He wasn't. It was a game where it showed up, and then it was talked about and it was corrected."
On Shelton's conditioning and body fat:
"Surprisingly, if you look at our bod pod numbers, he's not close to having the highest fat level in my defensive line. He works hard at it. He's always on the treadmill doing those things. I know he might not look the part, but he can run all day and play every snap, if need be."
On why players like Shelton don't put up great numbers in their rookie season:
"A little bit is just that position. That's kind of a grunt position. Sometimes the numbers aren't there. Those guys get a lot of recognition when you start winning. Like a (Texans DL) Vince Wilfork, I don't know how many sacks Vince Wilfork has had in the season. I'd be interested to see how many tackles he's had in the season. Does that mean he's any less of a player? Heck no. Vince Wilfork is a tremendous player, but those guys, particularly that nose guard position, they get credit when you win because they do a lot of the dirty work."
On if it is difficult it is to fix pad level and technique in-season:
"Not something that small because that's simply a matter of bending your knees and then staying low throughout the down. He was doing good initially coming off the ball with pad level, but then in his attempt to look for the ball, he was getting high. That's an easy fix."
On if Shelton can play up to the high expectations of a first-round selection:
"I do. I do. As high as your expectations are for Danny and the people outside their expectations are for Danny, they're even higher for himself. He wants to be a perennial Pro Bowler. He wants to have sack numbers for a nose guard. He wants all those things and because he has that want to and that will and that desire to do big things and be great. The sky is the limit for him, and I look forward to watching his career progress."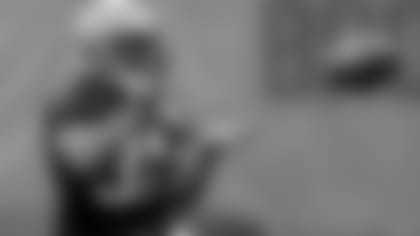 news
Browns ready to ride hot hand with deep group of RBs
Cleveland RBs coach likes depth, diversity at the position