Browns rookie defensive lineman Dylan Wynn is a man of many self-taught, passionate hobbies.
When Wynn found out he was moving to Oregon State to play football, he started watching YouTube videos on how to fish. It quickly became his favorite free time activity. He's hoping to hit Lake Erie soon to catch a big ole Walleye.
Some of Wynn's best friends growing up in the Bay Area of California were of Hawaiian descent, and the ukulele would be a prominent instrument at family gatherings. Wynn picked it up and now even plays and writes his own songs. He named his ukulele "Lucy." 
Every one of Wynn's friends told him not to get a dog at Oregon State, but he did anyway. To prove his buddies wrong, Wynn woke up some mornings at 4 a.m. to train his Rottweiler named Blitz and calls him the most obedient dog he's ever been around. 
And then there are the tattoos, seven of them on Wynn's body to be exact, most of them on his left leg. In an illustration to show the strength and bond of his family, Wynn required his mom, dad, and two older brothers to pick out a tattoo that means something to them and he would match it on his own body. His mom Karen picked a Lioness because her astrological sign is Leo, and she's also the head of the family, Wynn insists. His dad John chose one of the many symbols of the Grateful Dead, a band the family grew up listening to in the backyard and garage. His brothers Ian and Gowan have been a tougher sell. Both are more needle-conscious and are slowly weighing their options.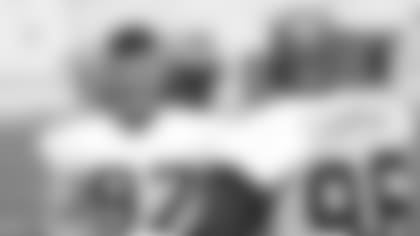 Wynn's current undivided passion project? Separating himself from Cleveland's 11 other defensive linemen to launch himself on the 53-man roster.  
What Wynn has going for him is a sharp awareness of who is he is as a football player. Standing at 6-foot-2 and checking in at 283 pounds, Wynn doesn't look as physically imposing as someone like 6-foot-6, 310-pound Desmond Bryant. He doesn't pretend to be who he's not.
"This guy plays like his hair is on fire," defensive coordinator Jim O'Neil said in a recent interview. 
"I know I'm not your prototypical NFL player," Wynn said on Saturday after practice, his mohawk free of flames. "What I do is bring my hard hat to work every day. That's how I've always been."
The Browns have taken notice of Wynn's blue-collar approach because stuffing the defense full of players with this type of mentality can breed winning. Best suited as a three-technique defensive tackle in Cleveland's system, the team has detected his playmaking range extends to a wide radius of the field. Because there's less depth at outside linebacker, the Browns have used Wynn some as an edge rusher. He nearly had a sack in the first preseason game on Redskins quarterback Colt McCoy and his tackle against the Bills came 6 yards down the field.
Forget the term "high motor" with Wynn; his never shuts off. If you ask Wynn whether he's a better run stopper or a pass rusher, he'll give you a clever answer.
"I'm best at pursuing whoever the ball carrier is," Wynn said. "When I'm on the field, I just don't stop running."
There's no questioning No. 97's intense effort as a bull rusher, his advanced knowledge of the defensive system for a rookie or how much the sport of football truly means to him – a big plus in the eyes of the Browns. Wynn has every intangible coach Mike Pettine has ever talked about wanting a rookie to have.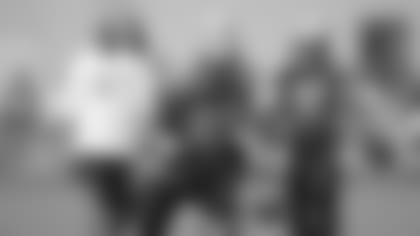 For Wynn and these final two preseason games, it truly comes down to maximizing every snap on the field. Cleveland's defensive line competition is as dense as you'll find in the league. Some surprising names could see the chopping block when final cuts are made Sept. 5.
So what does Wynn have to do? In his mind, he can only control his play. He has to not only be disruptive and set others up for plays, but he has to make sure his grade sheet has as many checkmarks as possible.
"I want to take the decisions out of the coaches' hands," Wynn said. "I want to play so good that they have no choice, basically. That's my goal."
Wynn has conquered fishing, the ukulele, training a Rottweiler and convincing his family to ink up their bodies up. The NFL is next is on his list.
Don't doubt Wynn when he's on a mission.