The Browns re-signed defensive lineman John Hughes to a contract extension, general manager Ray Farmer announced Friday.
Hughes, 25, is entering his fourth year in the NFL, all of which have been spent with the Browns. Hughes, a Columbus native, was the Browns' third-round selection in the 2012 NFL Draft.
"It's an amazing feeling," Hughes said. "For the Cleveland Browns to have the faith in me and believe in me to sign me a year early, it's just a great feeling."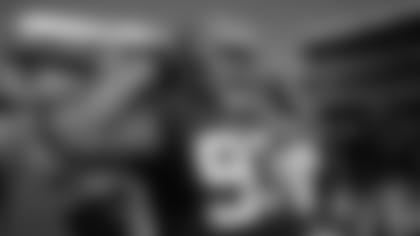 Hughes, one of the Browns' top run-stoppers, was poised to be a big part of the Browns' defensive line in 2014 but had a large chunk of his third NFL season cut short because of injuries. After he was sidelined for three of the first four games, Hughes was placed on injured reserve/designated to return before the Browns' Nov. 2 game against Tampa Bay. He returned for the season finale at Baltimore and compiled a career-high seven tackles to finish with 17 in five games (three starts) on the season.
The Browns defensive line was plagued by injuries in 2014, which forced the team into 10 different starting lineup combinations.
"I feel like not just me, but the team has a lot to prove," Hughes said. "I feel like we have a lot to do."
Hughes, who starred at the University of Cincinnati, has played in 36 games with seven starts during his NFL career. He has 99 career tackles, four sacks, five passes defensed and a fumble recovery.
Hughes is one of the Browns' most active members in the community and has been a leader with the team's First and Ten movement.
"Being Ohio-raised my entire life, being a Browns fan growing up and being able to live my dream out means everything," Hughes said.