LONDON —** Browns fans from across the globe converged on Trafalgar Square for the club's first-ever game overseas.
Around 400 people from near and far gathered Saturday night at The Admiralty for Cleveland's game against the Vikings at Twickenham Stadium.
In what was a festive event, Browns owners Dee and Jimmy Haslam poured pints and former greats like Jim Brown, Hanford Dixon and Josh Cribbs mingled with fans, smiled for photos and signed autographs.
"It's taken a life of its own. I never thought we'd have quite so many people," said Steve Maybury, who founded the British Bulldogs Browns Backers club. "We started this 15 years ago and there was five people at a bar on the corner here, and now we're 400 people in London. So it's unbelievable." [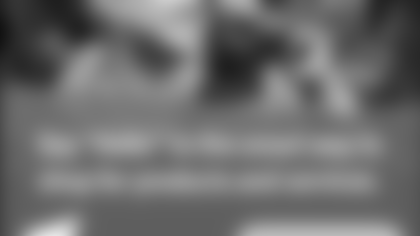 The Browns Backers Worldwide is considered to be one of the largest organized fan clubs in all of professional sports with members and clubs established throughout the world. Browns Backers Worldwide exists as a non-profit organization to actively support and positively promote the Cleveland Browns.
"They're very enthstuatics. I really didn't know what to expect coming into it, I didn't really know how they were going to react," said Megan Rock, who coordinates the Browns Backers Clubs across the globe. "I mean, American football is still foreign over here but they are just as diehard as Americans are."
Maybury, who grew fond of the Browns and Cleveland back in the mid 1980s because of its blue-collar reputation, said the club helps them stay close to their team across the Atlantic Ocean.
"I think for us, the club is still relatively small, I think there's about 130 members now but it was 50 when the game was announced and now it's 130 nine months later," Maybury said.
"And we meet up — we don't meet up every week because people are spread around — but when we meet up, we just have such a good time. I know we're not playing very well at the moment but we have such a good time and you get friends with people, really great friendship now that we have with people through the Browns.
"That's really what the Browns mean to us," he continued, "it means a lot to us personally."