Bruce Barnes, Browns fan and native of Youngstown, Ohio, served four years in the United States Army as an infantryman with the 82ND Airborne Division.
During Bruce's four years of service he served two deployments 2004-2005 and 2006-2007, 18 months total. As with all deployments Bruce faced adversity: long tiring missions, the blistering heat from the relentless Iraqi desert, and less than comfortable living conditions to say the least.
During one of Bruce's deployments his unit secured one of Saddam Hussein's palaces and converted it into a patrol base. The men slept on cots, ate only MREs, and had no running water or electricity. About once a week they could rotate out for hot showers and a good meal.
Through all of this hardship Bruce found strength in the men he served with, and they him. It is this comradery that helps them all get through such rough and tough times. In Bruce's own words, "It's the strength and courage of my other men that pushed me forward."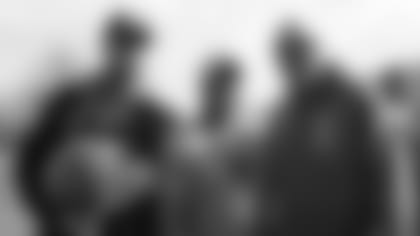 Now a 29-year-old-man, Barnes has teamed up with the Wounded Warrior Project to help veterans in need. For the younger soldiers just coming back from deployment, he assists them with college applications. For older veterans, he makes phone calls to help them get benefits.
"It brings me a lot of healing," Barnes says of the work he's doing for his fellow veterans.
Barnes' story stuck out for the Browns, who are honoring him in a unique way on Sunday. Moments before the Texans game, Barnes will team up with Donte Whitner to lead the Browns out of the tunnel and onto the field.
Barnes' family has been season ticket holders for years and when he attended practice on Tuesday alongside other veterans, Barnes rattled off the names of every Browns player.
"I'll be speechless. It's going to overwhelming. It's going to be emotional," said Barnes of leading his favorite team out of the tunnel.
Barnes sees veterans as a unifying source. Soldiers have the intuitive force to make the community a better place. Barnes will continue his work with the Wounded Warriors.
"The greatest honor as a veteran is empowering others. That's really the greatest service we can do," Barnes said. "I encourage all of our veterans in the Cleveland area to start giving back more."