Dick Schafrath (left), Galen Fiss (right) in July of 1966
Dick Schafrath started playing for the Cleveland Browns in 1959.
Head coach Paul Brown declared him a starter at left tackle the minute he was drafted in the second round from Ohio State. Schafrath would be replacing Lou Groza, whose legend grew so much, he now has a boulevard named after him outside the Browns facility. The cards were stacked against the rookie.
Affectionately nicknamed Schaf, the now 77-year-old remembers an NFL season that merely lasted from August to November. The 33 players on each roster never lifted a weight. At the time, trainers were against giving players water during practice and games, because they thought it would cause cramping.
But what's truly mindboggling, and what has changed the most about the NFL, is Schafrath and his teammates all held other jobs during the offseason. He recalls players who were insurance salesmen and butchers. To get in good graces with their normal day job, Schafrath said players would let bosses and their families come to practices for free.
"That was pretty good job security back in the day," Schafrath said with a laugh.
Schafrath wasn't like any of his teammates, though.
Instead of practicing Monday-Friday and working a normal job in the offseason, Schafrath was a full-time active member of the Air Force, serving on the base in Mansfield, OH. Daily shifts were 12 hours long, where he could be called into duty at a moment's notice. Remember, in 1959, the Cold War was heating up and Cuba had become a hot-button global issue.
For the first two years of his career, Schafrath never fully practiced with the Cleveland Browns. At the beginning of every week, Brown would mail Schafrath the game plan to the Air Force base. Included in the packet were exercises to stay in shape.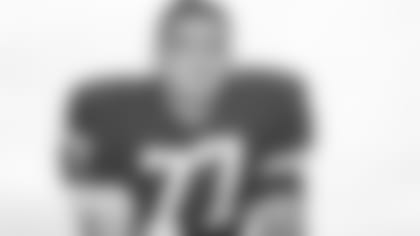 Unbelievably, Schafrath lived up to coach Brown's prophecy and turned into a crucial member of the Browns. He still started every game in 1959-60 – actually every single game of his 13-year career.
What's odd about this, is coach Brown was a notorious as stickler for rules. Players were fined $50 for violations. At the time, that number could damage a bank account. General human mistakes like leaving a playbook sitting around, or forgetting to bring a piece of equipment to practice would irk Brown. But his biggest peeve, for sure, was being late. Players were fined $50 for every 15 minutes that they arrived late, to any team function.
But Brown held the military in the highest respect, and thought Schafrath was talented and driven enough to get by without practice.
Schafrath's schedule would eventually ease up in 1961. Football started paying him better and he decided to join the reserves instead.
But deep down, Schafrath always felt uneasy about never being called to serve overseas.
"I always felt guilty," Schafrath said about not fighting for his country abroad. "I was always hoping they would call me. I respected soldiers, because that was real war. They were putting the life on the line every day."
In 1969, an opportunity presented itself to go out of the country. But this time it was part of a USO tour in Vietnam. Schafrath had become such a big name in the growing game of professional football, that he accompanied Joe Namath, Irv Cross and Billy-Ray Smith to entertain the troops.
Every Memorial Day, Schafrath finds himself listening to the Star Spangled Banner. He gets misty-eyed. The tears are uncontrollable.
The song represents more to Schafrath than most: the intersection between serving his country in the Air Force while also representing his community in Cleveland with the Browns.