Included below are select quotes from interviews with the following Browns players during today's media availability:
WR Corey Coleman
OL Cameron Erving (full transcript)
WR Terrelle Pryor
OL Joe Thomas
On scoring two TDs Sunday against the Ravens:
"It felt good but still hard. We still lost." [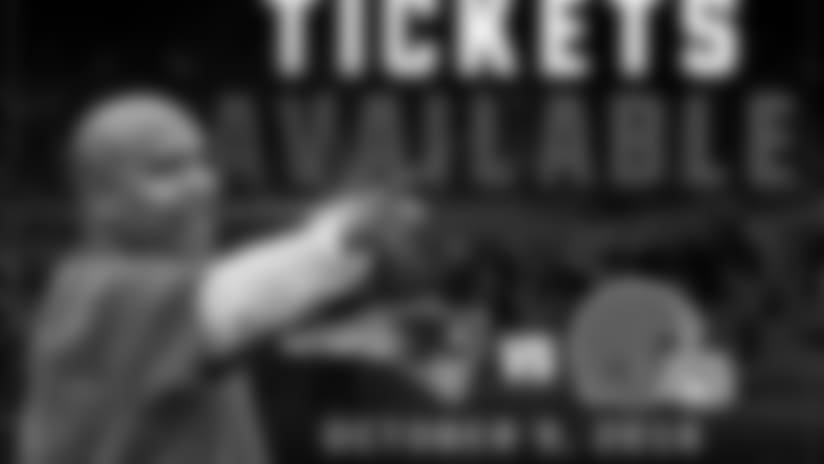 ](http://www.ticketmaster.com/FirstEnergy-Stadium-Home-of-the-Cleveland-tickets-Cleveland/venue/40971?camefrom=CFCBROWNSWEB_ARTICLES)
On having a breakthrough these past few weeks:
"It is slowing down for me a little bit. Just really putting in extra time in the play book. Knowing my assignments is helping me out a lot, too."
On the key to his two TDs:
"I knew they were going to call it on me earlier, getting me going. I appreciate (QB) Josh (McCown) for trusting in me, throwing me the balls."
On challenges having a third QB in as many weeks:
"It is going to be tough, but we have the right guy for it. He (QB Cody Kessler) is going to do just fine. He will get the job done. He is a smart guy. He is a competitor, too."
On working with Kessler during training camp:
"I came in with Cody. Rookie minicamp, it was just Cody and all of the rookies, of course. He is a great quarterback. I have a lot of confidence in him."
On his confidence in Kessler being ready to start in Week 3:
"Because that is the type of guy he is. He is a hard worker. He likes to be the best. He likes to work really hard. He's going to stay up here and do everything he can to put himself in a successful situation. I'm excited for him, too, because he gets a chance to go out there and prove himself."
On how he is feeling after having to leave the game on Sunday:
"I'm feeling better. Just happy to be back in the building today."
On his experience during the injury:
"It was a crazy experience. I'm just happy to be back in the building today and looking forward to this next week."
On if there was a point earlier in the game where he felt something was not right:
"Not really. I was cramping a little bit during the game, but other than that, it was nothing."
On if his cramping was unrelated to his trip to the hospital:
"Honestly, you can ask all those questions to (Head) Coach (Hue) Jackson. I'm not really going to answer those questions. I am just happy to be back in the building today."
On how any injury affects his view of playing in the NFL:
"It is football, man. For lack of a better term, [stuff] happens. We all know that. It is football, and we are all aware of risks every day, every time we step out on the field. That is it. I'm just happy to be healthy."
On if the injury occurred on the play when went down on or if it was an earlier play:
"I'm not really going to go into specifics. If you have any questions about that, you can ask Coach Jackson."
On if the experience was scary for him:
"We all know things like this we take very seriously, especially in the NFL. It was all precautionary. It is protocol. They just wanted to make sure everything was alright with me before they let me get up and start moving."
"I am just listening to (head athletic trainer) Joe (Sheehan) and the rest of the trainers and just going about my business the same as usual, still preparing as if I'm playing. I'm just happy to be here."
On a timetable for his return:
"I'm not sure. That is one of those things you have to ask Coach Jackson."
On if he considered contacting Patriots LB Barkevious Mingo or other players who have experienced similar situations:
"I heard he had it, but I wouldn't call him about it. He has a busy schedule. I trust the people here so everything is going to be fine."
On if he would be willing to play QB this Sunday if needed:
"I will be starting at receiver, but you know what? For this city, for the coaching staff that worked their butts off and my teammates I will do anything for us to win. Anything. Cut my finger off, do whatever I have to do. That is because I want to win. I really want to win. Last week was devastating so we got a taste, but we have a lot of positivity and positive things out of last week, things we could do different. I want to look down on this field, I want to win. I am all about winning, competing. For me, that is what this is about for me. That is it."
On his first start at QB in Oakland:
"The game is fast. It is just fast. The game I played in, I was going against those guys like (former Chargers DB) Quentin Jammer, (former Chargers S and current Ravens S) Eric Weddle, (former Chargers LB) Takeo Spikes, a couple of other guys, rushing guys on the end. That was a pretty good defense, I believe they were one of the top in the AFC West at the time. They were battling with the Broncos, I believe. It is going to be fast for him (QB Cody Kessler), obviously, but that is why – in practice when we go out there, myself, (WR) Corey (Coleman), all the receivers, the line – we have to play at a fast tempo, get in and out of the huddle fast in practice so we can just make it as game-like as possible. That is all we can really do and go from there. We have (Head) Coach Hue (Jackson), which as a coach, I just love him as a coach and as a person obviously, too. Him, (associate head coach – offense) Pep (Hamilton) and (senior offensive assistant) Coach Al Saunders and our running backs coach (Kirby Wilson), those guys work their butts off and I have faith in them, total faith in them. They will have Cody ready."
On if he has offered Kessler any advice:
"You know what, you guys heard that speech from (QB) Josh McCown. He just has to talk to that guy (laughter). I almost had like a man tear come out when I was talking to that man because I love Josh. We spend a lot of time together, talk a lot, and sheesh, all he has to do is talk to him. Josh is a great teammate, he is going to be – him and RGIII (QB Robert Griffin III) – they are going to make sure, and we have (QB) Charlie (Whitehurst) in now too so they are going to make sure. They are going to give him everything he needs to know, help him out. It is going to be different when we get on the field. If anything gets out of hand sometimes or mistakes happen, we just have to calm him down, get him back down and be like, 'You are here. This is why you are here. This is why we drew up what we drew.' Just continue to put that faith in him, the reason why he is here. We have faith in him. He did a great job in the walkthrough today so we have faith."
On trying to find continuity with the Browns starting their third QB in as many weeks:
"Like Coach Hue says all the time, next man up. There are a lot of teams going through it throughout the league. There are a lot of teams that are losing their starting quarterback, and they have to have guys come in. It is just that is why we get paid to do what we do. Go play football and no matter what the circumstances are we have to have faith in the next guy. The offensive line, shoot, we lost our center. We have (OL) John Greco going to center, and he has played it before, but that is just the beautiful thing about football is that guys – especially the Browns, I'm proud of my teammates – but guys are willing to do whatever to win. It might not look like that because of our record right now, but I can assure you we are going to get there because we work hard. All I know from working hard is success. We have failed twice this year. It is time to get on the other end no matter what the circumstances are. We have no excuses. We are going to Miami to win and I am going to battle my butt off and compete my butt off when we get down there."
On his confidence in QB Cody Kessler and his preparedness for Sunday:
"I don't think he is ready on Wednesday, but he will definitely be ready on Saturday (laughter). He is really studious. He has been studying to be the starter since he got here. He got the opportunity probably sooner than he expected, but we know he is going to do a great job. He is a guy that has played some big time football games at the college level. Playing at USC obviously is a big benefit for him. He has won games. He knows how to do it. The moment is not going to be too big for him, and we have a gameplan we think is really well tailored for the things that he does well. I am excited to see how he does."
On the Dolphins defensive line and challenges blocking them and protecting Kessler:
"Miami's front is really good. They spent a lot of money up front, obviously, on their defensive line and those guys. They put them in situations to make plays. They are not gap-eaters like some defensive lines. They are up the field trying to wreak havoc, and it is going to be a great challenge for us."
On losing two starting QBs in the first two weeks of the season compared to other QB situations he's experienced in Cleveland:
"I guess I have not reflected on where it ranks, but certainly we have been in this situation before where we are down to the third quarterback. Unfortunately, it has happened more times than not in my career. The guys that have been here for a while, we know how to handle it. I think the guys that are new, it is a quick lesson on being ready because at any moment you could go from zero snaps to being the starter."
On how to bring Kessler along and help make sure he is ready for this Sunday:
"I think this week of practice is really important for him to build his confidence. He is naturally a leader because of his temperament but also his history at the quarterback position at USC. This will be a big week of practice for him just kind of asserting himself on the offense. I think you become a leader when you show people you know what you are supposed to do and what everyone else is supposed to do when you are the quarterback. We have a lot of confidence that Cody is going to know exactly what to do."