Full speed. Helmets. Offense vs. defense drills. Real, live, football.
That's what will happen Tuesday, when Browns players commence for voluntary pre-draft minicamp.
"It's going to get a little amped up," said Jordan Cameron. "Guys will be screaming and running around, so I'm excited."
In a lengthy offseason filled with various phases of workouts, pre-draft minicamp is one of the major benchmark moments, especially for the coaching staff.
Offensive coordinator Kyle Shanahan has spent hundreds of hours devising a new offense tailored to the Browns. For the first time, he will get a visual on how those plays translate against a defense.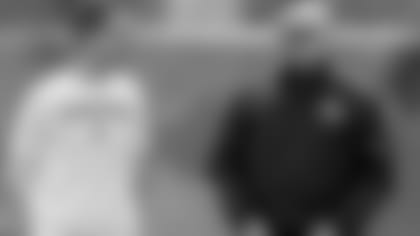 Going through strength and conditioning coach Paul Ricci's grueling workouts has helped the Browns fine-tune their fitness and stamina. Listening and taking direction from coaches in meeting rooms will be paramount to Cleveland's win total.
But those two aspects can't simulate football situations. That's why pre-draft minicamp provides the first real glimpse of the 2014 Cleveland Browns.
"Guys are really hungry to go out there and show what they can prove," said Josh Gordon. "And see who is going to be competing for a starting job. You'll get a good feel of that this upcoming week.
"I think coaches are doing a great job of getting us ready," said Paul Kruger. "So now it's time for us to translate that and see what we can do on the field."
Here's a quick overview of the pre-draft minicamp rules.
Equipment: Helmets, knee and elbow pads only (no shoulder pads or shells); No equipment during walk-thru.
Individual player instruction and drills
Special teams drills (e.g., kicking versus return team), provided no live contact
Team offense versus team defense, provided there is no live contact (7 v. 7, 9 v. 7 and 11 v. 11 drills are permitted so long as no live contact)
All coaches are allowed on the field
No one-on-one offense versus defense drills (no offensive linemen v. defensive linemen, pass rush or pass protection, no WR versus DB bump-and-run drills)
No one-on-one special teams drills involving both offense and defense