In late August, the country was introduced to Browns linebacker Chris Kirksey in a peculiar way. The rookie was listed with a height of 1-foot-2 in the Madden video game. The rookie laughed while doing national interviews for SportsCenter and CNN.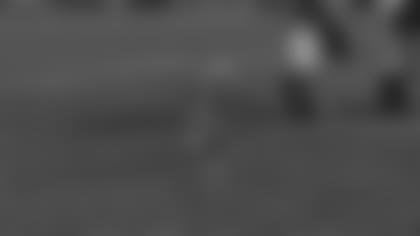 Now, in late October, Browns fans and football junkies are noticing Kirksey for something different: his play on the field.
Kirksey's 32 tackles tie him for third on the Browns and his two sacks are tied for third on the team with Tashaun Gipson. When he was drafted in May, the third-round pick was pegged by the local media as a major contributor on special teams this season, and maybe some fill-in duty as a reserve. But Kirksey rapid rise as an integral linebacker standing next to Karlos Dansby, in the center of the Browns' defense, has been an unforeseen yet gleeful surprise for the Browns.
Against the Jaguars in the third quarter, Kirksey single-handedly forced a three-and-out. On a first-down reverse to Marqise Lee, Kirksey stayed at home and brought down the lightening-quick receiver for no-gain. On second-down, Kirksey leveled another speedster, Ace Sanders, on a pass over the middle for no-gain. Then came his highlight of the game – dragging Blake Bortles down for a sack.
"Wow," Kirksey said reliving the three straight dominant plays to reporters. "It just makes you feel good when you go off to the sideline and you've got a bunch of older guys telling you congratulations. To be honest, right after the play, you can celebrate for two seconds and then you have to put it behind you."
"He's been solid against the run," said coach Mike Pettine, an area that was perceived by NFL draft analysts as a weakness for Kirksey. "I wouldn't say that he's a liability. He's had some plays that he would want back, but I think overall it's just the steady improvement that he's making is what's been most impressive."
Pettine attributed Kirksey's nimble grasp on life in the NFL to environment in the linebackers room. Craig Robertson and Dansby have been essential to making Kirksey feel comfortable.
"Craig is a funny guy. He always has us laughing and things like that," said Kirksey on Wednesday at his locker. "Los is the same way. We're just relaxed. When I see those guys relaxed, it relaxes me as well."
Kirksey further explained the competitions never stop in the linebackers room. For example, Kirksey and Robertson stayed late after a recent practice to see who could catch the most one-handed passes from the jugs machine.
"We're always battling around seeing who has the best hands, who jumped the highest," Kirksey said with a grin. "We just make it fun."
Keep having fun, Chris. Because it's clearly working out well thus far.