The Cleveland Browns have signed veteran wide receiver Brian Hartline, general manager Ray Farmer announced Tuesday.
Hartline, a 28-year-old Canton native and Ohio State alumnus, spent the past six seasons with the Miami Dolphins, where he began his NFL career.
"Brian is an excellent teammate," Farmer said. "He's a crafty and savvy player with very good hands and is a precision route runner. He can win at all three levels. His size, hands and route running make for a good combination and he is going to help us at the position. We are happy to be able to get him to our team."
Hartline had a number of suitors express interest in him over the past two weeks, but his visit last week to the Browns' facility in Berea stuck with him and ultimately drove his decision.
"Once I got into the building, saw the facilities, had a chance to sit down and talk with the coach Mike Pettine and offensive coordinator John DeFilippo, it was a really easy conversation," Hartline said. "Our brains kind of operate in the same way on the offensive side of the ball and we really just hit it off. We were able to spitball ideas and kind of saw things the same way. Things just kind of made sense while sitting in the room."
Hartline, a fourth-round pick in the 2009 draft, has caught no fewer than 30 passes in each of his NFL seasons. He notched back-to-back 1,000-yard seasons in 2012 and 2013 when he combined to catch 150 passes for 2,099 yards and five touchdowns. Over that stretch, he compiled five 100-yard receiving games, including a record-breaking 12-catch, 253-yard performance Sept. 30, 2012, at Arizona.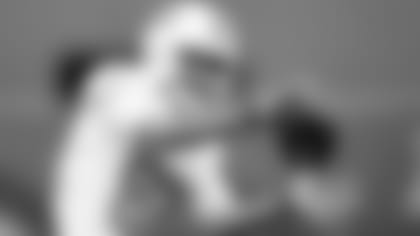 With fewer than half of the targets he received in 2013, Hartline came away with 39 catches, 474 yards and two touchdowns this past season. All told, Hartline comes to Cleveland with 298 receptions, 4,243 yards and 12 touchdowns.
"I hope I'm a critical part of the offense and I'm part of the reason why we'll win from here on out, why we're going to compete for division titles," Hartline said. "I want to be a part of the process, I want to be a part of bringing along younger guys, showing them the right way to do things. For me, it's all about winning. I'm hoping to come to Cleveland, win some football games and be a contender year in and year out."
Hartline attended Canton's GlenOak High School and enrolled at Ohio State in 2005. The state champion track athlete simultaneously ran for the Buckeyes' indoor track team while logging three seasons with the football team.
During his time with the Dolphins, Hartline maintained a residence in Columbus.
"Home is Ohio for me, always has been and always will be," Hartline said. "There's a lot of ownership when it comes to community off the field and there's a lot of ownership to the hometown team and I'm proud of being a part of it. I can't thank the coaches enough for the opportunity to come in and compete. I'm looking forward to it."
Hartline joins a Browns wide receiving corps -- led by new position coach Joker Phillips -- that includes leading veteran Andrew Hawkins, Taylor Gabriel and Travis Benjamin.
"Brian is a tough, smart football player with that innate ability to always get open," Pettine said. "He is not only a good fit for our offense but for our entire football team. What impressed me about visiting with him was how passionate he was about playing here. He really wanted to be a Cleveland Brown. We are excited to get him on aboard and look forward to seeing him help improve our football team."