Take yourself back to being a 9-year-old kid on Christmas morning.
You toss and turn in your bed the night before, gleefully wondering what Santa Claus is going to leave you under the Christmas tree. As soon as the first ray of sunlight peeps through the night sky, you sprint into your parents' room, jumping in their bed to wake them up. After Mom and Dad oblige, you dash down the staircase, turn the corner into the living room and drop your jaw in amazement to a pile full of presents. It's a better feeling than winning a Super Bowl.
Some kids don't get that magical feeling Christmas brings. Some kids write Christmas lists for the sake of getting excited, knowing there isn't much hope. Some kids dream of a day when wishes could come true.
Wide receivers Andrew Hawkins and Miles Austin, with the help of a team of miracle workers from the Browns community relations and foundation staff, brought that magical Christmas feeling Tuesday to Cleveland's Walton School.
Thanks to tens of thousands of dollars donated from Hawkins and Austin, more than 300 students – from kindergarteners to eighth graders – got those piles of gifts they've always wanted. These weren't just rinky-dink toys from clearance racks, either. Browns staffers shopped night and day for Kindles, DVD players, Hello Kitty, remote-control race cars and Beauty and the Beast tea cup sets.
The wide-eyed grins, the speechless expressions, the students showing off their unique gift bags to their friends – those are all the feelings that make Christmas the most special time of year and all of it was brought to life on Tuesday.
Teachers and volunteers were moved to tears and so were Browns employees who spent the entire day in the school gymnasium wrapping gifts and decorating the winter wonderland scene. For a school in need of a helping hand, the Browns delivered a Super Bowl.
"I can't wait to download sports apps and read books on my Kindle," exclaimed a 13-year-old named Zachary. "There's so many possibilities."
That was the theme of the day at Walton School. In addition to surprising the kids with gifts, Hawkins and Austin donated $10,000 for a new computer lab and offered other prize incentives such as bicycles for students to earn good grades. There is a real belief among leaders at the school that this Christmas-inspired gesture from Hawkins, Austin and the Browns is going to make students more passionate about education.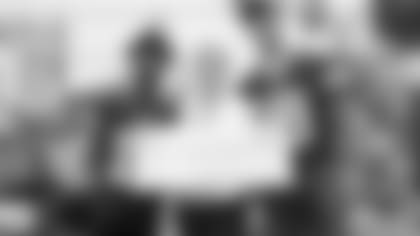 "You remember Christmas as a kid. It's a special time," said Austin, who was joined by Jordan Cameron, Billy Winn, Chris Kirksey, Johnson Bademosi, Christian Yount and Kevin Cone in handing out gifts to the kids. "We have a responsibility as athletes to do the right thing. And we have a platform where we can do that. We can inspire others to do well … I remember things inspiring me to do well and pursue dreams when I was in school. It all goes hand-in-hand and it's all full circle. Hawkins and I are at the point of the circle now where we can give back."
Hawkins was the brilliant mastermind behind the idea. The 28-year-old has been where many of these students have been before.
As a boy growing up in Pennsylvania, Hawkins' mom worked double shifts to put her six kids through private school. When Hawkins was nine, money was tight. Christmas would have to come secondary. There were a few gifts to pass around but nothing like what Hawkins and his siblings had imagined.
"As a kid, you do wish you could have a little more," Hawkins said.
Out of the blue, a stranger knocked on the Hawkins' door bearing dozens of gifts. His family had been adopted by a more fortunate family. Hawkins, just like Walton School students, had the same look of shear happiness and awe on his face as he unwrapped toys. It's a day in Hawkins' life he will never, ever forget.
"It was so special. It gave our family hope," Hawkins recalled of the blessing from another fortunate family. "If I can do that for somebody else, it's well worth it.
"Obviously I want to be a great football player, but if I can't do things like this in the community, the other part doesn't mean anything. This is more fulfilling than anything I could do on the football field."
There really is nothing like the Christmas spirit. Those 300 students will always cherish the day Hawkins, Austin and the Browns brought the magic to life.