Let's start with Brian Hoyer. He looked fantastic on Tuesday. Hoyer's timing and rhythm with the offense was totally in sync. Slant passes were crisp. Out routes were right on target. Hoyer even had a bootleg rolling to the left, generally the more awkward throw, and he made it the pass look like a piece of cake.
"Hoyer can spin it," said his buddy, Andrew Hawkins. "The thing about Hoyer is he does a great job reading defenses. He makes the decision so fast. That's rare in the NFL." Much more on Hawkins later on ClevelandBrowns.com
As has been the plan, Hoyer's reps were still limited on Tuesday. Physically, Hoyer feels ready to go. The quarterback said he conquered the mental aspect of the ACL injury months ago. Still, Hoyer reminded us why he's been so pushy in wanting to receive full 11-on-11 reps: this is his sixth offense in the last two years.
"Are OTAs that important?" Hoyer questioned back to a reporter. "For me, they are. This isn't my third year in this offense. I'm trying to get out there and read plays that I haven't ever read before. I understand what's at stake. I'm not stupid. I don't want to get hurt [in June] and not even be in training camp. But I also know how much it means to be taking these reps right now."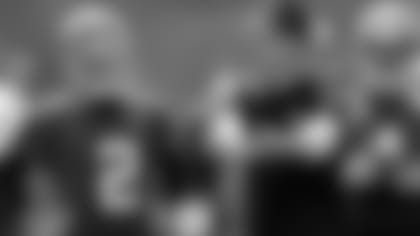 The play of the day happened with about five minutes left in practice. On a play-fake, Johnny Manziel slowly bootlegged to his right. On the opposite side of the field, tight end Jordan Cameron first acted like he was staying in to block, but then started racing down the left sideline, catching the defense off guard. Manziel flung the ball perfectly right over two defenders, for close to a 40-yard gain. Offensive players were shouting enthusiastically and you could sense the deep pass strengthened Manziel's confidence.
"It's one of those trick plays we've been killing the defense on," said Cameron about the eye-opener from practice. "It was a great throw. He put it exactly where he needed to put it. It got people going a little bit. Guys reacted. That's what [Manziel] does. He makes people react."
It wasn't all smiles for Manziel. For much of practice, he looked like an unpolished rookie. He threw three interceptions. He often holds on to the football too long – the tough part about the simulated pass rush. But that's fine, according to Mike Pettine. The Browns want these mistakes to happen during a June OTA.
"I'd rather learn the lesson today, when essentially it doesn't count," said Pettine on some of Manziel's struggles. "'Hey, listen, I think I can fit it in that window, whoops I can't.' [We'd] rather have that now than September."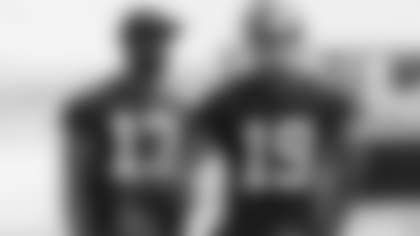 It's only June, but it's easy to tell the Browns' defense is priding itself on being noisy. Pre-snap the amount of communication, verbal and hand signals, is almost astounding. This kind of behavior was common amongst Pettine's Ravens, Jets and Bills defenses. The raucous yelling has transcended to the locker room, according to rookie corner back Justin Gilbert, who said the defense has been letting the offense know it's been getting the better of them. It's hard to argue with Gilbert: the defense has looked like the more cohesive unit.
MarQueis Gray has been lining up at fullback and tight end. Pettine compared him to Miami Dolphin player Charles Clay, who can line up all over the field. "When you have a guy who can be a fullback and a tight end, you can extend the formation, that really causes problems defensively," said Pettine. The Browns have not ruled out bringing in a more traditional fullback for training camp.
Pettine said the Browns currently are anticipating having the entire roster healthy for the start of training camp. Wide receiver Nate Burleson is getting his cast off next week. Miles Austin started practicing individually with the receivers on Wednesday. And Travis Benjamin and Charles Johnson are nearing the completion of their rehab assignments.