Mike Pettine's First Regular Season Game
Mike Pettine's press conference ran 27 minutes long. It's safe to assume Sunday's game in Pittsburgh is a moment he's waited for his entire life.
"When I got hired, I just talked about just being back in the AFC North and what that meant," said Pettine in an opening statement to the media. "We we're excited when the schedule came out. I know people say, 'Be careful what you ask for', but I don't think there's any better test to kind of see where we are as a team, as a program, then to go down to play at Heinz Field."
Historically speaking, starting 1-0 nearly doubles an NFL team's chances of making the playoffs. With that in mind, there's been some talk of the Browns "throwing the kitchen sink" at the Steelers, meaning overwhelming Pittsburgh with aggressive play calling. The pro, is obviously it gives you a better chance to win. The con, is that you might reveal enough cards to hurt future game plans.
"I think more gets put into [Pittsburgh] because it's the one game you're looking forward to that entire offseason," said Pettine. "You probably do a little bit more work on it, probably over-prepare for it, but we don't want to have the smoke clear from it and just be spent. It is a long year, and we'll be ready."
Pettine wanted to make sure his players were aware of how lopsided the Browns rivalry with the Steelers has become. In a team meeting, Pettine prepared a slideshow entitled: "Rivals?"
"From the Steelers standpoint, it's not much of a rivalry," said Pettine, bluntly.
The numbers are staggering. The Browns have five wins against the Steelers in their last 36 tries. The Browns are 2-12 all-time when playing at Heinz Field.
"It's brutal when you truly look at it, but that's something that's a big part of our prep is understanding that that has nothing to do with us," said Pettine. "That has nothing to do with this game. That has nothing to do with us moving forward. That was our message back in the spring when we said, 'Hey, recognize the history, but break off the rear-view mirror.' This is just another way to prove that."
Brian Hoyer's First Season Opener
Pettine has met with several of players this week one-on-one. Starting quarterback Brian Hoyer was on that list. There was much made about how much pressure Cleveland put on Hoyer during the quarterback competition and whether the stress was weighing on him. Pettine made it clear to Hoyer not to look over his shoulder. This is his team, as long as he's playing capable football. The Browns' offense doesn't have to be pretty, it just has to work. * "I had a good conversation with him," said Pettine. "He knows it's not going to be a quick hook, but he also knows that in the long-run, this is a production business. You have to produce or there will be a change made, but I don't think he's going into this game feeling that. I think he's fully focused on Pittsburgh and being productive." * "[Coach Pettine] said, 'Look, I just want you to go out and be yourself and play and not worry about anything else,' which I think for me, that's how my mentality is regardless," said Hoyer. "This is something I've worked towards, and I'm not looking back." * Hoyer, a native Clevelander, knew the Browns pathetic record against the Steelers before Pettine put up the slideshow in front of the team. The Browns have responded in a different way than you might expect: We aren't those Cleveland Browns. But Hoyer, more-so than any other Browns player, understands the mutual animosity between the franchises. * "I know what Steelers week means to Clevelanders," said Hoyer. "We hate them, they hate us and that's the way it will always be." * Will we see the Brian Hoyer who came out and sparked the Browns last September, throwing three touchdowns against the Minnesota Vikings in a dramatic win? Actually, Hoyer expects to play even better. * "I think I'm just more prepared," said Hoyer. "I've had more time to work with the guys I'm going to be playing with, more time to be in the system."
Donte Whitner loves being the underdog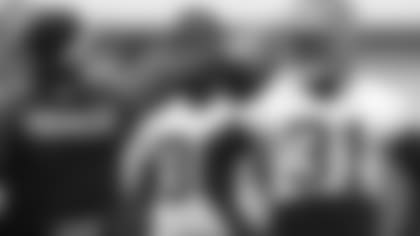 Flying under the radar is not something safety Donte Whitner has had to deal with for the last three seasons. The San Francisco 49ers were a powerhouse team that every opponent circled on their schedule. As of right now, the Cleveland Browns are not quite the 49ers. And Whitner likes that.
"Naturally, you want to get overlooked," said Whitner. "You want to be the underdog. Being an underdog means you can creep up on some people. That's what we are. I believe in the personnel that we have. I believe in the scheme that we have. I believe in the guys in this locker room. That's why I think it'll be different this year."
Because they were signed as free agents together, Karlos Dansby is always linked with Donte Whitner. But what Dansby loves most about Whitner: he not only talks the talk, he walks the walk.
"When we get out onto the field, he turns into a different person," said Dansby of his teammate Whitner.