On Sunday, Browns offensive coordinator Kyle Shanahan will celebrate his 35th birthday.
Shanahan unwrapped an early birthday gift – talented rookie quarterback Johnny Manziel, who will be executing Shanahan's game plan against the Cincinnati Bengals.
"Some of the plays he makes you don't see many people do," Shanahan said Thursday. "That's why [Texas A&M] was able to win a lot of games there, and that's why everybody knows who he is. When you've got that ability to make plays, every coach is excited about guys who can make plays."
Shanahan said it'll be his job to do anything and everything to make Manziel feel at ease in his first NFL start. The coordinator has gone as far as pulling tape of Manziel's days at Texas A&M, potentially integrating some concepts for Manziel to make big plays down the field.
"The main thing you want to do is make him feel confident," Shanahan said about coaching a rookie quarterback, much like he did with Robert Griffin III in Washington. "Try to give him stuff that he knows, stuff that he can execute and allow the guy to just play."
As strict as Shanahan is with his detailed 16-word play calls, the Browns don't want Manziel to be a robot on the football field.  That's the thing that makes Manziel such a thrilling figure: You never know what's going to happen.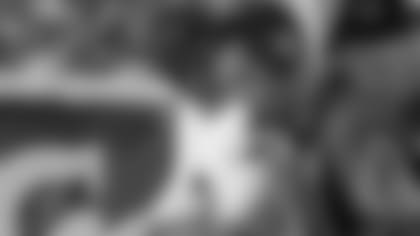 "We call a pass play, and he's going to do six spins reversing back and forth outside the pocket," Shanahan said as reporters chuckled. "I'm going to hold my breath and be yelling half the time, and then probably be running and jumping on top of him excited at the end of it. Who knows what will happen. I think that's why everyone enjoys watching him, and that's why I'm excited to see what he does. It'll be fun."
Pro Bowl cornerback Joe Haden has taken Manziel under his wing since the quarterback arrived in Ohio. The two have hung out on the weekends and regularly communicate throughout the week. Haden actually invited Manziel to come to the Cleveland Cavaliers game on Tuesday, but Manziel declined the invitation, saying he was at the facility studying.
To Haden, the biggest thing Manziel brings to the starting lineup is an emphatic attitude. 
"He plays with a lot of passion," Haden said Thursday in the locker room. "He wears it on his sleeve." 
Shanahan went even further, saying the quarterback has the wherewithal to want to be special.
"He's got a chance to continue to get better in all other facets, and just working with the guy as a person, you can tell that he wants to," Shanahan said. "When you have that natural playmaking ability and the drive and the talent to do some other stuff, you feel like a guy like that has got a pretty big upside."
As for advice for Manziel? Be Johnny.
"He's going to be who he is. I'm not going to sit there and tell him how to be," Shanahan said. "I want him to be himself. It's got him a lot of success in the past, and I definitely don't want to be the one who tries to take that away from him."