*On Thursday, the Browns signed Tight End Jim Dray, adding him to the roster.
---
On Thursday's "Cleveland Browns Daily, Driven by Liberty Ford," co-hosts Vic Carucci and Nathan Zegura continued their discussion on the position needs of the Browns through free agency and reflected on the most recent signings.
Former Arizona Cardinals linebacker Karlos Dansby, whom the Browns signed Wednesday, joined CBD with his enthusiastic hopes for the team.
Tight end Jim Dray, another former Cardinal who signed with the Browns Thursday, joined Vic and Nathan to express his excitement over getting to work with Jordan Cameron and Kyle Shanahan.
Here are some highlights: Nathan Zegura: "Yesterday was an exciting day. You get the sense of the veteran leadership and confidence coming in. What I like about (Karlos Dansby and Donte Whitner) is they both talked about winning. I know Karlos takes what he does on the field very seriously. He has a good personality, good focus, and is really driven. There are still some names out there and moves that need to be made. I wouldn't mind seeing a running back, a receiver, possibly (Cincinnati Bengals wide receiver Andrew) Hawkins. I always had the thought that Hawkins just needed the right opportunity and he could be phenomenal. I think he could explode on a team that is focusing on assembling their offense. We're talking about one of the best after-the-catch receivers in the NFL. The pressing need for this team right now, though, is a cornerback. They need to focus on getting a quality number two corner over a running back at this point." Vic Carucci: "I like the fact that Dansby and Whitner didn't tiptoe around political correctness. They are here to make an impact. You want to be good teammates, and they get that, but beyond that, I loved the confidence they expressed about what they think their impact will be and what they want their teammates to understand about them. I can see that message being reinforced in the locker room for those young guys who need to hear it. Moving forward, this team has got to find somebody besides (Josh) Gordon to make the catches. They have no one to help him at receiver. Addressing the wide-receiver position is a pressing need for this team. I think we all like the initial moves the Browns made in free agency, but look at the complementary pieces that are coming in May. There's a lot to look forward to."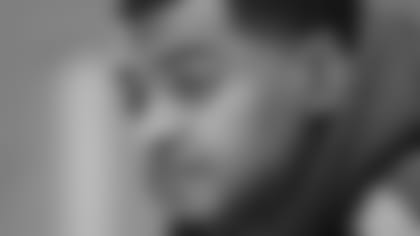 Karlos Dansby:"I want to be one of the best to ever play the game. I've been blessed and this is a divine moment. Everything about (Mike) Pettine's scheme appeals to me. The position I'm going to be playing at defense and the number of plays I'll be able to make is unlimited, and that's what I like. The coaches will be able to play off of the versatility of my game. It's going to raise the play of everyone else and that's what I really like about it. We're going to make some moves and it's going to be a real special season for everyone. The game has picked up, so you have to evolve with it. If you don't, you'll be out of the game real fast. Right now, I'm primed and ready to go. It's Ohio. It's football. I want to win and I'm bringing that attitude and approach to the city. It's time to dig up that bone. We're all hungry."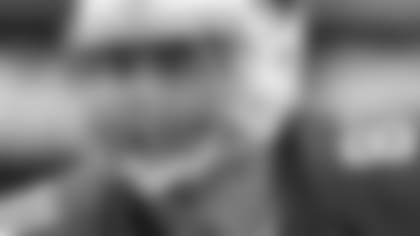 Jim Dray:"The Browns seemed really aggressive in getting me and I wanted to be here, too, so it worked out perfectly. Working with Jordan Cameron is going to make us a good threat. We'll work to complement each other, just to block and catch. I try to have a lot of run-blocking and body control. I enjoy blocking just as much as I enjoy getting a first down. I love watching tape of (Kyle) Shanahan and I've heard a lot of good things about (Ray) Farmer, so I'm excited about where things are headed. This is a great football town with great fans. They deserve a winning team and I really believe Pettine and Farmer are going to get things turned around. I'll tell you this: I'm going to come out and block the first day to the last, so you don't need to worry about that."