At the Browns vs. Jaguars Game, we recognized members of the armed forces for their bravery, selfless sacrifice and service to our country. As a salute to service and in appreciation of our military, the First and Ten coin toss captain was also a man in uniform.
Current Commander in the Coast Guard, Paul Vogel has shown himself exemplary on all fronts. Commander Paul Vogel is a 32 year veteran currently serving as The Executive Officer, of U.S. Coast Guard Base Cleveland, Ohio.  He is the lead logistics service providing agent in the 8-state Great Lakes region encompassing 2,500 personnel and over 100 Coast Guard units that serve the Great Lakes states citizens, its maritime commerce and protects marine resources. 
As a longtime resident, he's been actively involved for many years in his community as a head coach and mentor in youth sports including: football, basketball, baseball and softball, helping mold and shape youth into positively contributing citizens.
Commander Paul Vogel's 'why' is rooted in his personal experiences. Whenever he can help someone keep the light burning and find their way, he's satisfied. He does what he can when he can, which makes a world of difference.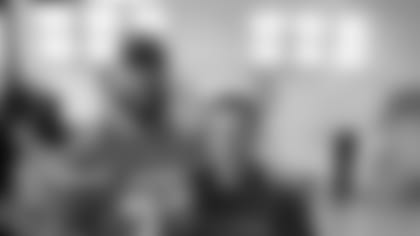 He is also very generous in mind and heart donating his time to military affiliated organizations including the USO. He is currently an ambassador and actively serves as an Honor Flight volunteer (helping send WWII vets off), an annual volunteer to Cleveland's Veteran's Day Parade and a wide variety of other USO activities held throughout the region.
Vogel doesn't have more than 24 hours in the day, but he says even with a full-time job, "You make time."
 Most notably is known for helping lead the charge with the Northern Ohio ALS association, as his wife battles Amyotrophic Lateral Sclerosis (ALS), "Lou Gehrig's disease." He single-handedly raised more than $50K over the past five years for the ALS Association through various fund-raising events, the biggest being the annual Cleveland Walks to Defeat ALS event held each September. 
"You find the energy, because I needed people and now I can be that person," Vogel said. "I look back at the people who took time for me and when she was first diagnosed, there's nowhere to turn and there isn't much support for those who are just taking this on."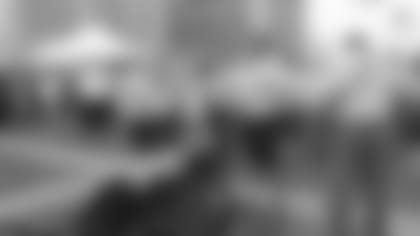 Despite the incredible commitment to his job and significant challenges of being the primary caregiver to his wife, Vogel stands out as a leader, staunch advocate and seasoned mentor to help local ALS patients and their families cope with the daily challenges of ALS. He helps them navigate the uncertainty of the disease while helping them maintain dignity and quality of life. Commander Vogel exemplifies the very best in service to others.
When they have nowhere else to turn, Commander Vogel hopes to be that listening ear and shoulder to lean on.
"It's not easy, but you do it," he said. "I want to return the favor and that kindness and generosity 10-fold if I can.
Whether it's through advice or money, his message to others is do what you can.
Vogel was happy and humbled for the recognition.
"I'm just doing what I hope everyone else is doing find that niche and give back somewhere," Vogel said.