Christy Howard is a diagnostic radiology clerk at University Hospitals St. John Medical Center who loves to give back and help her community. She does so in a variety of ways. Recently Howard logged 500 hours through the UH Days of Caring initiative, which led to recognition by others in her department and around the organization.
When she received the call about becoming the First and Ten Coin Toss captain, she was honored that the work she does to help others would in turn be the exact thing that grants her an opportunity to have her story showcased on such a platform.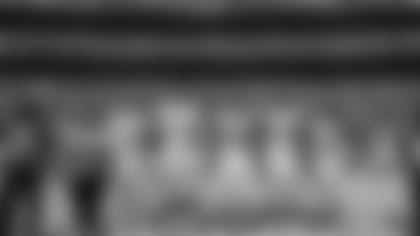 Christy has been a Girl Scout leader for more than 15 years. She is involved in Boy Scouts as well, wearing multiple hats and taking on a bevy of roles including: Assistant Scout Master, den leader and chair on multiple committees in her 10 years with the organization.
For the past three years she has also focused her efforts on awarding merit badges to those participating in the Order of the Arrow, the national honors society of Boy Scouts. 
Her unselfish commitment to youth in these programs and others has allowed her to be a leader in her community and the workplace.
"I wish UH would do this every year, and encourage employees to volunteer," said the North Ridgeville mother of three. "It's important to give back, in general."
During UH's 150th anniversary year volunteering campaign, the majority of her volunteer hours came from her being a coordinator for The Lorain County Toys for Tots program.  She started with Cuyahoga County Toys for Tots in 2012 and because of her great work they asked her to administer operations for Lorain County in 2013 where she has been the Coordinator ever since. 
Howard says, "The time I spend with my volunteers is a huge takeaway." Through their time spent together, she has inherited a huge extended family.
Even though her boys have aged out of Boy Scouts and her daughter has moved on to college, her children still assist with Toys for Tots as a family when possible. Last year, more than 5,000 Lorain County children benefited last year from the Toys for Tots annual toy drive.  
Howard gains satisfaction from the true happiness of the parents they support, who have the opportunity to give gifts to their children during the holiday season.
"This started as a way to spend one-on-one time with my kids, and now I have so many more sons and daughters because of it," says Howard. Both of her boys became Eagle Scouts. One is now in the U.S. Marines and another is studying culinary arts in high school.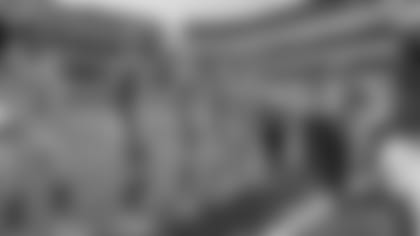 Howard's younger brother, a die-hard Browns Backer, flew in from San Diego to accompany her and other family members on the field at the start of the Sept. 10 game. UH sponsored the Browns fan flag giveaway at the game, and the breast health team from UH Seidman Cancer Center promoted screenings and provided information, pre-game on Dawg Pound Drive.
The impact of all University Hospital employees' volunteerism has been extraordinary, with these hours equaling nearly a quarter million dollars. Advice she'd give those who feel like they don't have time or aren't yet connected to a cause? "You don't have to give hundreds of hours to make a difference an hour a week makes a difference," Howard said.  "Reach out to an organization and tell them the time you have and your interests and they should be able to find something that works for both of you."