CANTON -- On Wednesday, February 11, the Cleveland Browns hosted their fourth annual Black History Month panel discussion, "Perseverance: Turning Adversity into Opportunity; Sharing Stories to Inspire Others."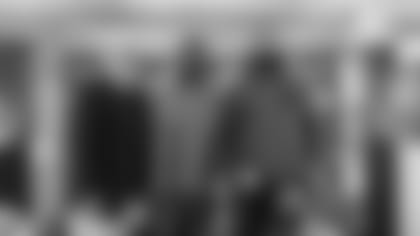 CANTON -- February is Black History Month and in recognition of those who contributed to the history of the National Football League and Cleveland Browns organization, the team hosted a panel discussion Wednesday at the Pro Football Hall of Fame. This year's discussion emphasized leadership and overcoming hardships.
The event, "Perseverance: Turning Adversity into Opportunity; Sharing Stories to Inspire Others", featured former Browns Earnest Byner and Reggie Hodges in addition to Bobby Martin, an Ohio native and 2006 ESPY Winner for Best Male Athlete with a Disability. Nearly 150 student-athletes representing three high schools from the Cleveland Metropolitan School District, including John Adams, John F. Kennedy and John Marshall Hay, were in attendance. Pro Football Hall of Fame Executive Vice President* *Joe Horrigan served as the moderator.
The engaging program incorporated themes of overcoming challenges and the benefit of giving back to their local communities. Powerful messages were given by former Browns Byner and Hodges, in addition to valuable lessons from Dayton-native Bobby Martin, an athlete the students were less familiar with. Born with Caudal Regression Syndrome, which left him with no legs, Martin showed incredible determination by playing football without the use of prosthetics. As a senior at Colonel White High School in Dayton, Ohio in 2005, he played nose tackle and finished the season with 48 tackles, three sacks, six QB hurries and one fumble recovery. After high school, Martin enrolled at Central State University in Wilberforce, Ohio and made the team as a walk-on and redshirted his freshman year. In 2007, he moved to Cleveland where he made the football team for the North Coast Vikings of the semi-pro NAFL. One year later, he was given a tryout with the Cleveland Gladiators of the Arena Football League.
The exclusive panel discussion is a celebration of Black History Month made possible through the Browns First and Ten movement and the Pro Football Hall of Fame's Youth & Education initiatives. Launched in June 2014, the Cleveland Browns First and Ten campaign is the team's new community program, established to inspire fans to volunteer in and help their communities throughout the world by volunteering for 10 hours each year. For more information, visit ClevelandBrowns.com/community or http://www.profootballhof.com/education/.