In our first sit down interview with Mike Pettine, the Cleveland Browns head coach told us there would be rewards for winners of competitions in practice. It would be Pettine's style to break up the monotony of training camp, and make practice situations feel more like a real game.
On Tuesday, the first known "practice competition" came to life. Pettine called for an 11-on-11 offense vs. defense mini-scrimmage. The offense had to gain 20 yards without getting to fourth down. The defense, obviously, had to try and stop them. It would be a best of five series.
The defense won the first three out of four – carrying over its theme of dominance all of Tuesday. Run plays were snuffed out and most of the quarterbacking play was shaky. Nearly every defensive player celebrated at the top of their lungs, playfully taunting their teammates on offense. Joe Haden even broke out a dance move. There seemed to be a genuine feeling of joy from the winners, and a vivid look of grief from offensive players.
The defense's reward? They get to wear orange jerseys during practice on Thursday and they are keeping track of their 1-0 record. It may seem like a small token, but defensive players are taking pride in their win, while players on offense can't wait to get back to work on Thursday to earn the orange jerseys, which will be shared for other competitions.
"It kind of gives you the feel of a real football game," said Donte Whitner. "Towards the end of the football game when the game is tight muscles get tight. Your muscles start to tense up a little bit. You understand that something is on the line. One play can cost you the football game. It kind of gives you that feeling."
"Practice, every day it can become the same thing, over and over," said receiver Andrew Hawkins. "Like Coach Pettine always says, 'If you are keeping score, you should want to win.'"
"I wish we could be wearing those orange things on Thursday," said receiver Miles Austin. "Every team has their own way [of showing competition]. I've never seen anything with a series like this."
Tuesday was the most physical day of training camp, by far. Pettine saw a big chunk of "thuds" meaning hits that send ball carriers backwards, but are not classified as a tackle.
There was a rather large skirmish featuring Ben Tate and Ahtyba Rubin as the prize fighters. Rubin got a little physical with Tate after the whistle, prompting Tate to peg the football in Rubin's direction. It eventually spilled onto the ground with a large majority of the team.
In meetings on Monday night and early Tuesday, Pettine challenged his players to be more physical. His reason? Typically the practice before an off day can be sloppy. He doesn't mind things getting a little chippy.
"There are going to be times when it does boil over," said Pettine. "You don't want one side of the ball to get bullied by the other. There has to be some push back."
Pettine gave Rubin a glowing review at the podium, in terms of his run-stuffing capabilities.
"[We'll] let him do what he does best which is control blockers and get off blocks and make plays," said Pettine. "He's as good as I've had in this system as far as technique in defending the run."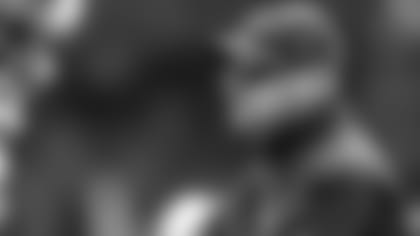 Ben Tate spoke about wanting to be a part of the team that changes the NFL's perception of the Cleveland Browns.
"I haven't really been here, but I am going to try and make my imprint on this team that we are not going to take anything from anybody," said Tate. "It's time to change around here. It starts with the attitude and the mindset. I believe that at a position like running back, you can change the mindset. You can change the way things go during the game."
Anthony Armstrong thinks the true change comes from the tone Pettine sets.
"I think everyone has bought in," said Armstrong. "He's the same as everybody else in our locker room. He's hardnosed. He's gritty. He's worked for where he is. He feels like he's meant to be in this position. Everyone believes what he's coaching and preaching."
Let's begin with quoting Ray Farmer from Sunday: "I don't think I'd be surprised, shocked about anything."
Many national columnists and respected NFL voices, including my own editor Vic Carucci, are leaning towards declaring the competition between Brian Hoyer and Johnny Manziel as a non-existent one. It's a little too early for that.
There was evident progress from Johnny Manziel today in terms of what he really needs work on – judging the defense pre snap, calling hot routes and the overall tempo. Things were rarely sloppy. His throws were more accurate, too.
And on the other hand, after two days of beast-mode practices, Brian Hoyer did not look himself on Tuesday. Granted, the defense was playing out of its mind most of the day, but Hoyer threw several interceptions, was late on releasing the ball, and never really found a rhythm. He'll probably be the first to tell you he can't wait to get back out on the field Thursday to redeem himself.
Again, all of this is nitpicking on both quarterbacks. But declaring a winner in ANY competition seems premature.
The players are off on Wednesday. A few told me they will still be in the building to lift.
John Greco and Phil Taylor are still sidelined with undisclosed injuries. Billy Winn is also still rehabbing his hamstring.  
Pettine confirmed Isaiah Trufant is in the lead at the nickel back position. Soon, Buster Skrine will be getting some repetitions there, along with Aaron Berry and K'Wuan Williams.