The Browns on Saturday made a handful of roster moves to get their roster down from 65 players to 53. The roster will remain this size throughout the regular season with 46 eligible to play on game days. [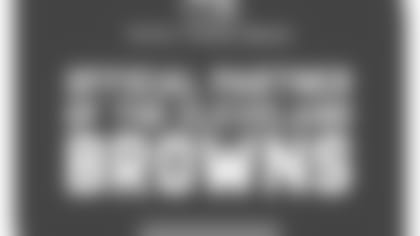 The following moves were made Saturday.
-- Cleveland acquired WR Sammie Coates and a 2019 seventh-round pick in a trade with the Steelers for a 2018 sixth-round pick.
-- The Browns terminated the contracts of OL John Greco and QB Brock Osweiler
-- There were 11 players waived: RB Terrence Magee, LB Deon King, WR Jordan Payton, WR Jordan Leslie, WR Rannell Hall, TE J.P. Holtz, OL Anthony Fabiano, DL Xavier Cooper, LB Kenneth Olugbode, DB Najee Murray, K Cody Parkey
Nine of the Browns' 10-man 2017 draft class made the 53, including RB Matthew Dayes, who was the second to last pick in the entire draft. The lone member that didn't, DB Howard Wilson, was placed on reserve/physically unable to perform (PUP) on Friday.
Twenty-eight of Cleveland's 53 were acquired through the draft, including 20 in the past two classes. Twenty-one of the 53 were new additions to the roster at some point in 2017. Forty-two of the 53 have been added since 2016.
"We have some core guys that we expect, who are not only here now but will be here for a long time, and then adding a lot of fresh young talent to the roster in guys that are competitive and embrace the way we want to build who obviously fit our scheme," Browns executive vice president of football operations Sashi Brown said. "Year over year we're going to have some opportunities to put some talent on this roster both in free agency and the draft. We obviously had a trade today and we'll be looking at every opportunity to improve the roster moving forward, but we do like we're young and the talent is not only better, but also ascending."
The Browns 53-man roster breaks down as follows:
Quarterbacks (3): DeShone Kizer, Cody Kessler, Kevin Hogan; running backs (3): Isaiah Crowell, Duke Johnson Jr., Matthew Dayes; fullback (1): Danny Vitale; wide receivers (5): Kenny Britt, Corey Coleman, Sammie Coates, Ricardo Louis, Rashard Higgins; tight ends (3): Randall Telfer, Seth DeValve, David Njoku; offensive linemen (10): Joe Thomas, Joel Bitonio, JC Tretter, Kevin Zeitler, Shon Coleman, Rod Johnson, Marcus Martin, Spencer Drango, Austin Reiter, Zach Sterup
Defensive linemen (10): Myles Garrett, Danny Shelton, Trevon Coley, Emmanuel Ogbah, Caleb Brantley, Tyrone Holmes, Jamie Meder, Carl Nassib, Larry Ogunjobi, Nate Orchard; linebackers (5): Jamie Collins Sr., Christian Kirksey, Joe Schobert, Dominique Alexander, James Burgess; defensive backs (10): Jamar Taylor, Briean Boddy-Calhoun, Jason McCourty, Marcus Burley, Darius Hillary, Jabrill Peppers, Derrick Kindred, Ibraheim Campbell, Calvin Pryor III, Kai Nacua
Kicker (1): Zane Gonzalez; punter (1): Britton Colquitt; long snapper (1): Charley Hughlett
Areas of note within the 53-man roster include:
-- The Browns enter the season with Kizer, a second-round pick in the 2017 draft, and two second-year signal-callers in Kessler and Hogan in a quarterback room led by Jackson and veteran quarterbacks coach David Lee.
"Our young guys were playing good and we needed to continue to grow them," Browns coach Hue Jackson said. "The only way you can do that is by keeping them on your roster and giving them a chance to keep getting better behind DeShone, who we picked as a starter."
"Wouldn't have probably predicted it would've ended this way but happy because all four of the guys competed," Brown said. "Depending on when we had cut-downs, it could've broke in different ways. But in the end, we really felt good about the three young guys being in the room and it was a difficult decision with Brock because he brings that veteran presence and experience, but do feel good about Cody, Kevin and DeShone."
-- Coates, a third-year receiver acquired in a trade Saturday with the Steelers, is the newest addition to Cleveland's roster. He appeared in 14 games with five starts last season and logged 21 receptions for 435 yards and two touchdowns.
"He's another big, fast athlete," Jackson said. "He has real-time speed, he's made some big plays at Pittsburgh, obviously he gives us another chance to stretch the field, he's a physical blocker at the point of attack, so I think he's an upgrade for our team and he's a good special teams player so we're excited to have him."
-- Cleveland transformed its offensive line during free agency with the additions of Tretter and Zeitler and currently boasts 10 players in a room led by veteran coach Bob Wylie. Bitonio and Johnson are both dealing with injuries.
"Hopefully we'll get some guys back here real soon, but I think it's an area we've improved," Jackson said. "Obviously, I think our inside three is as strong as we've been in a while and I think our tackles are improving. When you talk about Joe Thomas, you're talking about one of the best in pro football. So we feel good about our line but again, it's a great situation with the additions that we put on the team."
-- The Browns parted ways with one of their longest-tenured players in Greco, who had been with the team since 2011. Greco started 56 games and filled a valuable role as a versatile interior lineman.
"John was a warrior throughout, played multiple positions and we have a tremendous respect for him as a person and as a Cleveland Browns player on the field as well," Brown said. "So we wish him nothing but the best of luck moving forward so I'm sure we'll see him out there on the field this fall."
-- Following Wednesday's release of two-time Pro Bowl cornerback Joe Haden, the Browns kept 10 defensive backs who are expected to play multiple roles in a Gregg Williams defense that demands versatility and flexibility.
"There were some tough decisions there that had to be made and we've made those," Jackson said. "I feel like it's a group that has a veteran presence in Jamar and Jason and there's a young player in Boddy-Calhoun who I feel like has some real talent. We're always looking to improve but I feel good about the guys we have."
-- Gonzalez, a seventh-round pick out of Arizona State, emerged as the winner of a tightly contested kicker competition with Parkey, who served as Cleveland's kicker for the majority of 2016.
"We could've went either way to be very honest with you because Cody has done some good things here, but Zane came in and proved that we did a great job in making the selection in drafting him," Jackson said. "He held his own, guy obviously nailed a 53-yarder the other night (in Chicago) and he's done a great job thus far in camp and kicks the ball out of the end zone whenever we need him to do so."
-- The Browns hold first priority among all NFL teams on waiver claims. Last year, Cleveland claimed five players, including three who made this year's 53-man roster, one day after rosters were trimmed to 53.
"You never quite know. Waivers and claiming a player sounds really nice but you don't have a familiarity you have versus a guy you're going to have to get rid of on your roster, so there's some risk involved," Brown said. "We do a lot of diligence, our pro groups are always tremendously well-prepared and organized so it'll be a long night and morning but hopefully we can find some young guys who can help us on our roster."