The men and women who serve in the military are the backbone of our country. But so are their families.
On Wednesday, the Cleveland Browns were at the National Guard 112th Armory in Brook Park, OH, to commemorate soldiers who lost their lives defending our freedom.
In honor of Memorial Day, the Browns continued their year-round platform of local and national military appreciation as several players joined more than 25 active military members of the USO of Northern Ohio and American Gold Star Families at the National Guard 112th Armory in Brook Park.
Offensive tackle Joe Thomas, center Alex Mack, fullback Chris Obgonnaya, long-snapper Christian Yount, safety Jamoris Slaughter, offensive lineman Martin Wallace, outside linebacker Jabaal Sheard, defensive lineman John Hughes, and inside linebacker Craig Robertson joined service men and women as they visited with American Gold Star Families. Floral arrangements, made for the final resting place of those who lost their lives while serving their country, were delivered by the USO of Northern Ohio to local families in time for Memorial Day.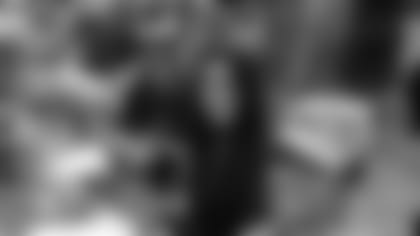 Grace Barnes-Filo, one of the Gold Star mothers, was on site in honor of her son, Major Rocco Barnes. Nearly five years ago, Major Barnes was killed in Afghanistan in a vehicle rollover. Major Barnes was born in Cleveland and enlisted in the United States Army Delayed Entry Program as an E-1.
In 2008, he was reassigned to the Tactical Command Post 3 as the Information Operations Officer and was then mobilized for Operation Enduring Freedom in support of the United States Marine Corps. Major Barnes was heavily decorated.
Additionally, Shaina Shaw joined her mother to honor her father, Gunner's Mate 1st Class Scott Shaw, who was assigned to Naval Special Warfare Group Two Logistics and Support Unit at Little Creek, Virginia. Shaw was killed during a single-vehicle wreck after serving 11 years in the Navy. He had joined Naval Special Warfare Group Two as a diving technician and SEAL support operator. Shaina and her mother worked next to Joe Thomas making flower arrangements for their family.
The visit aligns with the Browns' and NFL's *Salute to Service *initiative, a local and national campaign supporting the team's and league's tradition of supporting America's armed services, including a 45-year-plus partnership with the USO that hosts overseas visits to troops and trips to military hospitals nationwide.
Thomas and Mack participated in weeklong NFL-USO Tours during the 2010 and 2011 offseasons, respectively, to interact with military personnel on bases in southwest Asia. Former Browns wide receiver Eric Metcalf, inducted into the Cleveland Browns Legends in 2008, also joined an NFL-USO Tour in 2013.
The visit also hit close to home with Yount. His grandfathers both served, one in the Army and the other reached the rank of gunnery sergeant in the United States Marine Corps. Yount's father was a captain in the Marine Corps and his best friend, a Marine first lieutenant, has recently been deployed overseas.
Military appreciation is important to the Browns, and not just around Memorial Day.