5:46 p.m. – I arrive downtown at the Renaissance Hotel for the Greater Cleveland Sports Awards. This place is enormous and fancy. Everyone is dressed to the nines. There are cocktail bars scattered throughout two floors, a silent auction with signed jerseys and helmets and a glowing grand ball room where legendary running back Eddie George will MC an awards ceremony. This is like prom for adults – with alcohol.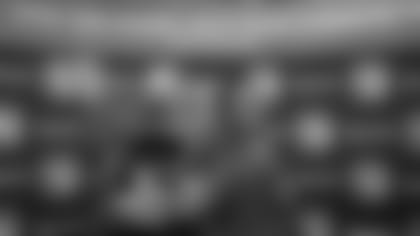 6:02 p.m. – Browns linebacker Craig Robertson is doing his thing. His smile is contagious for the small crowd who gathers around him and Chomps for a photo shoot. Robertson will present an award later in the night. I wonder if any of my Twitter followers recognize me?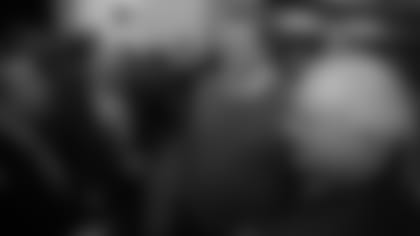 6:10 p.m. – A guy recognized me! We talk about running back Isaiah Crowell having a potential breakout season in year two. I love Cleveland. Seriously, though. People here care more about sports than any other American city I've ever been to. It makes this job even more special than it already is. I grew up in Washington D.C – politics, and even the restaurant scene trump the sports teams. There's not enough city pride in my hometown to pull off a united sports award show like this. Bravo, Cleveland.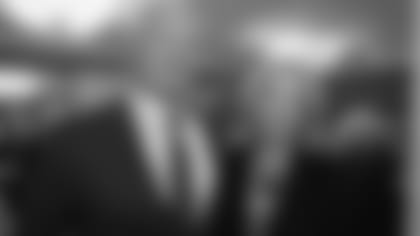 6:32 p.m. – After more mingling, handshakes and small talk, I'm told I'll be spending the evening in the Green Room. Jimmy and Dee Haslam arrive. They are the absolute best.
6:36 p.m. – For some reason, the Green Room is literally 55 degrees. Everyone is in their coats. A few camera guys huff and puff and swear they can see their breath in the room.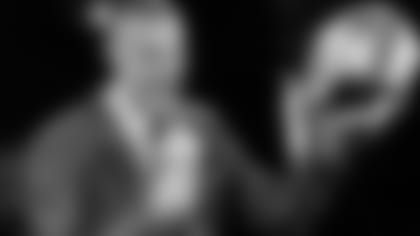 6:54 p.m. – My supervisor, and favorite person in the world, Nathan Zegura is reminding everyone about the silent auction. His energy alone makes me want to go put a bid on some items. He's as convincing as they come.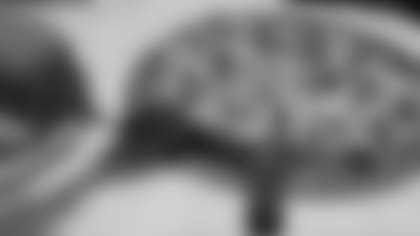 7:04 p.m. – Two chefs drop pizza off in the Green Room. Media members attack the dining area like wild boars. I need to start eating more salads.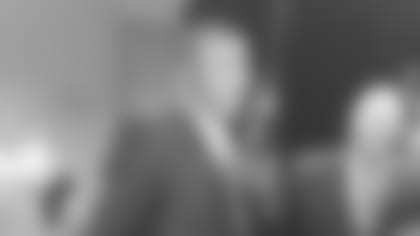 7:12 p.m. – The highlight of the night: Cardale Jones stops by the Green Room. Ohio State's national champ and Cleveland native is receiving a special award tonight and is flanked by Ted Ginn Sr., some other former high school coaches and an Ohio State PR rep. Jones towers over a crowd of reporters like a basketball player. He's gigantic. But it's charm that won me over. He poses for pictures with longtime Cleveland media personalities and former NFL players. Jones playfully conducts an interview with WTAM's Dre Knott. He answers every question with such ease, confidence and honesty. Personality wise, he reminds me of Joe Haden – it's impossible not to gravitate towards him. Jones has an undeniable presence in the room and everyone can't get enough.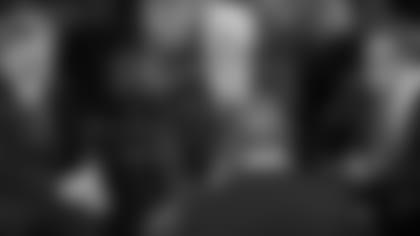 8:06 p.m. – The second highlight of the night: All three Cleveland sports owners on stage together. Haslam is joined by the Cavs' Dan Gilbert and the Indians' Larry Dolan while George grills each with a Q&A session. Haslam teases George about the 1996 Citrus Bowl, when the Tennessee Volunteers stuffed George on a fourth-and-goal stand to win the game -- and the crowd roars with approval. George fires back later asking if Haslam has partied with Johnny Manziel. Classic exchange! Get those two on the radio together.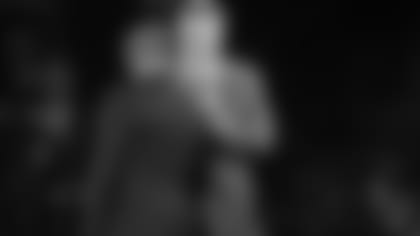 8:19 p.m. – Longtime Indians play-by-play announcer Tom Hamilton wins a lifetime achievement award. He notes how hard the baseball schedule is on a family with four kids. His wife takes care of broken air conditioners, sick kids while he travels 81 days of the year. Mad respect for you, Tom.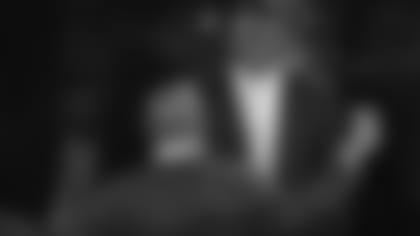 8:55 p.m. – Cardale Jones speaks on stage. Dozens in the audience faint because he's that incredible of a person.
9:04 p.m. – Robertson is up next on the stage presenting the high school athlete of the year award. There isn't an event Robertson doesn't show up to. He's becoming a permanent fixture in this community.
9:39 p.m. – That's a wrap. Cleveland, take pride in the firm city you are.
Pro Athlete of the Year: Corey Kluber (Indians Pitcher)
College Athlete of the Year: Kevin Burke (Mount Union Quarterback)
Amateur Athlete of the Year: Kelli Stack (USA Women's Hockey)
High School Athlete of the Year: Mitch Guadagni (Hudson High School)
Lifetime Achievement: Tom Hamilton (Indians Broadcaster)