On his past few days preparing for Sunday: [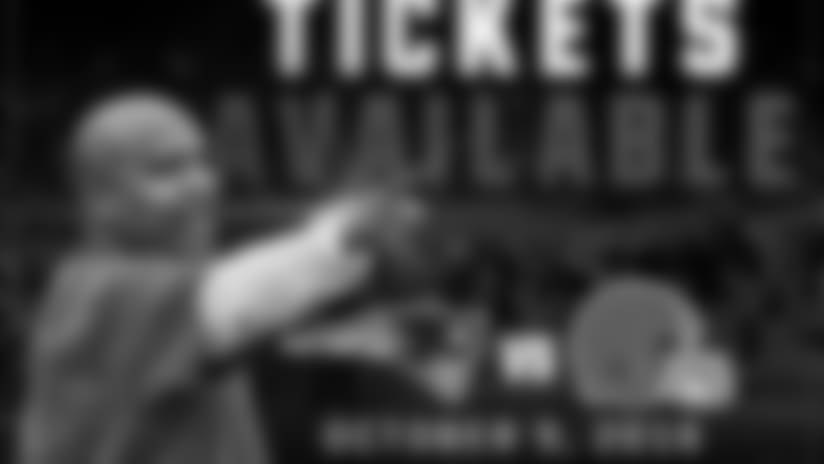 ](http://www.ticketmaster.com/FirstEnergy-Stadium-Home-of-the-Cleveland-tickets-Cleveland/venue/40971?camefrom=CFCBROWNSWEB_ARTICLES)
"Monday, we stayed here until about 10 o'clock. At night, I was watching film getting the gameplan in. Last night, same thing, got here pretty early didn't leave until about 10 again. It is just like I have been telling you all is the process of it, and that is my process and just sticking to that. I have watched both games probably about six or seven times now. Just going through them, something you maybe didn't see the first time, you see the second and third time things that stick out, different indicators.     Now, we have the gameplan so we can implement that while we are watching film with what we do and why we are doing things against different looks. It just builds that process and continues on through the week."
"Their front seven is very physical. I think a lot of that is due to how well their back four play. Their safeties, their DBs, they get after the ball. They hold up really well in coverage, and their front seven get after the quarterback. That is something for me that I have to re-ID or change the MIKE point or do some things in protection to protect myself is something that I have obviously been studying, too, the last few days. It is going to be a very physical game up front, and our offensive line is great. Those guys work hard and play well. These last few days, they come up and they have been very supportive of me, especially (OL) Joe (Thomas) and (OL John) Greco and guys like that just coming up and being confident in me and talking to me has been a cool thing for me. It is going to be a physical game. It is going to be exciting."
On if it has sunk in that he will start on Sunday:
"I don't know if it has or hasn't or what not. I have kind of just been sticking to myself and working hard and staying in my playbook and watching film. It is like I said on Monday, it is a chance of opportunities. You get opportunities at different times, and for me, I have to prepare and continue to prepare throughout this week. I want to give myself the best chance to take advantage of this opportunity this weekend. It is definitely a long process, definitely a long week, but for me, I'm just staying focused on what I can control. That is how I prepare and how I perform."
On if it is an advantage that he could be a mystery to the Dolphins:
"You are told that everyone has a book on themselves in the NFL. When you are a rookie, you do not have a book yet so I don't know necessarily how they will look at it or anything like that, but this is my first chance to go out there and perform and get my first opportunity to play in the game."
On his confidence in his ability to know when to release the football against a talented Miami defensive line:
"You have to be smart with it. You can't hold on to the football. You have to go through your read, your progression. If it is not there, then you have to throw it away or try to run if it is possible. You do not want to hold onto the football with especially how physical their front seven is. They create havoc in the backfield, and they get after the quarterback. That can lead to sacks, sack-fumbles, different things like that so you just want to be smart with the football and give your team the chance to get to the next down with the ball."
On running a similar pro-style scheme at Southern California:
"I was fortunate to be in a pro-style offense when (Alabama offensive coordinator) Lane Kiffin was there. It was all under center, slowed down, break the huddle, all that pro-style offense. When Coach Sark (former Southern California Head Coach Steve Sarkisian) took over, it stayed the same but he sped it up. He kind of got more adjusted and acclimated to college football. Things were speeding up, but still the same concept. Terminology is a little different but, that is the same thing here. A lot of the stuff that I did in college, it is that west coast offense. You are used to the pro-style offense, but all the terminology changes and some coaches teach it different. Some coaches want certain things on different plays, but being able to look at a play or concept and say, 'OK, I've done this before,' has helped my process up to this point."
On elevating him game from his preseason:
"Obviously, you always want to get better. That is the plan you do in life. I just want to continue to work, and a lot of that will be due to my preparation this week. I'm taking it very seriously and have spent countless hours already these past few days in the building and just staying around here. I just want to feel comfortable with myself going in to the game and making sure I have no questions and nothing that might catch me off guard. I want to be able to expect everything."
On if changes at USC helped prepare him to start three weeks into his NFL career:
"For me, I think we went through everything you could possibly think of at SC and different situations, but it was like that for me as a kid kind of growing up different things and then coming from Bakersfield, just always was a tough road to get to where I was at. I was very thankful for that opportunity that I got to go to USC. Obviously, not everything went the way we exactly planned out, but that is how life is. You are going to have adversity. You are going to have different things that you don't expect to happen. It is just how you react to them. I know it might sound cliché, but I really believe in that and that is something that kept me positive at USC when we had four or five coaching changes in three years and all these different things happened. The guys around you, your teammates are the guys that really get you through it. I was fortunate enough to have a great team there, and I'm fortunate enough to be on a great team here."
On difficulties he faced growing up:
"It was just tough. Coming from Bakersfield, it is hard to get recruited. It is hard to get an opportunity to get a chance. I had to work hard. My parents, my dad was taking me all over the place trying to go to different camps and get some money so we could go to these different camps and get a chance to throw in front of college coaches or making copies of film tape and sending them all out, It was tough. It was difficult. There were times when people would say I wasn't going to play in college. I was expected to go to the junior college in Bakersfield like a lot of our athletes do. I just kept telling myself I wanted to be bigger, I wanted to be better than that and I want to continue to work, and it paid off. It just worked for me just kind of always having that 'no quit' mentality."
On what his dad does for a living:
"My dad was a corrections officer for 15 years and then he was injured."
On remembering his first start at USC:
"My first start was against Hawaii at Hawaii, which was a cool experience, I was still splitting reps with the other quarterback who was there at the time for the first two games. My first full-time start was Week 3 against Boston College. I got the full-time nod. It was great. I remember the first play we came out, we had a touchdown pass. I missed the first throw. Instead of being down on myself, I went I think the next 15 in a row were completed and I missed the last one. It was a cool experience, but it was something that you will never forget. A situation like this, you will never forget and you want to take advantage of it."
On some players being better in big games than practice and if that applies to him:
"I want to just continue to prepare this week. You have to perform in games, though. You can't get repeats in games when you get those in practice, and that is why you take those extra reps during practice. If you miss a throw here and there, you want to take it and get five, six extra throws on that individual route so you do not miss it on gameday. For me, that is something that I have done during fall camp the whole time was staying after and getting extra reps and trying to get up to speed with this offense and the receivers and getting timing down. This week will be big for that. You want to perform well on Sundays. It comes from practice during the week."
On the challenge keeping emotions in check during his first NFL start:
"For me, I have not looked at it as a dream come true. For me, I look at it as I want it to be positive. I want to go out and play my best and do everything I can possible to help this team get a win. Obviously, I have worked very hard to get here, but you have to perform now. That is what you have to do in this league. They want performance. You want to play your best and be at your best on Sunday. Repeating this process throughout the week to help me get there."
On if he had previously met QB Charlie Whitehurst:
"Not until yesterday, no I had not."
"He is awesome. He is a great guy. He is a vet, a guy that has been around for a while. He has come in and he has helped me, and I have been trying to teach him. It is a little different now for me being a rookie trying to teach an older guy, but just kind of helping him out with the offense and everything. He is great. He knows the game well. He is a good guy. He has been helping us out in the room. He is kind of giving me pointers here and there, too, already just from being around for a while."
On if he has previously been an underdog in his QB career:
"Maybe high school, yeah. I guess high school. Coming out going to USC from Bakersfield kind of helped me out a little bit, but I have never really felt like that or taken that approach, even if it was relevant or even if that was the case or what some people may have thought. I have always kind of looked at where I came from and kind of used that as my motivation to where I just want to keep going, and keep working hard and for my family. I have a little brother back home that looks up to me and watches me, and I want to continue to work hard. He is playing football now and stuff so it is really cool. That is why I thought it was awesome when (QB) Josh (McCown) said that when he was talking about his boys watching him play. You never know who is watching. There are guys like that, and for me, it is my little brother. He is watching me and it is almost like you do not want to let him down. You want to continue to work hard and make your family proud."
On how old his little brother is:
"He is 16. Just turned 17, actually."
On his little brother's name:
On if he almost played basketball over football:
"Yeah, my freshman year I played varsity basketball. I was a freshman, and it went well. I did alright. I ended up getting a couple California offers and stuff, and I thought that might have been a possibility, but I remember after I played basketball and then when football finished my sophomore year, my first year of varsity, I told my coach I did not want to play basketball ever again. He ended up almost making me play just because he wanted me to stay in shape during the offseason and do different things. Basketball was always one of my first loves. It was difficult. Whatever season it was, that was what I wanted to play, and it was tough going back and forth."
On WR Corey Coleman and if his performance last week has pushed him past earlier challenges:
"Corey, he is a competitor. I don't think he really looks at what has happened before. He just always comes out and is always a positive guy, always wants to compete, always wants to work hard. He just is one of those guys where it means a lot to him, and you can tell. As a teammate, you love to see that. Last week was obviously a big game for him, but he is never satisfied. He wants to continue to work and keep working hard. You can just tell that with his work ethic."