It was snowing last Wednesday during the Browns afternoon practice. It was the first snow of the season.
The chilling winds and lake effect precipitation made for rather miserable conditions. At times it was hard to even see.
A referee employed by the team who officiates practice was freezing his tail off; red-faced, shivering – the whole enchilada. The referee kept shuffling his feet from side-to-side, trying to keep his feet warm.
Without the referee noticing, linebacker Craig Robertson slipped behind the zebra-striped official and started imitating his shuffling feet. Before you know it, Robertson had busted out a repertoire of full-on dance moves. Moments later, Karlos Dansby and Chris Kirksey had joined in on the party. Practice almost had to be temporarily stopped from all the howling laughter between coaches and players.
That's Craig Robertson: the Cleveland Browns' energizer bunny, the life of the party. The 26-year-old has a personality as big as Elvis Presley. If you ever hear hooting and hollering going on in the locker room or near the players' lounge, Robertson is usually on the other end of it, barking off a few hilarious one-liners.
The wild part about Robertson's reputation is that he's arguably the biggest pure football junkie on the roster. He has a unique ability to juggle being so gregarious without being a distraction. Whether he's watching film, practicing on the field or lifting weights, Robertson's enthusiasm never deviates. Teams need that kind of character when the weeks start lumping together.
"The guys love Craig. They love him," said defensive coordinator Jim O'Neil. "He's a guy that brings it every day. I love his energy."
"It's rare you see so many teammates gravitate towards one player," said Karlos Dansby. "Craig is that guy for us and it's huge."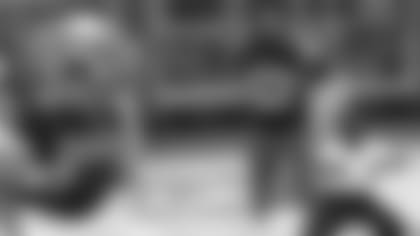 Everyone has their own unique thing to say about Craig Robertson.
The tone in Chris Kirksey's voice becomes animated when he chats about his mentor Robertson – as it should be. In many NFL locker rooms, a relationship like Kirksey and Robertson's (two players who share a position) is tense and competitive. That's never been the case between them. Robertson affectionately nicknamed Kirksey, "Kirko" and they've become two of the most inseparable teammates on the Browns roster.
"You are only as good as everybody in the room," Robertson said about the rookie he mentors. "If there is something Kirko might need help with, he knows he can come to me. Our defense wasn't easy to pick up. But as you can see, he's learning to do it all."
"That's my guy," said Kirksey about Robertson, with a wide-eyed grin. "He never steered me wrong. Not once. We are very close."
Keith Pough, who has been in the linebackers classroom for all of 2014 seated adjacent to Robertson, admires something different about him: his willingness to play special teams.
"A lot of guys feel like once they've logged a couple of years, that they really shouldn't be on special teams," said Pough. "He's just a team player. He's the kind of guy you want on your team. He's the kind of guy you win with."
Robertson is an expert at more than leading and entertaining his teammates. Football is his craft and he obsesses over it. Part of that is all the linebackers being a cohesive unit all one the same page.
Quiz Robertson on the third-string tight end for the St. Louis Rams and he'll spit back route tendencies on third-downs and a wisecrack about how that player wears his socks. On Wednesday the linebackers meet for 35 minutes in the morning before the lion's share of the game plan is installed. Robertson willingly shares information in an open dialogue format. He has a way of making everyone feel involved.
"There's not a player in this league he doesn't know," said Browns linebackers coach Chuck Driesbach.
That's why the Browns are so comfortable knowing Robertson is the player replacing the injured Dansby as the quarterback of Cleveland's defense. Robertson loves the classroom setting. This past spring he received his masters degree from the University of North Texas in Computer Programming and plans on pursuing a doctorate degree.  Nobody prepares as hard for opponents as number 53.
Robertson's exuberance on the field has already been shown this season. His deflected punt against the Buccaneers tipped the game the Browns' way. The energizing play came crashing down on Tampa Bay in a way they were never able to recover from. A week later Robertson picked off an Andy Dalton pass on the opening possession, setting the tone for Cleveland's most decisive win of the season, to date.
After seasons of learning from established captains D'Qwell Jackson and now Dansby, it's Robertson's  turn to make his own mark. It just so happens to come in the most important season in seven years for the Browns.
"He's prepared for this situation his whole life," said Driesbach. "He can do it all."
All the time from all different media outlets we hear about the Browns leaders. Dansby, Donte Whitner, Brian Hoyer and Joe Thomas are always at the forefront of the list. Quarterbacks and accomplished veterans are players the media and fans alike recognize as the leadership figures in a locker room.
But there's so much more to Robertson than the dance moves and the laughter. Craig Robertson has had an infectious pull on building camaraderie on this young Cleveland Browns roster. The impact he's had in helping cultivate the Browns' new culture is beyond measurement.