Need an example of how the culture has changed inside the Cleveland Browns' building? Go take a peek inside the locker room.
Every single player on the Cleveland Browns' defense has a black and gold dog collar hanging from a loop in their locker.
Why? What's the purpose of this?
"Play Like a Brown was such a big thing for us when it came to free agency, evaluating the guys that were on the roster and looking at the draft," said defensive coordinator Jim O'Neil. "We started talking to our guys every day and about what Playing Like a Brown meant – all throughout OTAs and training camp. We got about a week out from the season and as a defensive staff, we wondered how we can kind of keep emphasizing Play Like a Brown."
So O'Neil and the rest of his mostly young staff members like defensive backs coach Jeff Hafley and his assistant Bobby Babich sat in a meeting room together. They started throwing ideas and phrases at the wall.
Effort points? Hustle grades? No, no. Those simple philosophies weren't going to capture the Browns' attention.
Then Babich, who was retained as a coach from the previous staff, muttered, 'Dawg Pound.'
On the Saturday before the Week 1 game against the Pittsburgh Steelers, the defensive coaches had settled on their idea. Similar to how Ohio State hands out Buckeyes to their players on their helmets, the Browns were going to create a rewards system.
Every time a Browns defender made a "Play Like a Brown" play during a game, that said player would be rewarded a dog bone to hang from his dog collar on display in the locker room. O'Neil and the coaching staff would tally up the totals and announce them at every Monday morning defensive meeting, win or loss.
Dog bones aren't just rewarded for interceptions or sacks, either.
"On the defensive line, it can be taking two at the point of attack for a linebacker to scrape free over the top," said O'Neil. "It could be a defensive back doing a great job of jamming a receiver so he doesn't even get into his route."
When O'Neil first introduced the concept at a swanky hotel in downtown Pittsburgh, he literally saw nearly every player perk up in their seats.
"You really get to see who the big dogs are in the room," said Barkevious Mingo. "It shows who is doing their job at a high-level."
"I've never seen anything like this," said Dansby, now in his 11th NFL season. "This creates competition for us within the game. It's working.
Joe Haden, who is now in his fifth season with the Browns, says the dog bones are exactly the reason why the players would lay down in the street for this coaching staff. One of Haden's dog bones was earned by blowing up a fullback and taking down two blockers against the Saints.
"It gives people another initiative to go extra hard," Haden said about the dog collar concept. "It makes us pay more attention to the smaller details that can help us win, because they are just as important."
When we investigated Jabaal Sheard's locker to see how many dog bones he had on his dog collar, the outside linebacker playfully got defensive.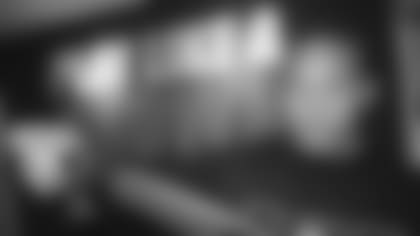 "Chill man!" exclaimed Sheard, a few weeks ago. "I think right now I only have four tags. Guys have really bought into it. It's really such a creative idea."
O'Neil says undrafted rookie K'Waun Williams has the record for most dog bones received in a game – five against the Titans. O'Neil expanded the dog bones for defensive players who play special teams, too, for stalwarts like Tank Carder and Jordan Poyer. Special teams coordinator Chris Tabor consults with O'Neil on who deserves dog bones every Monday morning.
After some ups and downs to begin the season, Cleveland's defense has really hit their stride. The Browns' 3-1 record in the month of October, for the most part, has to do with the defense reasserting their identity. Wins against the Steelers high-octane offense and the Raiders were completely spurred by the defense. The three wins are the most the Browns have totaled in one month since December of 2009.
"When we play team defense and execute, we can get results," said O'Neil. "The guys are feeling pretty confident right now."
As for the dog collars and dog bones? This customary Monday morning staple isn't going away any time soon.
"It's pretty freaking cool!" said the always energetic O'Neil. "It's more of a sense of pride thing inside the locker room. You know right now, based off of who has the most bones, who is playing the way we want to play and who needs to pick it up."
With bright-minded coaches like O'Neil who keep things fresh throughout a grueling season, it's easy to tell why Browns players love coming into work every single day.