Da'Mari Scott is no stranger to proving himself.
The undrafted Browns wide receiver did it in high school. He did it in college. He's in the process of doing it in the NFL, an effort that hits its crescendo Thursday in Cleveland's preseason finale at Detroit.
"My mindset, every time it's a big game, I want to show up," Scott said. "I still want to prove that I can play with them."
Scott's journey started in Muskegon, Michigan, a small town perched on Lake Michigan. Small towns like that are simple. If you don't get out early, you likely won't at all. Scott saw an opportunity to escape small-town USA, and did it. He had no intentions of going to high school in Los Angeles and attending college 2,000 miles from home. But a little help from his older sister guided him to the west coast.
Scott's sister was dating Ronald Johnson, a standout wide receiver at USC who grew up in the same Western Michigan town, and she wanted to watch Johnson's final year of college football in person, rather than trek across the country every week.
Scott, then a freshman in high school, wanted in on the move. He and his sister left his mother in Michigan, and the two moved to Southern California. Scott, who had been raised in Michigan's small-town public school system, was enrolled at Cathedral High School, a private school known for two things: academics and football.
Instead of walking to school every day, Scott was catching multiple buses just to get to school. But it was worth it for Scott, who relied on football. After all, each of the four starting wide receivers on Scott's high school team —including Scott— earned a Division I scholarship.
"I just saw a kid that was so focused on football," said Kevin Pearson, who coached Scott at Cathedral. "That was his priority."
Pearson credits Scott with a change in the locker room and on the field. When Scott showed up for his final three years of high school, the attitude changed. He raised the standard with his work ethic and play. He continued to work hard on the field despite moving from house to house, sleeping wherever he could; he couldn't stay with his sister and Johnson after Johnson went off to pursue an NFL career.
Cathedral was a disciplined program; Pearson worked the players hard. And Scott never took plays off. He was a coach on the field. He led by example, but rarely was vocal. "He made everyone mentally tough," Pearson said. "He didn't even try to do it. He never said anything."
Scott was the most focused player Pearson's coached over his 23-year career. Scott wanted to play football, but Cathedral's academic expectations are even higher than their football standards. Scott struggled.
"He's definitely a Pac-12 kid, and then he just couldn't get his academics up," Pearson said. "He was just so far behind. His first year at Cathedral, he struggled. He probably had to make up four classes coming from Michigan. Maybe it was two each semester."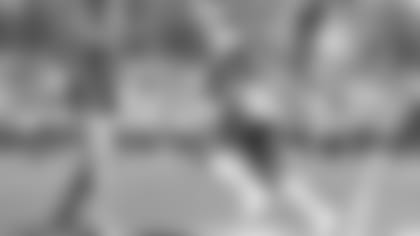 After originally receiving offers from a variety of schools, Scott began to see them slowly disappear. One by one, his opportunities at Division I football dwindled. His skill wasn't in question, but his academics weren't where they needed to be.
So with few offers still available, Scott cracked down in an attempt to prove himself. It was a precursor to what he'd deal with years later.
Pearson had a conversation with him about attacking school work with the same intensity and work ethic as his play on the field. The summer before his senior year, Scott sat in an office, received a waiver to take an extra class than was normally allowed and completed five courses to ensure his eligibility. He wouldn't come out of the office until he was finished. There were no breaks. He worked for his grades.
That didn't stop him from producing on the field. Pearson remembers a game during Scott's senior year when Scott scored four touchdowns on four jailbreak screen plays. Cathedral won the game 28-21. It wasn't just with the ball either. Scott could block, too. The skill was there. Maybe that's because while living with his sister and Johnson, Scott was able to go to USC's facilities and watch film with the Trojans' receivers and coaches. He was around a college football program, as well as his high school team.
"I was seeing NFL players in the making," Scott said. "These guys were stars. I got to get a glimpse of college football before I even got a chance to do it. It was big."
With his grades, though, schools continued to pull their offers. Cal wanted him bad, so much so that when Sonny Dykes was hired there, the Golden Bears offered Scott after watching one tape. But the grades just weren't there. He was scheduled to take a visit to San Jose State but the coach canceled the offer because Scott's SAT wasn't good enough.
"Schools fell off because it was late, I still hadn't passed the SAT or the ACT, and I had to get straight A's my last semester," Scott said. "And I had to go to summer school and get two A's. Schools were like 'there's no way he's going to do that.' And Fresno said 'We'll wait.'"
While other schools were losing faith in Scott's academic status, one stuck with him through his tribulations.
Tim DeRuyter, who at the time was the head coach at Fresno State and is now the defensive coordinator at Cal, remained in contact with Scott. He talked with him about his grades and recruited him based on his physical skill.
"In all the dealings I've had with college coaches over the years, (Fresno State's coaches) were true to their word," Pearson said. "They said they were going to stay with him."
They did, and Scott got straight A's in his last semester of high school, passed his high school summer school classes and enrolled at Fresno State under DeRuyter.
"They were the last school that gave me a shot," Scott said.
His career at Fresno State started strong — the Bulldogs were 11-2 in 2013 with quarterback Derek Carr and wide receiver Davante Adams. After a 6-8 campaign in 2014, Scott's career had a hiccup. Pearson received a call from Scott before the 2015 season, and Scott asked Pearson to reach out to different schools. He wanted to transfer closer to home to be with his mother, who was moving back to Michigan after moving to California when Scott was in high school. She moved for him to California for Scott, but since he was playing college football and Johnson was in the NFL, she was ready to be back in Michigan.
His decision was partly for football, but mostly for his mom. Scott said the coaches and players thought it was a football move. Either way, DeRuyter and the coaching staff granted Scott his release.
"It was partially a football thing, but it was 80 percent more a 'my mom' thing," Scott said.
Just days after Scott left the Fresno State football program, his mother died unexpectedly.
Upon hearing the news of Scott's mother, Fresno State asked Scott to come back, but he wasn't quite ready.
"If you lose your mom and you just told somebody what the situation was, you're not going to answer right back like 'OK, I'm going to come back,'" Scott said. "You would be frustrated and do it on your own time. I did it on my own time."
Because he chose to come back at his own pace rather than go straight back to California, Fresno State was reluctant to let him back on the team. The team had to vote to determine whether Scott could return. "I don't really think my teammates understood what was going on," Scott said.
The team voted to allow Scott back with the program but he had to redshirt the 2015 season as a punishment. Scott had motivation; he was going to make the coaching staff not redshirt him. He didn't redshirt. He was too good to keep off the field, and in 11 games in 2015, he showed signs of stardom, posting 24 catches for 364 yards and three touchdowns.
"I had more motivation," Scott said. "In my mind, I was going to make you not redshirt me. That's how I thought of it. I'm going to do everything I can to put you in a position to say, "Ah, I can't redshirt him." And I did it."
Then came another bump in Scott's road. He was declared academically ineligible for the 2016 season, a year in which the Bulldogs went 1-11 and DeRuyter was fired at the midway point. Scott's coach, who recruited him and stuck by his side through his struggles in high school, was gone from the program. Scott didn't hang his head, though. Like in high school when he had academic troubles, he worked hard to get back in good scholastic standing. In May 2017, he earned the Giant Step Academic Award at Fresno State for taking an academic step forward.
He earned that award by staying on top of his grades when he couldn't play football. He proved himself just like he did in high school.
Then Jeff Tedford, the long-time coach at Cal, replaced DeRuyter, and the 1-11 season seemed like a distant memory.
"It was different," Scott said. "I had different position coaches all throughout my years. But I know it's a business, even in college. I just had to move on."
With a new coaching staff, the Bulldogs offense was clicking, and Scott made an impact on offense and in special teams. Against No. 1 Alabama in Week 2, Scott nearly returned a punt for a touchdown.
"If I would've angled straight toward him," Scott said of the Alabama punter. "I would've broke it."
Scott shined throughout the season. He caught 57 passes for 566 yards and a touchdown, helping Fresno State to a 10-4 record, a top-25 ranking and a trip to the Mountain West title game.
He again began to show his leadership ability. His position coach for his senior year, Kirby Moore, knows the impact Scott had on the wide receivers.
"He's reserved, but at the same time, he knows what's going on," Moore said. "He's a good listener. And when he spoke, people listened."
Although Moore and Tedford didn't recruit Scott or know him as well as the previous Fresno State coaches, they understood what Scott had been through during his life, and they grew to respect him. He earned that respect with his work ethic and his perseverance.
After going undrafted, Scott's journey took him to Cleveland, where he is trying to latch on as an option in an NFL organization. But Scott's not worried about his position on the depth chart or where he's at now. He's working hard, the same way he has at every level. He's trying to prove his value. He's always been able to show what he can do on the field, and now, that's all he has to do.
"I really haven't even sat back and thought about (being in the NFL) because I don't want to," Scott said. "I want to keep pushing and then later on, look back at it. I don't want to ever get complacent or settle. I never want to tell myself 'I made it.'"