6:14 AM – The morning sky is still considered dawn when tight ends coach Brian Angelichio strolls into the facility. He pours a cup of coffee, grabs an egg and cheese English muffin from the Browns' cafeteria and pulls up a chair next to defensive line coach Anthony Weaver and assistant linebackers coach Brian Fleury. There's not much time for chatter. There's an occasional yawn. On the outside looking in, week two of the OTAs may seem redundant. But the grunt work is endless for Angelichio and his fellow staff members.
6:47 AM – What many don't realize is position coaches cut and edit their own film. Angelichio is putting the finishing touches on Tuesday's practice film now. Thirty different clips of the tight ends are strung together, through a simple copy-and-paste software. There's one of MarQueis Gray in a blocking scheme. There's one of Jordan Cameron making an acrobatic catch. Think of Angelichio like a teacher preparing a lesson plan for his students.
8:00 AM – All of the tight ends (Gray, Gary Barnidge, Jim Dray and rookie James Oboh) except Jordan Cameron attend a brief special teams meeting. Cameron and Angelichio usually meet one-on-one during special teams meetings, but Wednesday turns into some rare down time for Angelichio. He takes a seat on a leather couch in the players' lounge, and finds himself staring at SportsCenter on a flat screen television, while reviewing scribbles on his yellow notepad.
8:35 AM – The entire offense, coaches and players, assemble in a large auditorium-style classroom. This gathering happens each day before an OTA practice session, and is referred to as the "Group Install Meeting." Kyle Shanahan stands at the front with a laser pointer and goes over approximately 80 plays the Browns will run in practice. Videos of the plays will be shown on screens to give the players images of what they will be running later on the field. Angelichio sits near the tight ends and whispers advice. He leans towards Jordan Cameron, "Be ready for a hot route on this play if we get pressure." Shanahan goes over run blocking and protection schemes first, and then the offensive linemen leave the room to meet as a unit. Quarterbacks, running backs, wide receivers and tight ends stay for the entirety of the meeting to review routes and run plays. The meeting goes until 10:20 a.m., with two short breaks in-between.
10:48 AM – Usually the tight ends meet briefly as unit after the Group Install Meetings. After Shanahan addresses the offense as a whole, Angelichio normally cleans up any confusion related specifically to tight ends, such as a route adjustment or a blocking scheme versus a certain defensive front. But not today. Group install went longer than anticipated. Angelichio is the first position coach out on the field. The tight ends join him for some early catching drills before team stretching.
11:36 AM – A big focus during Wednesday's tight end workload is proper technique on planting their feet. The players look like snow skiers as they weave through cones. Angelichio yells, "Plant on your insteps!" When his tight ends run routes up the field, Angelichio wants to make sure they are using the inside of their foot to make cuts, rather than their heel.
12:52 PM – Practice is wrapping up with 11-on-11 scrimmage situations. "We need to be better, especially on the details," Angelichio tells his visibly exhausted tight ends, as they huddle around him on the field. Other Browns' players walk inside to either grab lunch or get in a workout. Barnidge and Dray stay on the field to work on run-blocking techniques with the sled dummies.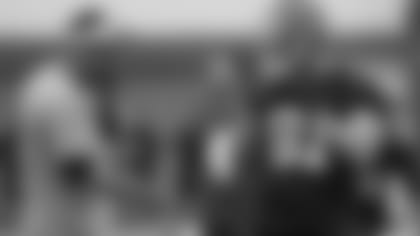 1:22 PM – Chomping at the bit to fix his players' mistakes, Angelichio doesn't even eat lunch. He grabs a bottle of water and heads to his office on the second floor. On Wednesday it was his tight ends' inconsistency with motion patterns and uneven location of helmets on blocks that irritated the veteran coach. Angelichio isn't what you would classify as a yeller and screamer, but, "I can be intense," he said.
1:45 PM – All of the offensive coaches convene in the offensive staff room to evaluate film of the practice just hours before. Unlike the Group Install Meetings, there is an open dialogue with every coach chiming in. "Mental error from player X," blurts out one assistant coach. Angelichio takes his own detailed notes. Every single play is dissected from each positional angle. Each player will receive a grade sheet on Friday with commentary, positive and negative, for any play he is involved in. "This is the most important meeting of the day," Angelichio explains once it wraps up at 4 p.m.
4:04 PM – Undrafted tight end James Oboh is in a unique situation: he's the only rookie in the building at his position. So when the veterans call it a day, Oboh is receiving an hour of individual instruction from Angelichio. Oboh comes prepared with several questions while Angelichio goes through all of Oboh's practice plays in detail, all at the rookies pace.
5:01 PM – Angelichio heads back up to his office and assesses the grades he handed out to his tight ends. He starts to chop up film from Wednesday's practice, about 30 plays. These plays can be transferred to the players' iPads so they can watch at home. Angelichio's tapes mainly focus on mistakes and issues, to drive home points. But there are worthy plays sprinkled in.
7:15 PM – Angelichio realizes he's starving. He phones in a pizza order for a large pepperoni pie and calls it a day. Before he turns off the 40-inch TV mounted to his wall, there's something peculiar about it. There is video playing of the of an early regular season opponent. "You can never start too early," Angelichio said.