BEREA, Ohio — ** There was this one summer in college, Demario Davis says after a recent training camp practice, when he decided to press pause on the grind of offseason workouts at Arkansas State and enroll in a 10-week summer camp.
The Browns middle linebacker, who joined Cleveland's retooled roster this past spring in an effort to provide its defense with reliable playmaker and veteran presence, is known now around the NFL for leadership skills that transcend the sport. Back then, though, Davis was another talented college player with aspirations of playing at the next level. He was also the backbone of a Red Wolves defense that lifted Arkansas State in 2011 to its one of its best-ever seasons.
So on this blistering hot Monday afternoon in August, Davis is retracing a long and winding path to Cleveland.
And it might start at that summer camp.
"I always wanted to lead, and I always wanted to lead in the right way, I just didn't necessarily know how," Davis says.
"Nobody ever leaves for the summer in college. You have to go and workout, it's part of the team. So my coaches kind of voiced they didn't want me to go the whole summer, but I felt like I needed to make that sacrifice because I wanted to grow in understanding how to learn how to lead in the right way.
"I was always leading," Davis continued, "but I had led many of my teammates astray."
There are countless stories documenting the 28 year old's journey from a troubled Mississippi high schooler to a devout Christian and the kind of player who might embody what the Browns are trying to accomplish on and off the field under the leadership of first-year head coach Hue Jackson.
One of the first moves Jackson, executive vice president of football operations Sashi Brown and vice president of player personnel Andrew Berry made this offseason was adding Davis — a three-year starter with the New York Jets — to the locker room.
"He's a guy that we have put on our football team who we think is going to help us as we continue to move forward," Jackson said in March.
"I've got an ultimate competitive warrior leader sitting in there that's nothing but football," defensive coordinator Ray Horton said last month.
"He's one of those guys that he's going to lead," inside linebackers coach Johnny Holland said. "He's going to show up early and he's going to stay late."
It's an approach that earned Davis the honor of representing the Browns as one of five captains this season.
"It definitely shows a tremendous amount of respect in the locker room from your teammates and that's what it's all about," he said. "You want to have the respect of your teammates."
And it might not have been possible without that faith-based summer camp.
So when asked what he learned over the course of that two-and-a-half months and how it might also apply to football, Davis just smiles.
"Real victory," he says, "is winning in relationships.
"This game is going to fade away. You can win Super Bowl on top of Super Bowl, and that's a great thing. You can build a legacy and end up in the Hall of Fame, but there's many people in the Hall of Fame that people have forgotten about, that were great in their time," he says.
"There's so many Super Bowls, most of the time you can't even tell me who won the Super Bowl 10 years ago off the top of your head, you know? It's a memory, it's a great thing — I don't take nothing away from it — but it doesn't last forever. 
"What lasts forever is your relationships. And that was the big thing, you know? Like, what is really winning?"
About midway through what would be his final season with the Jets, Davis found himself in a rotation at middle linebacker last fall and watched his playing time gradually scaled back.
"Somehow I knew something was about to happen. I didn't know what was about to happen but I knew in the middle of last season," he said.
"I pray a lot and I talk with God a lot and I'm able to hear when he talks to me and he let me know he was doing something, doing something special. But I didn't know exactly what it was."
With his future in New York unclear, Davis said he and his agent starting exploring avenues after the season that would potentially lead him away from the Jets, who made him the 77th overall pick in 2012.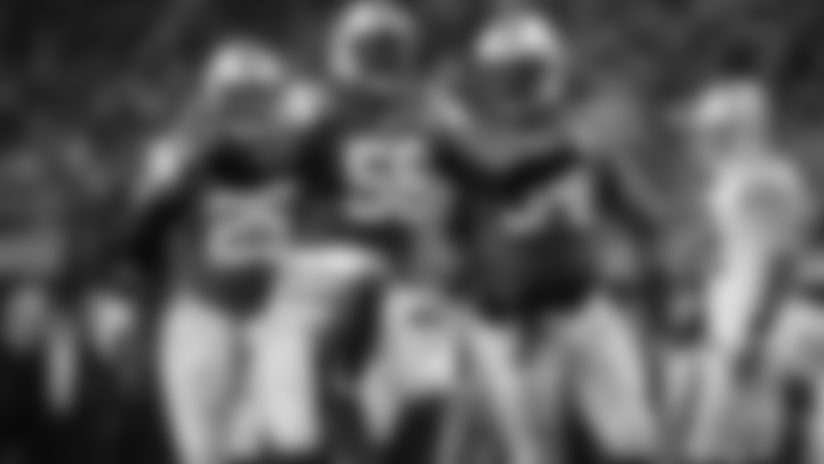 In his time there, Davis learned from some of the best the NFL has to offer in veterans such as Bart Scott, Dave Harris, Calvin Pace and D'Brickashaw Ferguson.
"They taught me how to play the game, taught me how to be a pro. Like I've said, it's the relationships. I had some great coaches," Davis said.
"(Bills coach and former Jets coach) Rex (Ryan) taught me how to play defense in this league and what good defense looks like. From a coach to player relationship, that was great."
But now, the three-year starter for the Jets whom Ryan once compared to former Ravens linebacker Ray Lewis was faced with something of juncture that would force him to lean on his faith.
"I really had a blessed time in New York. It was good for that season of my life," he said.
"But it was time for a new chapter. God works everything out in his right timing."
---
Davis realized he could use football as a vehicle to go places in the fifth grade. His introduction to the sport came a year earlier when he played safety with a group of kids at least one to two years older than him.
"I didn't know what was going on, I was a baseball player," he says, adding, "I think the coaches just let me play on the team because they wanted my cousins to play … I was just running around and had never played organized football before. I had played a bunch in the backyard so I was scared like crap."
The nerves eventually went away and his coaches played him at running back the following season. There was, however, one problem.
"There was a weight limit to play running back. You had to be under 95 pounds and I was about 96 pounds, 97 pounds on the day of the weigh-ins," Davis says.
"So my dad asked me if I wanted to play running back and I said, 'Yeah, I did want to play running back.' He was like, 'OK, it's going to hurt, and it's not going to be easy.' So he took me out that day and put me in a bunch of sweat clothes and took me out running. He was in the Army. He took me out running and about made me dehydrated.
"We were probably out running for about four or five hours — July, in the Mississippi heat. But I lost about four pounds in those five hours. And I went back up and weighed in and it wasn't easy but it was worth it because when I got to play running back, that was the year I got out there and I scored like 50 touchdowns.
"It felt like every time I touched the ball I was scoring and our team went undefeated, all the way to the championship and then we got beat in the championship. But that's when I kind of knew that I had a gift playing football."
Davis was a dynamic athlete on offense, starting at wide receiver and kick returner at Brandon High School in Brandon, Mississippi, on a team made up of mostly upperclassmen.
After drawing the attention of college recruiters as a sophomore, Davis was expelled from school later that year, a bump in the road he willingly revisits more than a decade later. When he came back, "the coach, for whatever reason, he didn't play me the same. He wouldn't throw me the ball," Davis says.
"I was off kick return so my junior year was just pretty much a wash. I was one of the top underclassmen my sophomore year and then my junior year was just pretty much a wash."
So Davis switched to defense after the team's defensive coordinator approached him with the idea. "He was like, 'You don't have a chance of getting a scholarship playing offense. You may have a chance to come play defense,'" Davis says.
"So he brought me over to play defense and it was the first time I played defense and I think I went out and made like 120 tackles, like six interceptions, six or seven sacks, and, by the end of the year, I had a couple of scholarship offers."
---
One of those schools was Arkansas State, where Davis enrolled the following year after having served as a captain at Brandon for his senior season. He started the final 37 games of his career there, totaling 230 career tackles, seven sacks, five forced fumbles, three fumble recoveries (one he returned 53 yards for a touchdown) and four interceptions, including one he returned 75 yards for a touchdown against nationally-ranked Iowa in 2009.
The play caught the eye of Dave Wommack, currently the Ole Miss defensive coordinator and then at Georgia Tech, who was watching the game on television. Two years later, Wommack joined Arkansas State.
"I had no idea I was going to be there in a couple years. This guy intercepts the ball, he does a flip going in the end zone and then come to find out, if you go back and watch the players that you have when you first get to a new place, it was sure enough him doing that," he said in a phone interview.
"He had a pick-six, ran back and did a flip in the end zone. And I thought well, maybe he's undisciplined a little bit but, nah, it was an intensity thing."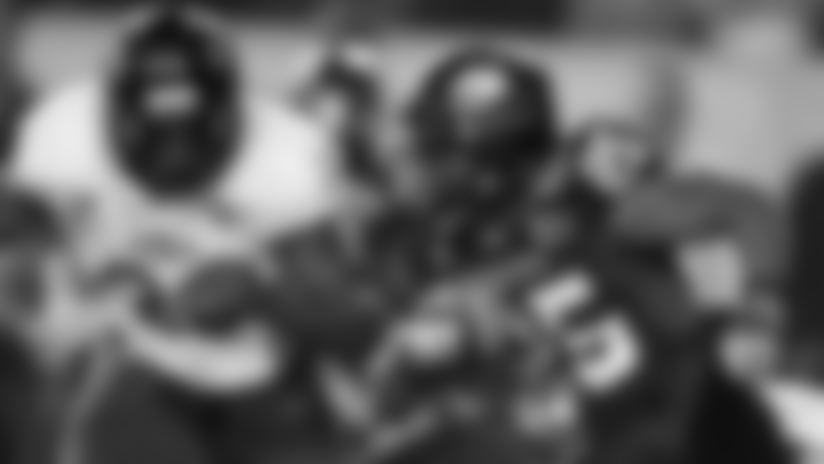 That "intensity thing" has defined Davis throughout his football career. It's something Wommack noticed almost immediately upon arriving on campus in Jonesboro.
"I just remember an intense kid from the first time meeting him. You didn't know if he was the real deal, it seemed like he was the real deal and all that stuff, and it didn't take me very long to see he was absolutely a player-coach type of guy," he said. "He loved the game, and I think he tried to show that the first time I saw him."
"You go into fall camp and the guy never left and he wanted to sit in on our meetings and see why and understand all the little things. He was just a junkie for football and I thought, I've seen two or three of those guys, at the time, 33-34 years of coaching," Wommack continued.
"And I just thought, man, this guy's gonna be great … this guy wanted total investment. He was like an NFL player, I mean, he was in there just doing his job like a coach was."
Under Wommack and then first-year Arkansas State head coach Hugh Freeze (now the head coach at Ole Miss), the Red Wolves finished 10-3 and won the Sun Belt Conference after a 19-30 record in the previous four seasons.
Davis, who started the season as a potential candidate for the Lombardi Award, was the backbone of a defense that finished 24th nationally in total defense.
"With us, he knew what was going to happen before it happened. He knew had to study film and he knew how to look at personnel and formations," Wommack said.
But most of all, he said, Davis connected with players inside the locker room and it laid a foundation for success on the field.  
"I mean, he's one of the top leaders that I've ever had as a coach now going into 38 seasons," Wommack said.
"I'm not saying that because I'm talking to you in an interview about him, I mean, he's just one of those guys, few guys, that people rally to him. And he's contagious in the way he lives life."
---
Davis is unapologetically open about his faith and his past and the how the biblical verse Matthew 7:18 changed his outlook on life. Then Arkansas State's team chaplain Chuck McElroy showed him the passage — "A good tree cannot bear bad fruit, and a bad tree cannot bear good fruit — and it had a profound effect.
"It's really about the heart," he says, "and it goes back to those relationships. That's really what you're trying to get down to, the heart of a person."
Roughly 150-200 NFL players — including Browns quarterback Josh McCown — attend an annual retreat hosted by the organization, and Davis and his wife, Tamela, recently joined its board of directors.
"It's a pro-to-pro ministry just trying to encourage guys and their faith to be better husbands and do their financials right," he said. "It's a really good thing."
Davis also occasionally writes for its website, offering readers an inside look at how his faith shapes his life. And when you're a middle linebacker in the NFL, things can sometimes get crazy.
With his future in New York uncertain, Davis continued to make plays on the field for the Jets and relied on his faith off the field to see the bigger picture unfolding.
"In the middle of my 2015-2016 season with the NY Jets, things were beginning to look dark for me; my playing time was going down. I wasn't sure what was happening but God was assuring me that He had a plan," Davis wrote in a May post for the website.
"I knew it was something big, I didn't know if it meant I was going to be back in New York or be somewhere else. Never in a million years did I think it was going to be Cleveland," he says, laughing, "but now on the other side, I wouldn't want it any way else."
Davis met with Sashi Brown and Andrew Berry, who outlined the Browns' plans and where he might fit in.
"They wanted me to come in and help lead the defense. They wanted me to play middle linebacker and that meant a lot to me because that says a lot about what they thought about me, to say that," he says.
"At first I actually thought it was just words … but I thought it was authentic, I thought it was very real. And it felt different and it felt special. But I could see the changes they were making inside the building, that they were doing construction, but I couldn't really understand the vision. I didn't really fully see the vision … I could start to see this could be something special building over here that nobody sees."
---
As the Browns prepare for Sunday's season opener against the Eagles, Davis is set to anchor a Browns defense filled with new starters and young faces. And as a captain, he's ready to lead by example on and off the field. But that honor had to be earned first.
"I'm a firm believer that leaders aren't made, they're born. You have leaders everywhere, whether they're good leaders or bad leaders. People just have personalities that are naturally leaders. I feel like whatever environment I'm in, it's just who I am. It's just part of my character. I've never tried to be anything," he says.
"But a big thing, my belief is trying to help men become better men. I'm always trying to become a better person spiritually, mentally and physically whether that's here in football or at home with my family or whether it's out in the community.
"I'm always trying to become a better person and, at the same time, I'm always willing and trying to help men around me become better. I think the way you do that is through relationships, you have to build real relationships. People don't care how much you know until they know how much you care. So you have to show them that you care about them. You're aware of their life away from football, that you address them like people and that you just have genuine concern and love for them. And once you do that, you can reach them in whatever area you want to reach them. Once a person trusts you and knows they can count on you to be who you say you are, that you're authentic, then that's where the real journey begins."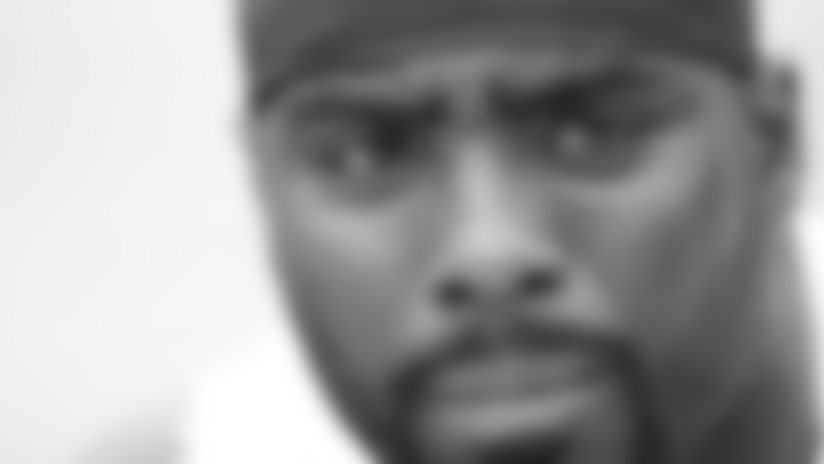 For the Browns, that journey continues in Philadelphia, and the hope is that Davis — along with other veterans like cornerbacks Joe Haden and Tramon Williams — can set the tone for a defense filled with first and second-year players.
"We're going to have young guys on this team that can help us this year, that can help us tremendously," he says.
"The coach can tell them, 'Hey, you're doing well.' But they can be like, 'Hey, well coach is supposed to tell me I'm doing well.' But when a player in the locker room who they respect and look up to comes over and says, 'Hey man, keep doing what you're doing right' it makes them feel good. And it encourages them, it pushes them, and that positive energy turns over into Sundays.
Davis continued: "If I can help my teammates become better people and they can help me become a better person, then we're winning."
That's real victory, Davis says, and it leads to winning on the field.  
"When you put 11 great people on the field, you're going to be dominant. It just naturally happens. Getting rid of negative attitudes and negative thinking, which may be a cycle in life. I was in bad cycles, but I broke those cycles," he says.
"That's how I'm able to recognize those things and use my testimony to help them. That's what it became more about to me is winning inside the locker room. You win inside the locker room, you'll naturally win on the field."​